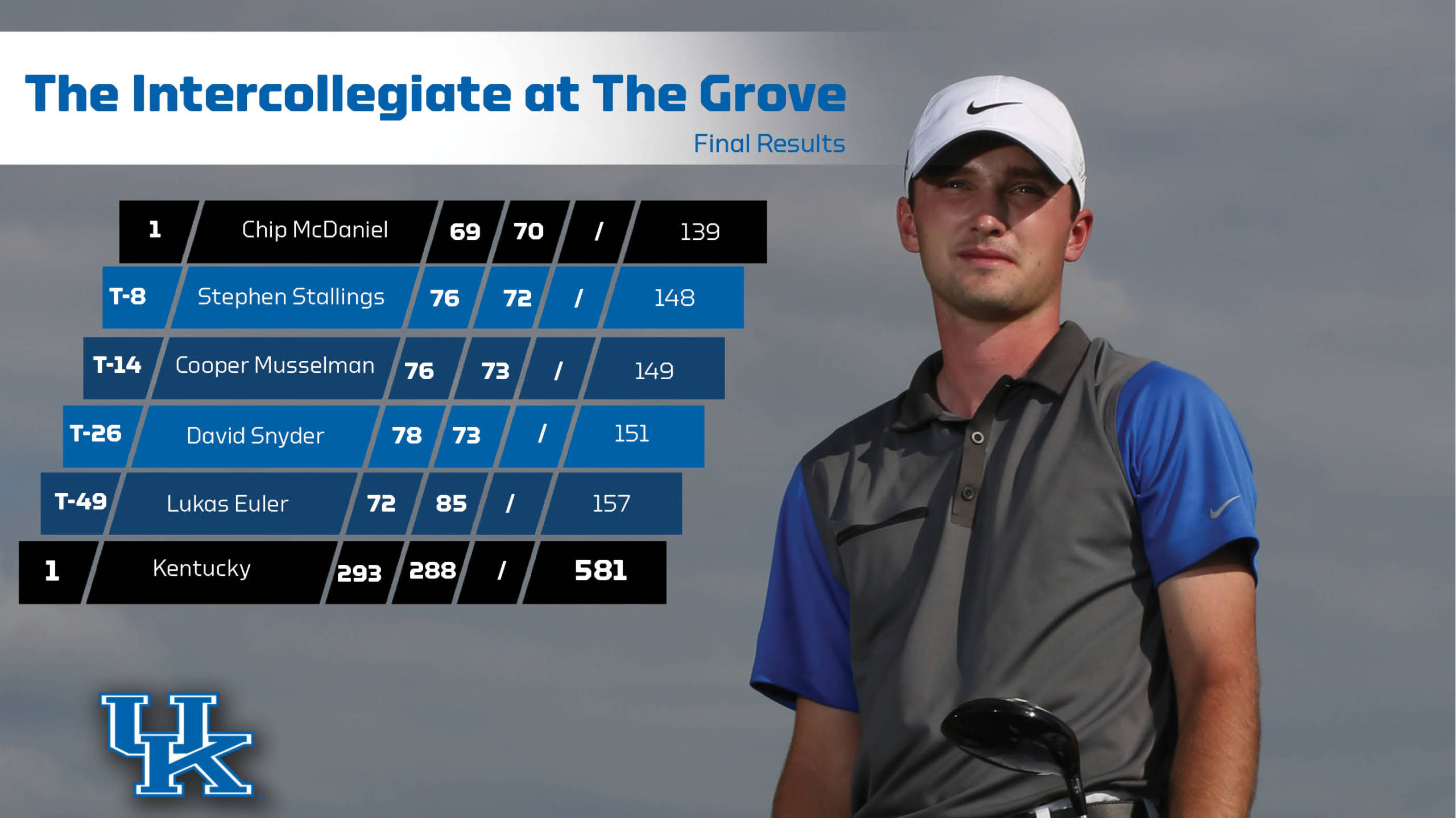 October 27, 2015 - 09:27 AM
Round Three Canceled; Wildcats and McDaniel Earn Wins
COLLEGE GROVE, Tenn. – Due to stormy weather forecasted for the duration of Tuesday's final round, officials have canceled the remaining 18 holes of play of The Intercollegiate at The Grove it was announced early Tuesday morning. The tournament's results will conclude with the 36 holes played to this point with the Kentucky men's golf team and sophomore Tyler 'Chip' McDaniel atop the leaderboard. 
Pictured (L-R) Front Row: Assistant Coach Ben Fuqua, David Snyder, Stephen Stallings, Chip McDaniel, Head Coach Brian Craig; Back Row: Jalen Ledger, Lukas Euler, Cooper Musselman, Chris Meuth
The win for the Wildcats is the first of the season and the first fall victory since winning the UK Bluegrass Fall Invitational in 2011. UK concludes fall competition having placed among the top five in every tournament in which it participated. McDaniel notches his second career individual victory. He also took home the crown in the final fall competition of the season a year ago. The Manchester, Ky., native earned top-five individual finishes in all four fall tournaments. 
"This is a great way for our team to end the fall with a victory at The Grove," UK head coach Brian Craig said. "The golf course was absolutely fantastic  and a demanding test of golf. We have had a terrific effort this fall from a great group of young men. It is nice to see the fruits of their labor with this win.
"It is also a fitting way for Chip McDaniel to close out an ultra consistent fall season with a victory. Chip has done a tremendous job leading this team with his play this fall," Craig added. "I still believe this team is only scratching the surface of what we are capable of. We should add two healthy, talented players to the mix in the spring and get much more competitive. It should be fun, but there is still much work to do. For now, it is time to take a break and recharge the batteries for a little while."
Pictured are Tyler 'Chip' McDaniel and head coach Brian Craig
Junior Stephen Stallings concluded the tournament in a tie for eighth place overall at 4-over par through 36 holes of play. It marks his third-consecutive top-20 finish of the season with two of those finishes coming inside the top 10. 
Sophomore Cooper Musselman will earn his second-straight top-20 finish with a tie for 14th at The Grove. He will conclude his fall season on a high note with a season-low score of 73. 
Kentucky will return to action in official team competition on Feb. 21, 2016 at the Puerto Rico Classic. 
The Grove Club 
College Grove, Tenn.
Oct. 25-27
Par: 72
Yardage: 7,368
1 – Kentucky (293, 288, +5)
1 – Chip McDaniel (69, 70, -5)
T8 – Stephen Stallings (76, 72, +4)
T14 – Cooper Musselman (76, 73, +5)
T26 – David Snyder (78, 73, +7)
T49 – Lukas Euler (72, 85, +13)
*T57 – Jalen Ledger (77, 82 +15)
*64 – Chris Meuth (80, 85, +21)