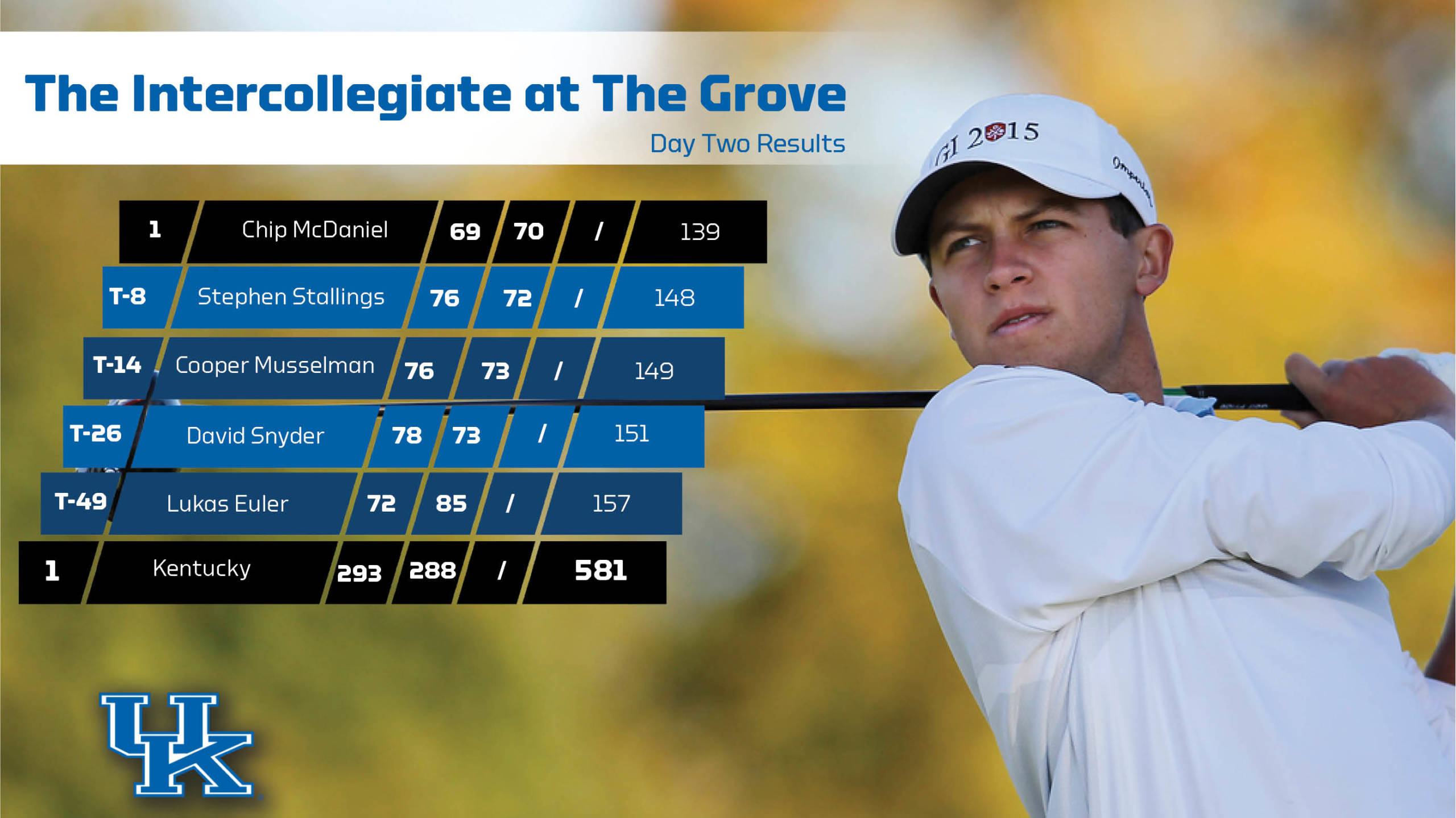 October 26, 2015 - 06:23 PM
UK Ascends to the Top Spot on Leaderboard Entering Final Day
COLLEGE GROVE, Tenn. – Behind stellar rounds from four individuals the Kentucky men's golf team emerged  as the leader atop the standings at The Intercollegiate at The Grove on Monday despite chilly temperatures and scattered rain showers throughout most of the 18-hole round. 
Sophomore Tyler 'Chip' McDaniel notched a 2-under par, 70, to lead the way for the Wildcats. McDaniel has pushed into the No. 1 spot on the individual leaderboard with a collective 5-under par score for the tournament. Junior Stephen Stallings scored an even-par, 72, in today's round and is tied for eighth overall. Sophomore Cooper Musselman and senior David Snyder posted rounds of 73 to help pave the way for the Wildcats. Tuesday's final round will begin at 9 a.m. ET with Kentucky owning a nine-stroke lead. 
What Head Coach Brian Craig is saying:
"The Grove is a fantastic test of golf. Just terrific. It played fairly easy yesterday, but today was quite a test with the rain and wind staying with us for the entire round. I could not be more proud of the guys for their grit today. Even par as a brilliant round of golf. However, tomorrow is a new day and we need to keep our focus on what we can control and continue to move forward."
The Starting Lineup:
McDaniel who continues to play brilliantly turned in another tremendous performance on day two. He was one of just seven total players to post a score of under par in today's challenging round. He carded a 2-under par, 34, on the opening nine holes of play which included a birdie on No. 9. He shot even par on the back nine which also included a pair of birdies. The sophomore from Manchester, Ky., has fired par or better in eight of 10 rounds this fall. 
Stallings' even par round pushed him into a tie for eighth place overall. He's in search of a third-straight top-20 finish, which would extend his career-best stretch of play. Stallings posted a 37 on the opening nine holes of play before rallying for a 1-under score on the back nine. He birdied No. 11 and No. 16 to help close out the round for the even-par score. 
Musselman totaled his best round of action during fall competition with the 1-over, 73. His round featured four birdies during the opening nine holes of play helping pave a way into a tie for 14th overall. He is in search of his second-straight top-20 individual finish entering tomorrow's final round.
Snyder was Kentucky's biggest mover on the leaderboard ascending 14 spots on the individual leaderboard. He charted a 1-over, 73, on the afternoon to move into a tie for 26th and in position for his second top-20 finish of the year. Snyder carded three birdies on the afternoon to highlight his round of play. 
Freshman Lukas Euler is tied for 49th overall after two rounds of play. Individuals Jalen Ledger and Chris Meuth are tied for 57th and 64th, respectively. 
The Tournament Field:
Kentucky's even par round today was the best on the course for any team. The round also marked the second-lowest of the season for the Wildcats, with only the opening round 281 at the Dick's Sporting Goods Collegiate Challenge Cup bettering it.  
UK owns a nine-shot lead heading into the final day of action. UK is 5-over par through two rounds of play. Second-place Lipscomb has charted a 14-over par score, while Middle Tennessee State owns a 17-over par score to round out the top three on the team standings' board. College of Charleston is in fourth and Cincinnati owns the No. 5 spot. 
The Course:
The Grove opened in 2012 and was designed by PGA tour player Greg Norman. His design incorporates the natural rolling hills, meandering stream beds and native grasses, which maintains the natural character of the site, while creating exciting play for golfers at every level.
The final round will tee off beginning at 9 a.m. ET on Tuesday. Live scoring is available at  golfstat.com.
The Grove Club 
College Grove, Tenn.
Oct. 25-27
Par: 72
Yardage: 7,368
1 – Kentucky (293, 288, +5)
1 – Chip McDaniel (69, 70, -5)
T8 – Stephen Stallings (76, 72, +4)
T14 – Cooper Musselman (76, 73, +5)
T26 – David Snyder (78, 73, +7)
T49 – Lukas Euler (72, 85, +13)
*T57 – Jalen Ledger (77, 82 +15)
*64 – Chris Meuth (80, 85, +21)