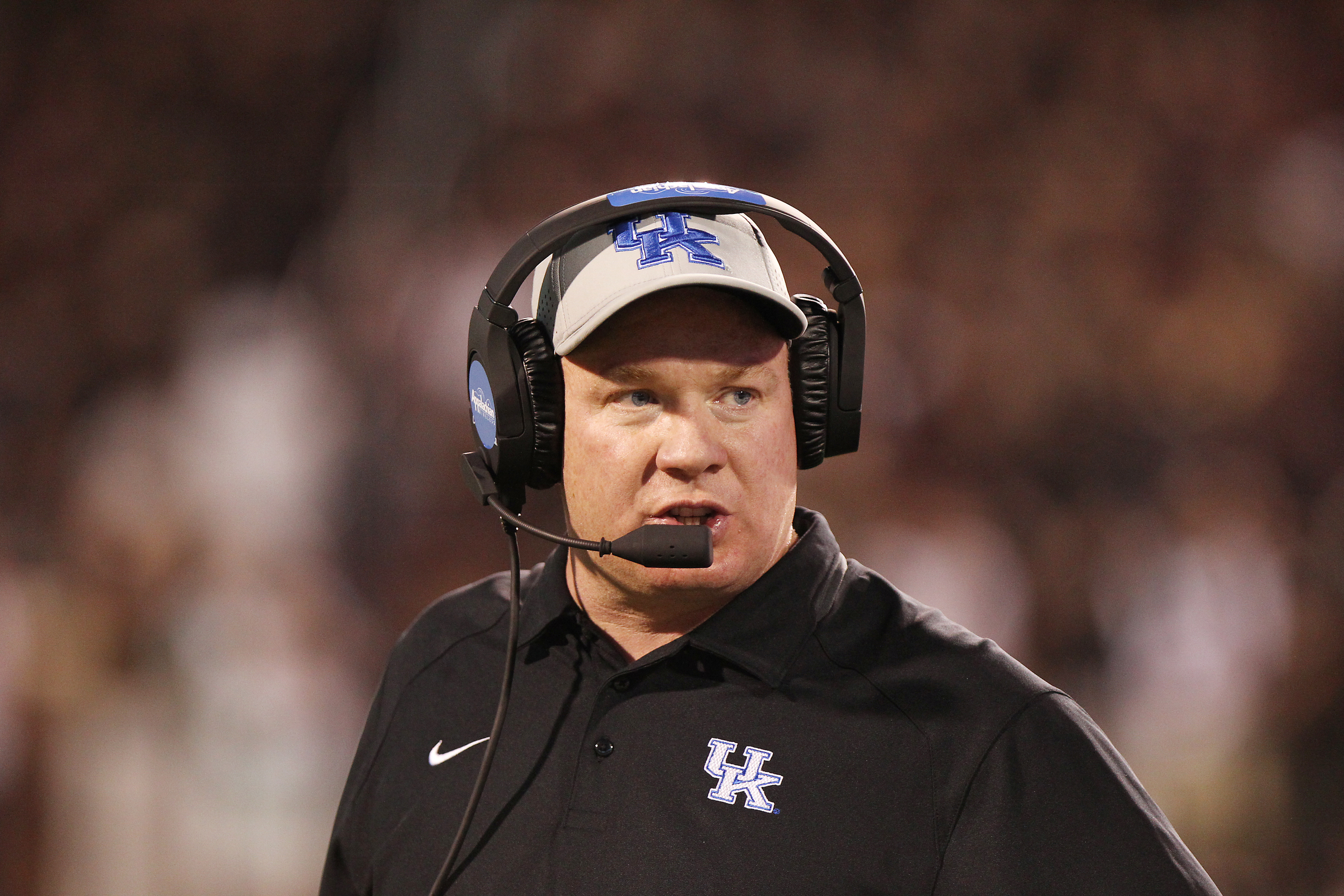 After having a chance to win its first six games and sealing the deal in four of them, Kentucky suffered a blowout loss at Mississippi State.
Considering the way the season had started, the temptation to burn the tape from the defeat and direct the focus elsewhere is unavoidable.
Mark Stoops isn't about to give into it.
"We'll never do that," Stoops said. "We will always have the accountability in our program. All of us."
That includes Stoops himself. In fact, he'd be the first to say it begins with him.
"We all share in that," Stoops said. "You know that. I'm going to own it. There's things we can do better as a staff. There's things I can do better. We have to put our players in position to win."
A specific example from Saturday night in Starkville, Miss., comes to mind.
With 5:54 left in the first half and Mississippi State holding a slim 14-10 lead, the Wildcats took over at their own 42-yard line. UK had stopped the Bulldogs twice in a row – one coming on a big fourth-down stand and the second coming when true freshman Chris Westry ended Dak Prescott's streak of 288 passes without an interception – and the Cats were poised to seize momentum and maybe even a lead heading to halftime.
That seemed even more likely when a 16-yard catch by Garrett Johnson and a seven-yard run by Patrick Towles set UK up with a second-and-three at the MSU 35-yard line with a little more than four minutes left. UK faced a choice between aggressively going for the touchdown and playing it safe by bleeding the clock.
UK opted for the former, calling passes on the ensuing five plays. Four fell incomplete, leaving Austin MacGinnis to attempt a 48-yard field goal that he would miss. MSU took over with good field position, scored in just five plays, intercepted UK on its next possession and the Cats were down 28-13 at the break just like that, even after a late field goal.
"We have to do a better job, I have to do a better job, of managing that situation," Stoops said.
The climb, after the exchange Stoops called "critical," was too steep.
"It's my job to get it done, one way or the other, on both sides of the ball," Stoops said. "I don't call defensive plays either, but I still have to manage the game on both sides. That's what I do and that's where – listen, we all know there are calls and there are things on both sides that we could've done a touch better that we would've been in that game."
That didn't happen, which now puts UK in a position of having to learn from mistakes made. And though Stoops won't sweep the Mississippi State game under the rug, he won't dwell on it. The Cats' next game is too important for that.
"Looking forward to a great game with Tennessee," Stoops said. "It'll be good to come back off of such a disappointing loss and play a rival. It'll give us some extra juice this week to get out there and play a lot better than we did last week."
A lot better than last week and a lot more like the first six weeks.
"We're going to go back to work today to prepare to win the game like we do every week, and we can do it," Stoops said. "You've seen it, I've seen it. We just have to play very well and we have to play to the best of our abilities and we've got to coach to the best of our abilities."
Injury, depth chart updates
•    After playing well in extended time at MSU, cornerback Derrick Baity and safety Mike Edwards are both listed atop the depth chart at their respective positions alongside seniors Cody Quinn and A.J. Stamps. The starters will be determined in practice this week.
•    Another true freshman safety, Darius West, also played extensively, but won't this weekend. He is expected to miss Saturday's game vs. Tennessee and potentially more.
•    Jason Hatcher missed the MSU game after being a game-time decision, but the plan is for the junior linebacker to return to the lineup Saturday. Offensive tackle Jordan Swindle and nickel back Kendall Randolph battled injuries over the weekend, but are expected to play as well.