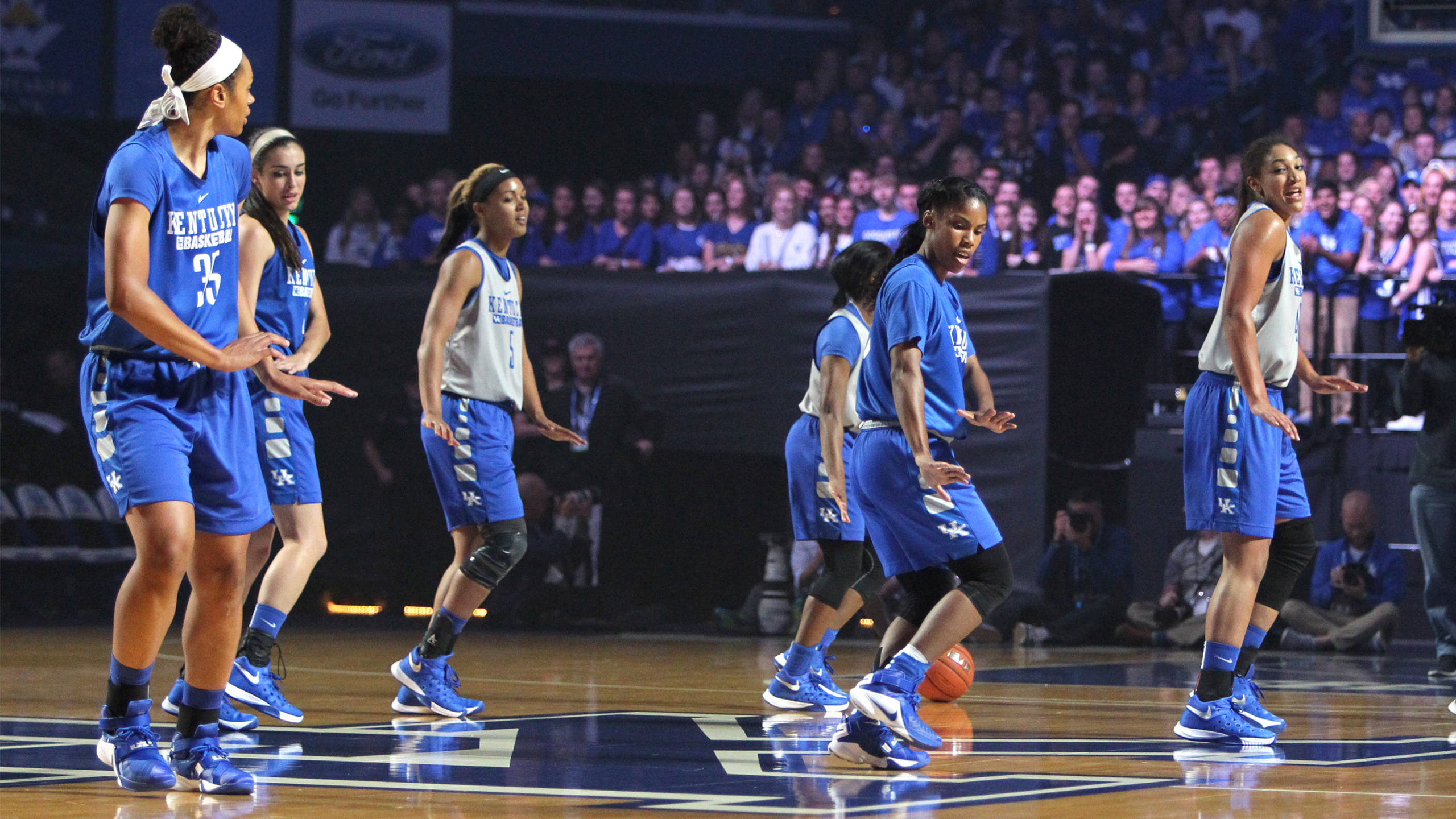 October 26, 2015 - 03:42 PM
Single-Game Tickets Go on Sale Tuesday Morning
LEXINGTON, Ky. – Single-game tickets for the University of Kentucky women's basketball 16-game home slate will go on sale tomorrow, Oct. 27, beginning at 9 a.m. ET through Ticketmaster.  The 2015-16 schedule features eight Southeastern Conference foes inside Memorial Coliseum, including South Carolina and Tennessee. Additionally, the team will play two games inside Rupp Arena, hosting Louisville followed by Duke for the annual "Pack the House" game. 
Single-game reserved tickets will be available for $9 for all ages, while adult general admission single-game tickets will be sold for $8 apiece.  For those aged 6-18 or 65-and-over, general admission costs are $5 per ticket.  Children age five-and-under are admitted free in the general admission seating area, and UK students, faculty and staff are admitted free with valid identification.
Fans interested in UK Hoops tickets can visit the Joe Craft Center ticket office, go to UKathletics.com, or call the UK ticket office at 1-800-928-CATS.  Tickets are also available at www.ticketmaster.com or by calling 1-800-745-3000.
Kentucky continued to stay in the top-25 for national home attendance for its 12th-straight season after averaging 6,379 fans throughout 17 games, the second best average in program history.  Additionally, the Wildcats moved up to seventh in the nation in home attendance, marking the second consecutive season that the team has ranked in the top-10 nationally after being ranked ninth in 2013-14.  
During last year's "Pack the House" game when UK upset No. 8 Baylor, 74-64, the team played in front of a crowd of 22,075 fans, the second-largest in school history behind only the record crowd of 23,706 when the Wildcats sold out Rupp arena against No. 2 Duke in the 2013-14 campaign.  
Fans can also catch the Wildcats in action for free when they host Union University for an exhibition on Sunday, Nov. 8 at 5 p.m. ET.  The 2015-16 home opener will be on Friday, Nov. 13 at 7 p.m. ET, when UK takes on Rice.  
Season tickets for the 2015-16 season (including Rupp Arena games) will remain available for $65 online at UKathletics.com/tickets or by calling the UK Ticket Office at (859) 257-1818 or (800) 928-2287. 
For more information on the Kentucky women's basketball team, visit UKathletics.com or follow @UKHoopCats on Twitter and Instagram, or Kentucky Women's Basketball on Facebook.