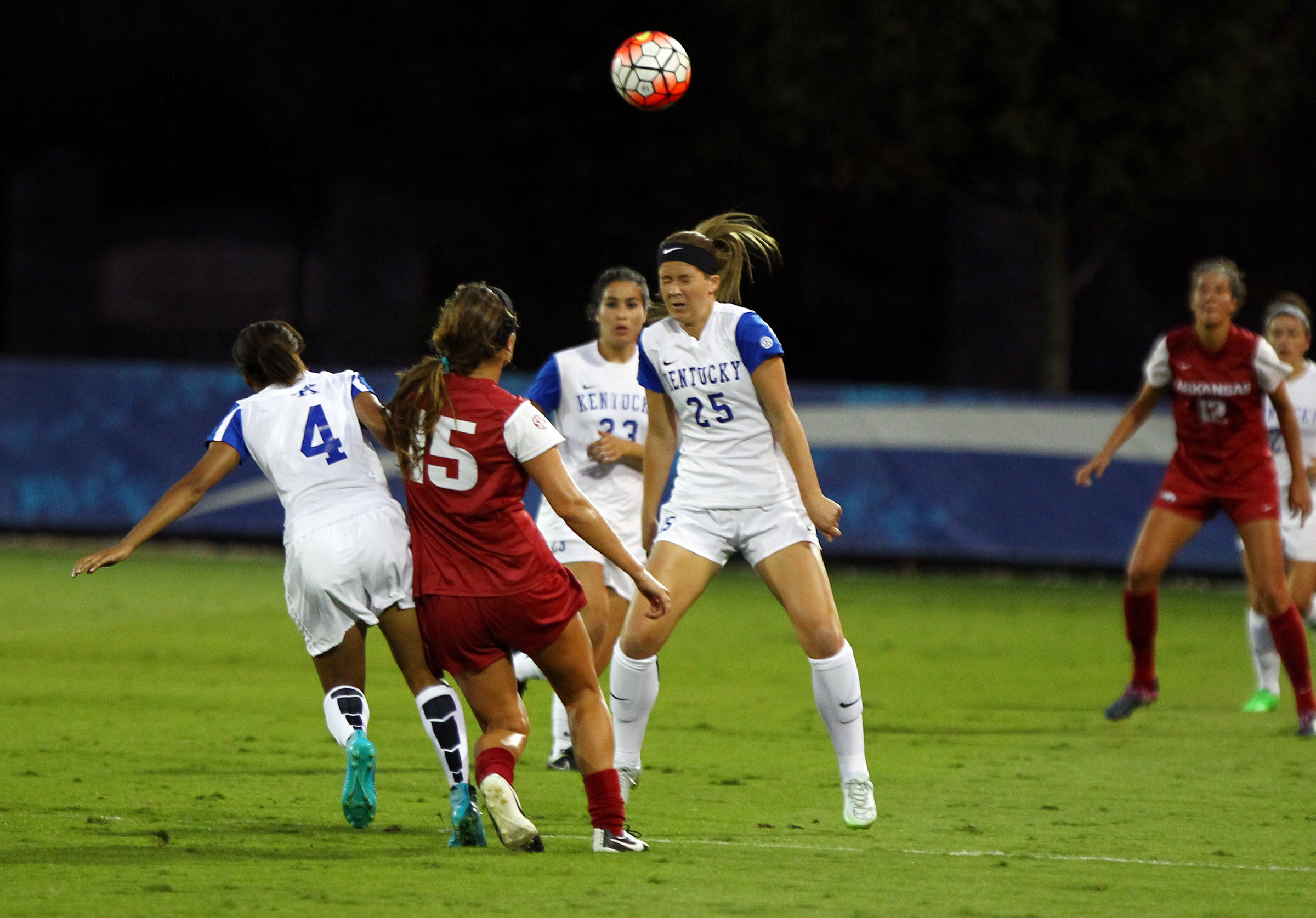 October 25, 2015 - 08:26 PM
Kentucky Picks Up Valuable Road Conference Point at Tennessee
KNOXVILLE, Tenn. – In an exciting match that featured 40 shots and 15 of them on goal, the Kentucky women's soccer team picked up a critical road point on Rocky Top on Sunday night, drawing 1-1 with the Tennessee Volunteers.
The tie gives Kentucky its 12th point of the season in Southeastern Conference play, as the Wildcats move to 3-4-3 in league action and now sit 9-5-4 overall on the season. As of Sunday night, Kentucky would be slotted as the No. 9 seed in the 2015 SEC Tournament in Orange Beach due to a common opponents tiebreaker with Vanderbilt, Tennessee and Georgia who are all on 12 points and fighting for the final three spots in the SEC Tournament. 
Freshman Payton Atkins scored her first-career goal in the ninth minute of the match to put the Wildcats ahead 1-0 in the early going. The goal for Atkins was off a corner kick, which was bouncing around in the box and finished to the right of goalkeeper Julie Eckel for the 1-0 lead. 
The goal for Atkins comes in just her second career start, as she filled in brilliantly all weekend as a starting centerback for the Wildcats.
Kentucky would take the 1-0 lead into halftime despite being outshot 9-5, but only three of those nine Tennessee shots were on frame.
Tennessee would come back with the run of play in the second half and equalize in the 80th minute off the foot of Meghan Flynn. Flynn was fed the ball out to the left blank off a counterattack with Anna Bialczak being the initiator of the counter. Flynn then took the ball and fired a shot to the upper 90 far post to beat Jensen for the first time all night.
In the overtime period, neither team could quite grab a hold of the game, and each team recorded just one shot on goal in the extra 20 minutes of action. 
Kentucky takes the pitch on Thursday night at 7:30 p.m. ET on Senior Night, as the Wildcats will host the LSU Tigers. UK will be honoring its graduating class of eight seniors on Thursday prior to opening kick. The match will be shown live on the SEC Network+, WatchESPN app and ESPN3.com with Neil Price and J.D. Stephenson on the call.
For the latest on the Kentucky women's soccer team, follow @UKWomensSoccer on Twitter, Instagram and Facebook, as well as on the web at UKathletics.com.