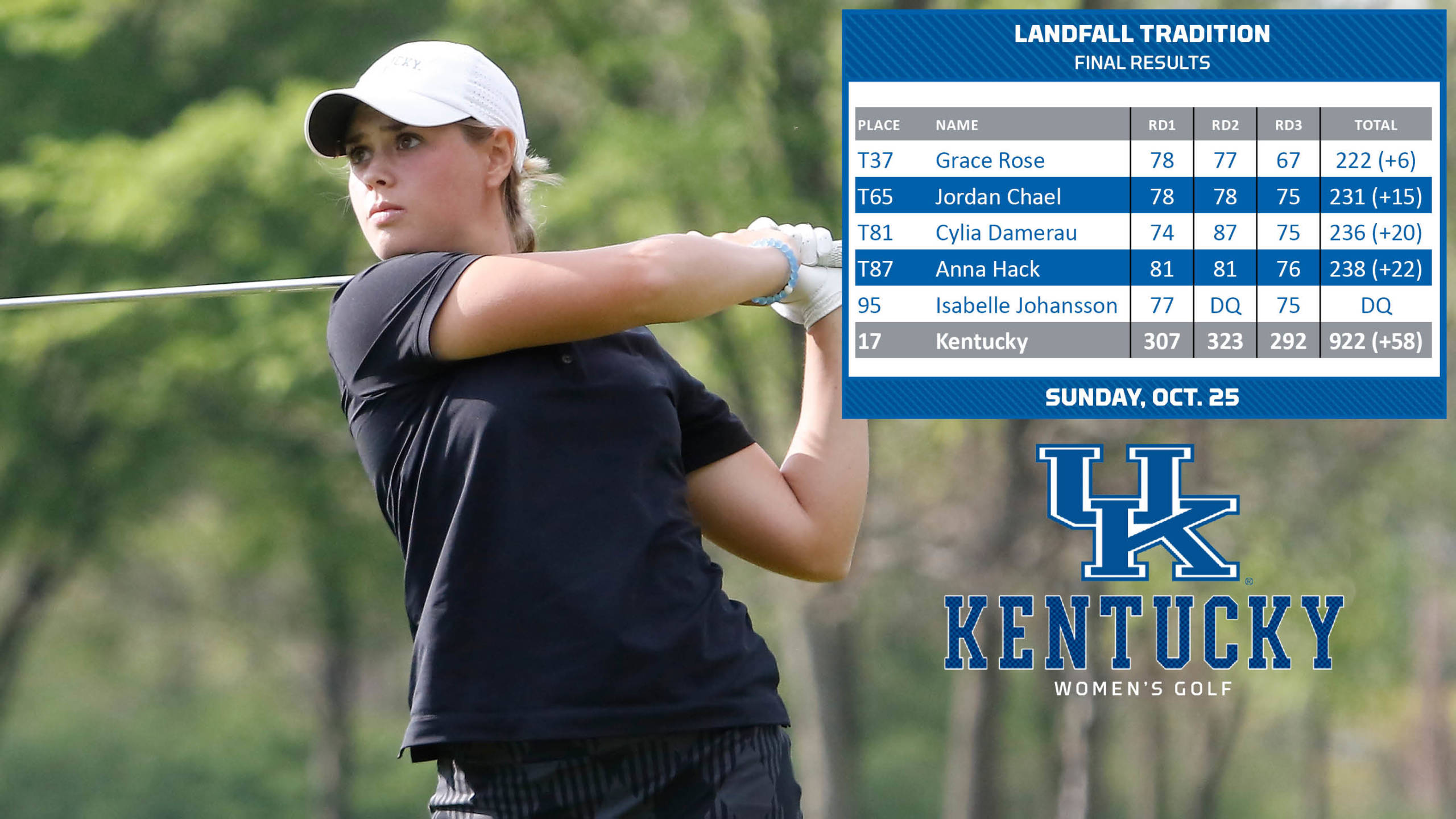 October 25, 2015 - 05:46 PM
Rose's Career Day Leads UK Women's Golf to Best Round of Season
WILMINGTON, N.C. – The Kentucky women's golf team hoped to finish strong at the Landfall Tradition to close the fall portion of the season. The Wildcats did exactly that in the final round in Wilmington, N.C., thanks to sophomore Grace Rose's career day and UK's best round of the season thus far.
With Rose firing a career-best 5-under-par 67, the Wildcats rallied in the third round with a score of 292, easily UK's 54-hole score of the season. Kentucky finished in 17th place overall with a score of 58-over par, moving past Elon with a strong final 18 holes. Most importantly, the Wildcats flashed the potential they'll need to capture in the spring when the hunt for the postseason begins.
"This has been a tough fall for our team," head coach Golda Johansson Borst said. "We haven't played up to our standard and it has really hurt our overall confidence. I knew that we would be challenged this weekend but I also knew that the girls had prepared well. They have given their all at practice and I knew that it was only a matter of time before they would start to relax and play the way they were capable of. 
"Our last round today was a good indication of what we are capable of us a team and it was great to see them play with more fire, determination and without fear. They were more aggressive today and we had more putts fall because of it."
On a day when every Wildcat played some of their best golf of the season, Rose was the best of the bunch. The sophomore, who has appeared in all but one tournament during her UK career, set multiple personal bests.
With five birdies Sunday – and not a single bogey or worse – Rose shattered her previous career-best 18-hole score of 72 with a 67 in the final round. Rose went so low Sunday that she moved all the way up to a tie for 37th, a career-best finish. Her 54-hole score of 222 topped her previous personal best of 227, which was set in last season's NCAA South Bend Regional.
Rose's 222 was also the best three-round score of any Wildcat this season.
"Grace really stepped up for us today and I am very proud of her and her effort on the course," Borst said. "She stayed focused and relaxed all day and kept giving herself opportunities for birdies. Grace is a great player and it was fun to see her have so much fun and to play with such confidence today."
Rose was one of a number of Wildcats who bounced back Sunday as all five Kentucky golfers shot 4-over par or better.
Junior Jordan Chael finished in a tie for 65th with a final-day 75 while senior Cylia Damerau tied for 81st with a third-round 75 and a total score of 20-over par. 
Sophomore Isabelle Johansson had her streak of top-50 finishes snapped Saturday when she disqualified herself for incorrectly signing a scorecard, but she battled back Sunday and contributed to the team score with a 3-over 75. She finished the fall season with UK's best stroke average. 
Freshman Anna Hack carded her best 54-hole score of her young career with a 22-over par 238. After back-to-back scores of 81 to start the tournament, Hack fired a 76 Sunday.
The Landfall Tradition marks the final tournament of the fall for the Wildcats, who have not shied away from playing the best teams in the country to start the season. The Landfall Tradition has been no different for UK with 12 of the teams in the field ranked in Golfstat's top-50 rankings, including five in the top 25 and two in the top 10.
"We now head into offseason and we have a lot of work ahead of us," Borst said. "There are several things we need to work on and the good news is that most of it is things that we can physically practice. I am looking forward to working hard every day so that we can start the spring season on a strong note when we face Louisville in January."
No. 2 Duke ran away from the field this week with a team score of 9-under par, the only team to finish in red numbers. Michigan State's Sarah Burnham came from behind to win the tournament at 5-under par.
This weekend's tournament was held at the Pete Dye Course at the Country Club of Landfall, located in Wilmington. Located along the Intracoastal Waterway, the rolling layout of the Dye Course played at par 72, 6,157 yards. The Dye Course was the host site of the NCAA Division I Women's Collegiate Championship for the second time in 2010 after hosting previously in 1995.
As always, fans can follow the team on Twitter, Facebook and Instagram, as well as on the web at UKathletics.com, for the latest Kentucky women's golf information.
Landfall Tradition (Pete Dye Course)
Wilmington, N.C
Oct. 23-25
Par: 72
Yardage: 6,157