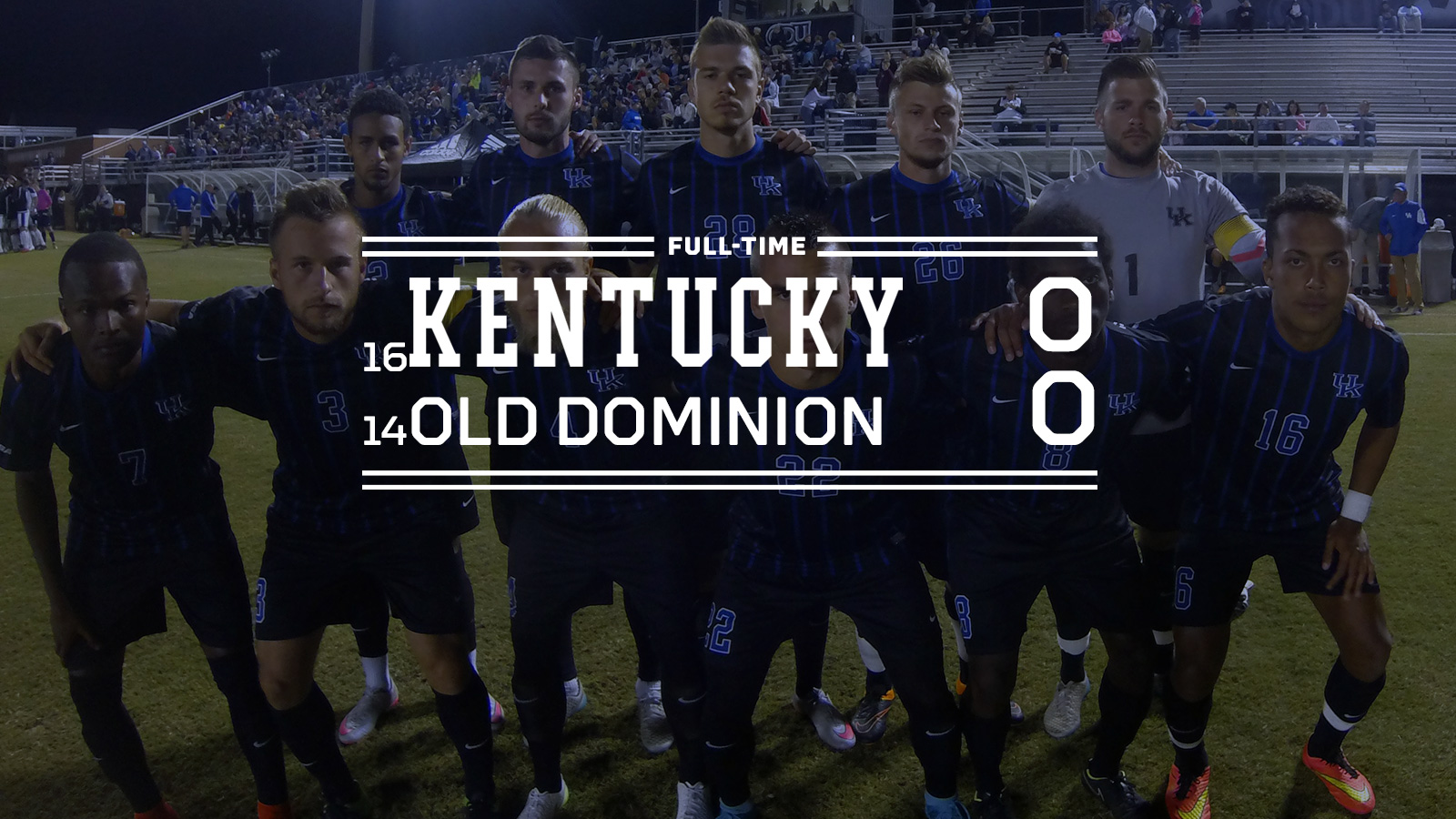 October 25, 2015 - 12:40 AM
No. 16 UK Earns Valuable Road Point at No. 14 ODU
NORFOLK, Va. – Sixteenth-ranked Kentucky moved back to the top of the Conference USA table after earning a point in a 0-0 double-overtime draw at No. 14 Old Dominion on Saturday.
Kentucky moved to 8-3-2 (W-L-D) overall and 4-0-1 in conference play.
The Wildcats are now tied at the top of the Conference USA table with Charlotte on 14 points from five matches.
The result was fair on the night given the run of play, as both teams generated their fair share of chances, but never came too close to breaking the deadlock.
"It's never easy to come here and get a result," senior
co-captain Kristoffer Tollefsen said. "We fought hard. They had some chances,
we had chances so I think in the end it was a fair result.
"Now we have everything to play for so from here we just
have to play one game at a time. It's always good to get a clean sheet. Cally
had some great saves today. The entire back-four was great today. I think it
was a great team effort."
Kentucky did make a big push to win the match in the first extra time period, as the Wildcats created all the chances in that interval, but could never connect the final pass or finish to find the back of the net.
Callum Irving and Kentucky's back-four of Charlie Reymann, Jordan Wilson, Alex Bumpus and Tanner Hummel kept a clean sheet for the second match in a row, and sixth from the last eight. 
Irving stopped seven shots, which tied his season high. Perhaps more importantly he was aggressive in claiming multiple dangerous crosses, and also was called upon to make an excellent sliding tackle outside the box to snuff out a ODU break early in the second half to show off another one of the skills that make him the nation's best.
UK has scored six and conceded no goals in five C-USA matches this year.
The Wildcats are now 2-2-1 overall on the road. UK is 2-1-1 against top-25 opponents this season.
Old Dominion (8-2-21, 3-1-2 C-USA) moved to 11 points for fourth place in the league (South Carolina is third on 12 points). 
Kentucky is undefeated at 2-0-2 against ODU all-time including draws each of the past two seasons.
Irving recorded his 24th career shutout to improve his school record. He has a league-leading 0.638 goals against average this year.