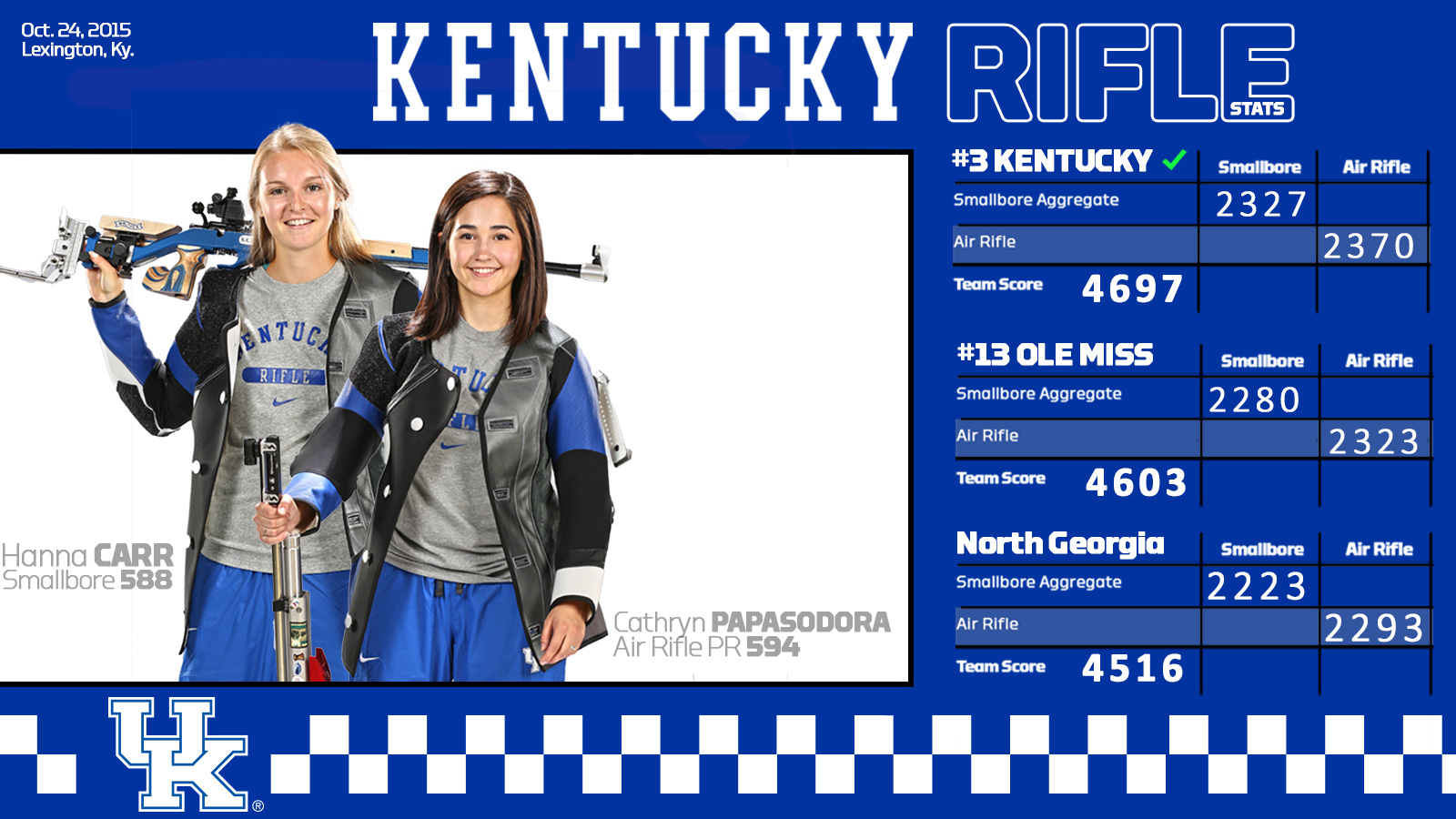 Lexington, Ky.  – Third-ranked Kentucky shot 4697, five points off its season high recorded a week ago, in its home opener to earn wins over No. 13 Ole Miss (4603) and North Georgia (4516).
The Wildcats shot 2327 in smallbore and 2370 in air rifle.
Ole Miss was Kentucky's first Great American Rifle Conference opponent this season, taking the Wildcats to 1-0 in league competition this season.
Cathryn Papasodora led the way in air rifle with a personal-best score of 594. Hanna Carr – who like Papasodora is a freshman – had a match-high 588 in smallbore.
"I was pleased with the performance of our team, yet we still need to work on a few things at the start of matches," UK head coach Harry Mullins said. "I felt the group worked hard to get over some of the hurdles encountered and if they learn from this moving forward the experience will be helpful. 
"I was pleased with our young group that came through for another outstanding performance. It was nice to have Sonya (May) back in the game and I think she was really excited to get back to shooting the matches."
Connor Davis shot 583 in smallbore, May shot 580 in her season debut, Papasodora shot 576 and Carmen Fry shot 571.
Carr, Fry and Davis earned scores of 592 in air rifle, and Heather Kirby shot 589.
Despite not being part of UK's squad relay, Jenna Bethea shot 591, meaning UK had six shooters with air rifle scores better than 590.
"Even though some of our shooters struggled at the start in both smallbore and in air rifle they held tough and were able to close out some good performances.  Now we will have to go and work hard these next two weeks to get ready for our next test when we will be shooting with some of the best teams in the country on the same relay."