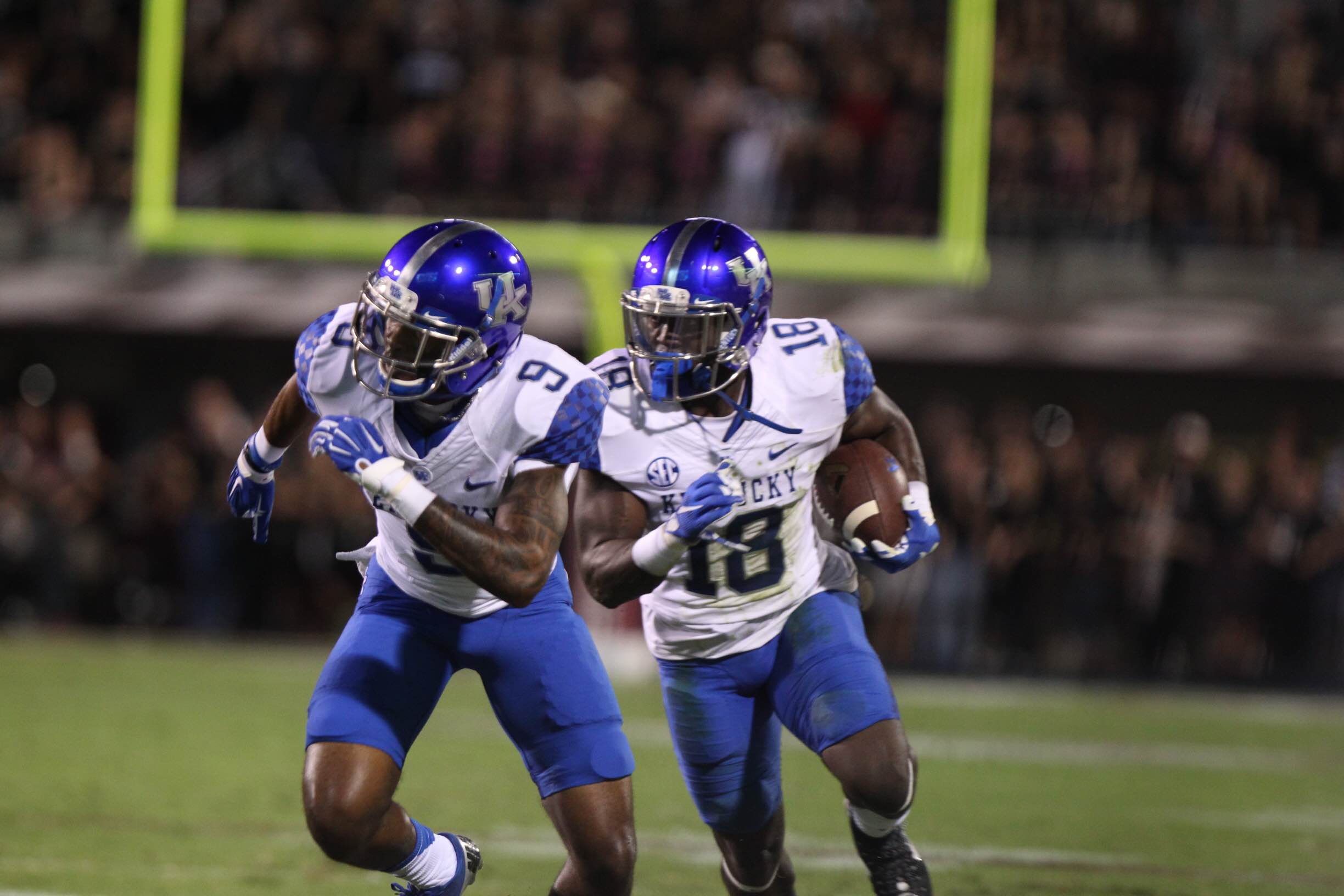 LEXINGTON, Ky. – Mississippi State scored 21 points in the second quarter behind the impressive play of Bulldog senior quarterback Dak Prescott, handing Kentucky its first road loss of the season Saturday, 42-16, at Davis Wade Stadium in Starkville, Miss.
Prescott was the star of the game, going 25-for-35 through the air for 348 yards and three touchdowns, while rushing 13 times for 117 yards and three touchdowns. Brandon Holloway was the team's second-leading rusher, carrying the ball six times for 36 yards. Holloway was also the team's leading receiver with five catches for 98 yards and a touchdown.
Kentucky quarterback Patrick Towles went 23-for-42 in the game for 218 yards and two interceptions, rushing six times for 13 yards and a touchdown. Boom Williams was the leading rusher for Kentucky, carrying the ball 18 times for 95 yards, including a 25-yard rush. Dorian Baker had seven receptions for 56 yards, while tight end C.J. Conrad had a career game with six receptions for 56 yards and sophomore Garrett "Juice" Johnson had five catches for 74 yards.
Kentucky (4-3, 2-3 Southeastern Conference) scored first when Towles rushed in from two yards out to complete a seven-play, 69-yard drive in the first quarter. After the Bulldogs responded with a Prescott touchdown run to tie the game 7-7, UK put together an eight-play drive to retake the lead 10-7 after an Austin MacGinnis 44-yard field goal.
That was the last lead the Wildcats would claim as Mississippi State scored 35 of the next 44 points to break open the game and claim a 42-16 lead with nine minutes to go in the game.
The Bulldogs opened up the lead with three straight touchdowns in the second quarter, including two in the final 1:34 of the half. Prescott was at the center of all three touchdowns, throwing a 13-yard score to De'Runnya Wilson and eight-yard TD pass to Holloway before rushing in for 20 yards late in the first half. 
MacGinnis added a 48-yard field goal with three seconds to go in the half and a 32-yarder late in the third quarter before Prescott connected with Darrion Hutcherson to increase the lead to 35-16. Prescott put the finishing touches on the win with 9:14 to play in the fourth quarter, rushing in from 18 yards out to give the Bulldogs a 42-16 victory.
The Wildcats will return to action on Saturday, Nov. 31 when they play host to rival Tennessee. Kickoff is set for 7:30 p.m. ET on SEC Network.
For more information on the Kentucky football team, follow @UKFootball on Twitter and Instagram, or like Kentucky Football on Facebook.