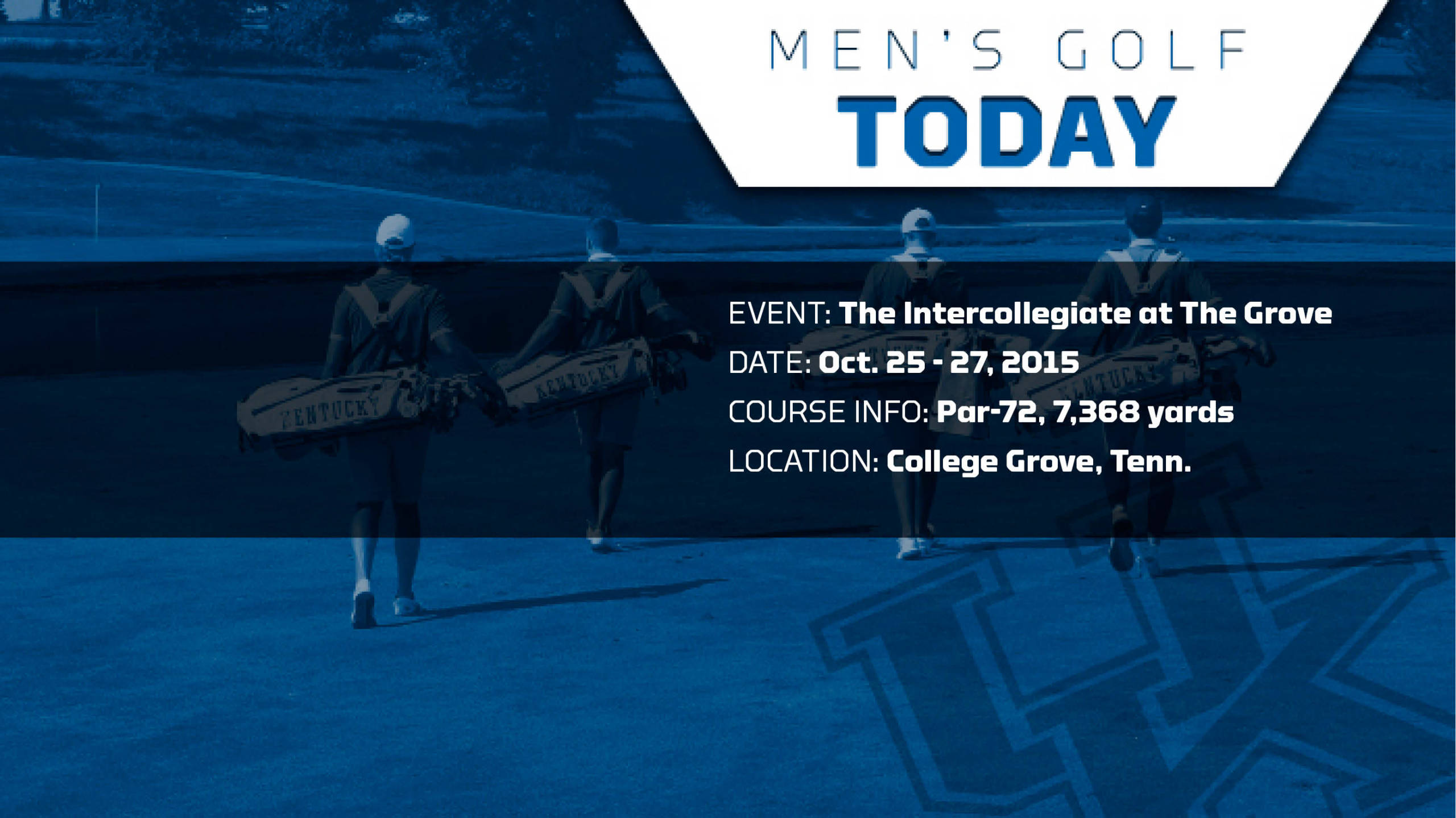 October 24, 2015 - 01:59 PM
Wildcats Conclude Fall Slate at The Intercollegiate at The Grove
LEXINGTON, Ky. – The Kentucky men's golf team will conclude its fall slate with a three-day, 54-hole tournament at The Intercollegiate at The Grove beginning on Sunday. Kentucky is among a 12-team field for the tournament at The Grove Club in College Grove, Tenn. The teams will play 18 holes each day beginning at 9 a.m. The Wildcats have earned a top-five finish in all three tournaments in which they have played during fall competition. Sophomore Tyler 'Chip' McDaniel will headline the lineup as he has notched a top-five individual finish in each tournament thus far, while junior Stephen Stallings has put together back-to-back top-20 finishes as an individual for the first time in his career.
What coach Brian Craig is saying:
"The Intercollegiate at The Grove is our last fall event. This group is continuing to improve and come together as a team. We have had excellent preparation for what is a very challenging golf course. We are close to putting together all three rounds and playing like we are capable. This would be a good week to do it to end the fall on a positive note."
The Starting Lineup:
This week's tournament will feature a lineup with McDaniel, Stallings, sophomore Cooper Musselman, freshman Lukas Euler and senior David Snyder. Sophomore Chris Meuth and freshman Jalen Ledger will appear as individuals.  
McDaniel has enjoyed a sparkling start to his sophomore campaign with three-straight top-five finishes including a runner-up finish at The Crooked Stick Intercollegiate. McDaniel leads the team with a 71.44 stroke average. That average also ranks eighth among all individuals who have played this fall among the Southeastern Conference. 
Stallings has put together consecutive top-20 finishes for the first time in his career. He has been one of UK's most consistent performers this fall as he has logged a round of 74 or below in six of his last seven rounds played. 
Musselman registered his first top-20 finish of the season during UK's last competition. Euler has seen action in every fall round and is averaging a 75.78 stroke average thus far into his collegiate career. Snyder is one of just two players who have dipped below 70 during the fall, with a season-low round of 69 during the opening round of the Dick's Sporting Goods Collegiate Challenge Cup. 
Meuth will see action in his second tournament of the fall. He posted a career-low round of 75 in the opening round of play at The Invitational at The Ocean Course to begin the fall. Ledger will be among UK's participants for the third time this fall. He put together one of the more impressive collegiate debuts in program history with a 10th place finish at The Ocean Course behind rounds of 73-76-72. 
The Tournament Field:
The 12-team field is comprised of Abilene Christian, Cincinnati, College of Charleston, Kentucky, Louisiana-Lafayette, Lipscomb, Middle Tennessee State, Southern Miss, Troy, Western Kentucky, Wisconsin and Xavier. 
UK has faced familiar foes in Cincinnati, College of Charleston, Troy and Xavier. The Musketeers were also among the field in Kentucky's most recent event at the Crooked Stick Intercollegiate.
The Course:
The Grove opened in 2012 and was designed by PGA tour player Greg Norman. His design incorporates the natural rolling hills, meandering stream beds and native grasses, which maintains the natural character of the site, while creating exciting play for golfers at every level.
Tee times will begin each morning during the three-day tournament at 9 a.m. off of holes No. 1 and 10. The action begins Sunday, and live scoring is available at golfstat.com.
The Grove Club
College Grove, Tenn.
Oct. 25-27
Par: 72
Yardage: 7,368
UK Lineup: 
1 – Chip McDaniel
2 – Stephen Stallings
3 – Cooper Musselman
4 – Lukas Euler
5 – David Snyder
Individual – Jalen Ledger
Individual – Chris Meuth