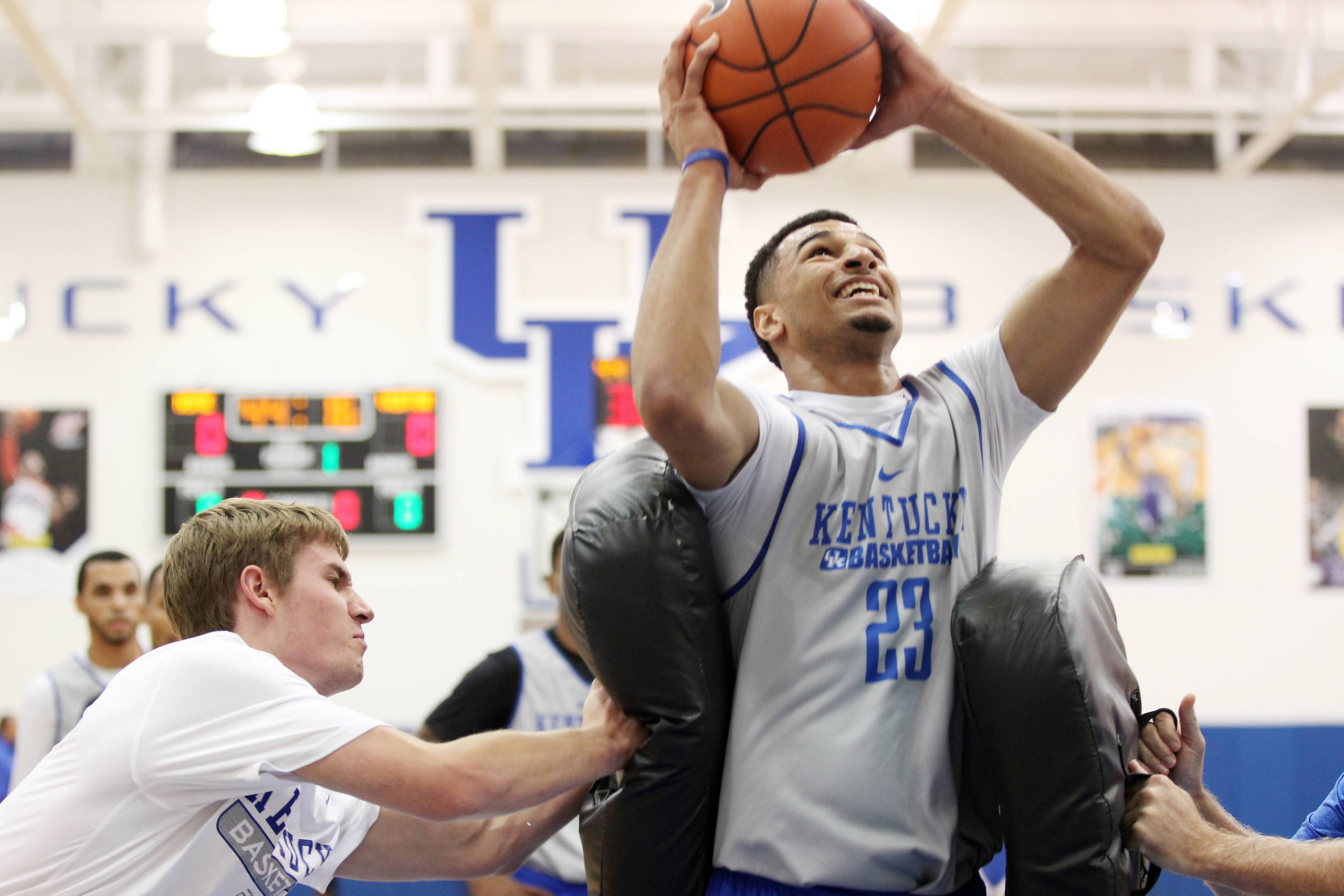 October 23, 2015 - 06:59 PM
CoachCal.com Practice Report: Grinding Through the Preseason
Did you know that this is the last week of the year without some kind of Kentucky basketball game? Next week is the Blue-White Scrimmage (Oct. 27). The week after that, UK will play two exhibition games against Ottawa (Nov. 2) and Kentucky State (Nov. 6). Then, the regular season begins the following week. Anyone excited?
With all that said, what better way to close out the work week and enter the weekend than with a new practice report? It's been 12 days since Kentucky's open practice on ESPNU, and a bit over two weeks since our last practice report, but rest assured, the guys have been working hard in the gym at the Joe Craft Center.
Head coach John Calipari opened up practice Friday afternoon to select local media members for the first time this season. Please note that all observations and opinions are only that of Metz Camfield.
First off, some injury notes: Junior guard Dominique Hawkins continues to sit out of practice with a hard cast on his broken right hand. Senior Alex Poythress rested during Friday's practice. Don't think it's anything to be concerned about – simply getting a rest.
Sophomore guard Tyler Ulis doesn't miss many floaters. He just doesn't. We saw that last year, but whether it be warmups or during the run of practice, when the 5-foot-9 Ulis takes a runner, more times than not it's a swish. Because his passing and decision making was so good for a freshman last year, Ulis' shooting ability was sometimes lost. Coming off the bench, he shot a team-high 42.9 percent from beyond the arc. While he took just 77 attempts, fourth most on the team, with another year of seasoning you'd think he could put up a similar percentage in 2015-16.
For the past three years, we have all become spoiled watching 7-foot Willie Cauley-Stein run up and down the court like a guard. Well, it appears we may all become spoiled again watching freshman forward Skal Labissiere run. He may not run as well as Cauley-Stein, but that's hardly much of a critique – few people of that size do. He can get up and down the court with speed and jumps effortlessly. On the offensive side, Labissiere has some nice post moves and an adept baby hook. If defenders don't respect his face up game, he'll bury a jumper on them. Defensively, he'll get better as the year goes on, obviously, but has already proven to be a good shot blocker.
The rebounding drill where they put a lid over the basket is a blast to watch. The players absolutely battle for the rebounds while the giant treadmill, which sounds like a plane preparing to take off, revs in the background for the loser. The key in this drill is to gain position at the outset. Almost every time a player did that he dominated.