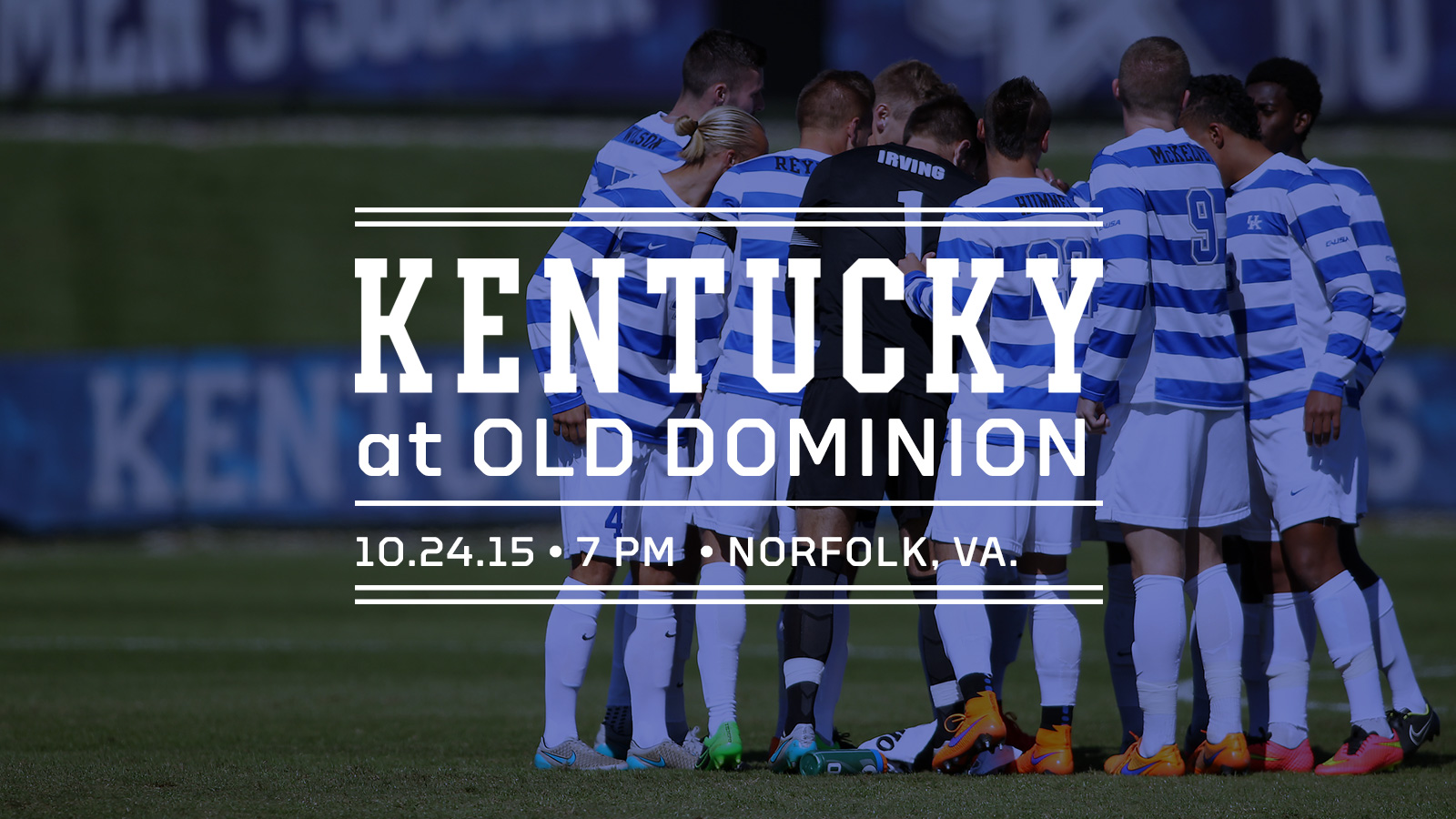 October 23, 2015 - 03:31 PM
#16 UK Soccer Set for Another C-USA Showdown, at ODU
NORFOLK, Va.  –Another weekend another tough conference test for the No. 16 Kentucky men's soccer team. The Wildcats will play at 14th-ranked Old Dominion at 7 p.m. on Saturday.
The match will be broadcast online by ODU.
Kentucky tops the Conference USA table on a maximum 12 points from four games. ODU is on 10 points, with its only dropped points having come in a draw at Charlotte and a loss at Florida International.
The setup
Kentucky is 8-3-1 (W-L-D) overall and 4-0-0 in conference play, including wins at-then No. 21 New Mexico and last Sunday v then-No. 17 South Carolina. 
The Wildcats are 2-2-0 overall on the road.
Kentucky's 100 percent record in the league applies to more than just wins and losses as UK has scored six and conceded no goals in four C-USA matches this year.
For the second year in a row, Kentucky is the last remaining unbeaten team in C-USA action. The Wildcats have five more games this regular season, with four of them in-conference.
Jordan Wilson is the reigning C-USA Defensive Player of the Week, as Wildcats have picked up league player of the week honors each of the past three weeks (Stefan Stojkovic and Napo Matsoso).
The opponent
Old Dominion (8-2-1, 3-1-1 C-USA) is coming off of a 1-0 victory at UNC Wilmington on Tuesday and has lost only once in its last 10 matches. Josue Henriquez (5g/1a) and Ivan Militar (3g/5a) lead a Monarch offense that ranks 13th in the nation with a 2.18 goals per game average. 
The Monarchs have kept two clean sheets in their past three matches. ODU goalkeeper Alex Tiesenhausen owns an 0.867 goals against average, which ranks 41st in the NCAA and third in the C-USA, behind Charlotte's Austin Pack (0.79) and league leader Callum Irving (0.73). 
Kentucky is undefeated at 2-0-1 against ODU all-time. The two teams drew 1-1 at The Bell last year.  All three matches have gone to overtime.