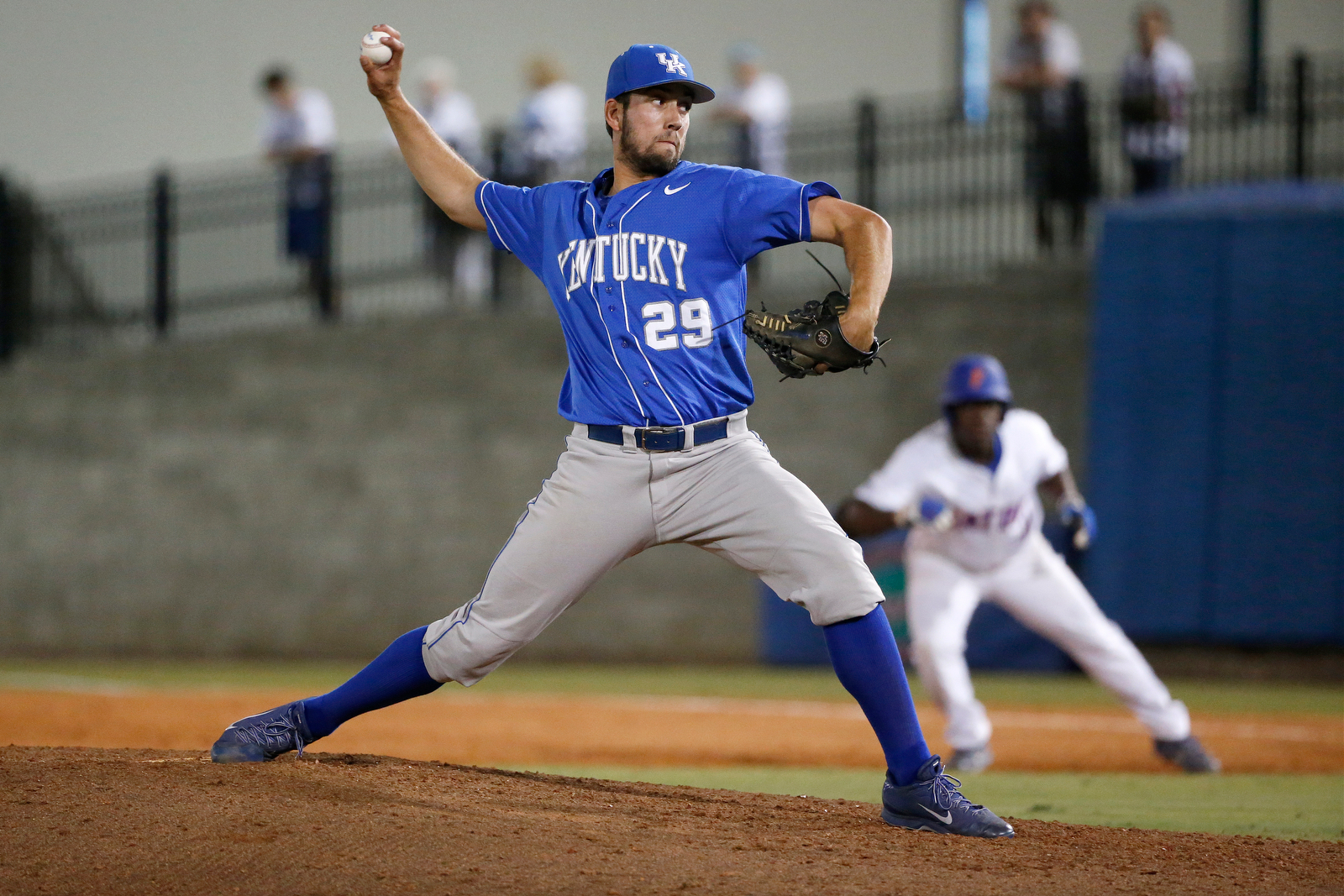 LEXINGTON, Ky. — Three shutout innings from Zach Strecker, extra-base hits from Connor Heady, Kole Cottam, Tristan Pompey and Zeke Lewis, and defensive gems from Lewis and Marcus Carson highlighted a fall intrasquad scrimmage, held on Thursday afternoon at Cliff Hagan Stadium.
In a six-inning intrasquad scrimmage, UK saw Cottam, Heady and Pompey each rip doubles, and Lewis race around for a triple. Cottam, a freshman catcher from Knoxville, Tenn., was 1-for-2 with a double off the wall in leftfield. Pompey, a 6-foot-4 freshman outfielder who is a member of the Canadian Junior National Team, ripped double to leftfield. A junior shortstop out of Prospect, Ky., Heady added a hit and HBP, doubling to the opposite field.
On the mound, Strecker, a fifth-year senior reliever, worked three shutout innings to conclude the scrimmage on the mound. UK also got two innings in the scrimmage from sophomores Zach Logue and Zach Pop, with freshmen Daniel Tillo and Jared Procter each working two frames. Tillo, a 6-foot-5, 215-pound lefty, was the 2015 Iowa High School Mr. Basketball out of Sioux City.
Lewis, a switch-hitting freshman infielder out of Atlanta, Ga., raced to third on a triple in the left-centerfield gap. While playing shortstop, Lewis made a great play to rob infielder Trey Miller of a base hit. He ranged far to his left and made a strong throw to retire Miller.
UK also got hits from Evan White, Josh Smith and Storm Wilson. Miller, a transfer from Michigan, and Dudek, a transfer from North Carolina, each added singles. White, the first baseman on the 2015 All-SEC Defensive Team had a sacrifice fly, stolen base and made several nice plays around the bag. Smith, a 6-foot-5, two-way player out of Saline, Mich., was 1-for-2 with a single.
Kentucky sophomore shortstop Riley Mahan was robbed of a hit by a nice play from Marcus Carson in centerfield in the first inning.
In 2016, UK will return all three weekend starting pitchers, including seniors Dustin Beggs and Kyle Cody, and junior Friday-night standout Zack Brown. White, a freshman All-SEC selection, and JaVon Shelby – who hit nine homers in an All-SEC season in 2015 – will help anchor the UK offensive attack.
The Wildcats wills scrimmage on Friday at 2:30 p.m. at Cliff Hagan Stadium, before concluding the weekend scrimmages on Saturday at 12 p.m. ET.