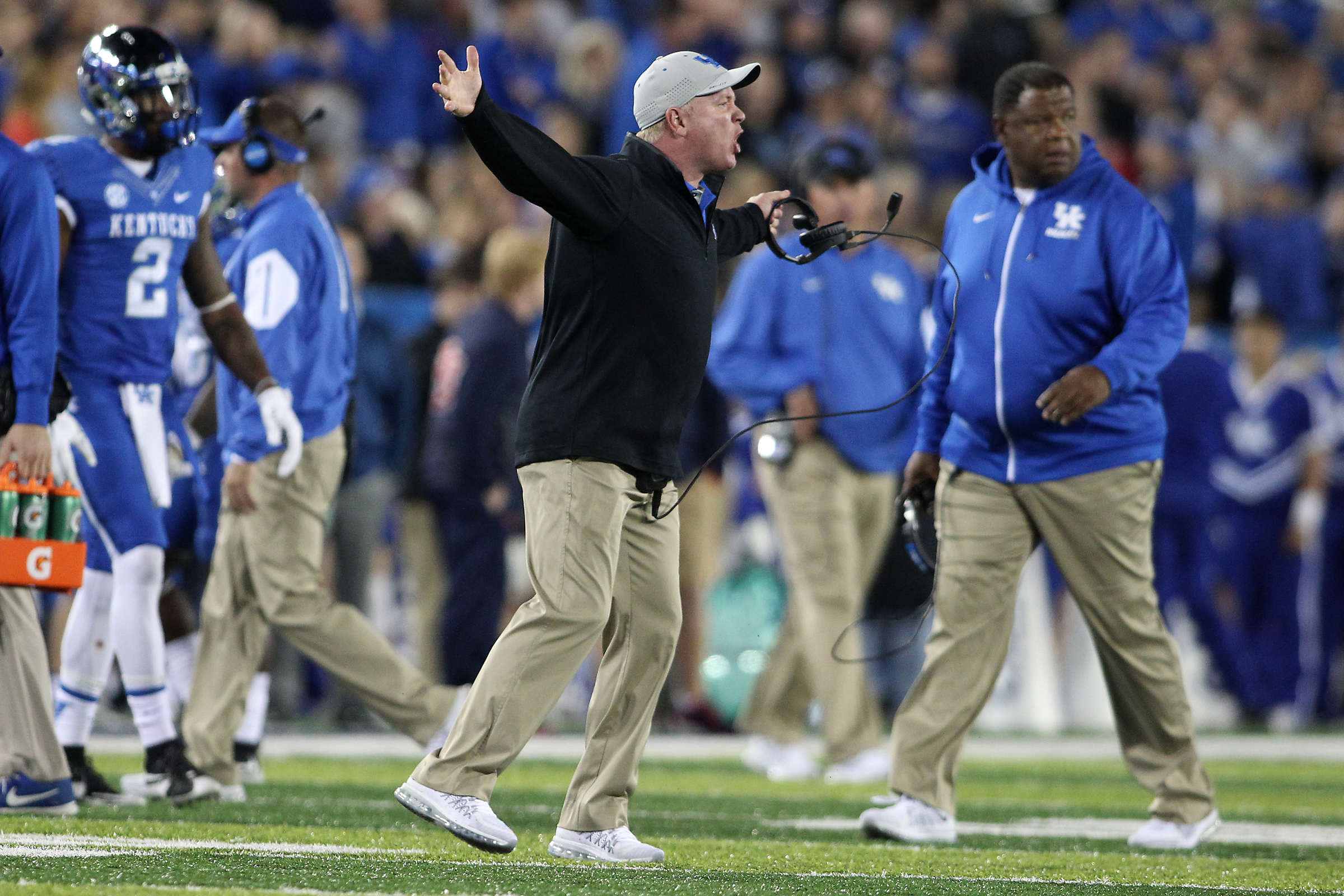 On the eve of his team's trip to Starkville, Miss., Mark Stoops spoke to the media for the final time before a Saturday matchup with Mississippi State.
Stoops was happy with what he had just seen at Thursday's practice.
"Been a good week and we finished up most of our preparations," Stoops said. "We'll have one more good practice tomorrow before we get on the plane and head out. Looking forward to another very tough, hard-fought football game. So be a real challenge, but we've had a good week and excited about the opportunity."
The road game is UK's first in more than a month. The Wildcats snapped a six-year SEC road losing streak at South Carolina the last time they left Lexington together.
"It will be fun in a way — we've played a lot of home games — to get on the plane, to get with a tight-knit group and go and get our preparations, get our meetings," Stoops said. "We'll go to a movie there and have a tight-knit group and be unified, and have a tough, strong mentality to go on the road for a very difficult football game, a difficult environment."
The environment will be similarly loud to the one in which UK won at South Carolina. It's also one Stoops has experienced before. In his first season, the Wildcats lost to the Bulldogs, 28-22.
"It was a fun environment my first time there two years ago," Stoops said. "Again, just like most of these places, very impressive, very loud. The cowbells are certainly very unique, but it doesn't seem like it distracts too much from us. We weren't a very good team the last time we went down there and played pretty decent, so I'm hoping we can go play well again."
A few other notes from Stoops' comments.
•    Earlier this week, news broke of the transfer of wide receiver Thaddeus Snodgrass. Stoops confirmed the reasons for the decision. "As far as I know, that's the gist of it: playing time and where we're at and the depth that we have at that position," Stoops said. "I'm sure there will be more. So, we wish him the best and appreciate what he's done."
•    Stoops said that surgery on Melvin Lewis' fractured fibula was successful this week. The same goes for Matt Elam's transition into a starting role at nose guard. "Matt's done a nice job," Stoops said. "I'm excited to see how he plays. He won't have Melvin there to kind of help him along the way, so he's got to step up and play a very good football game for us."
•    After sitting out the end of the Eastern Kentucky game and not handling kickoffs against Auburn due to injury, Austin MacGinnis is expected to return to full duty on Saturday.