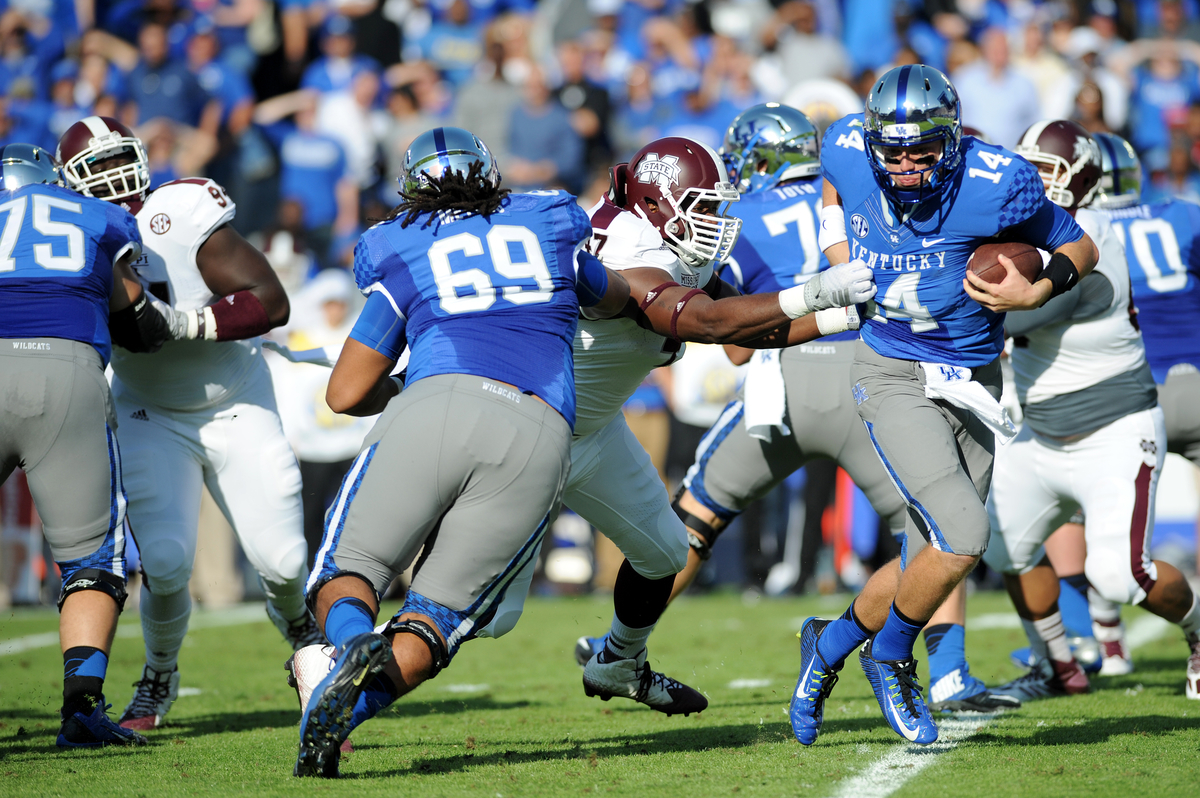 Kentucky has faced a team currently ranked in the top 15. The Wildcats have gone toe to toe with a preseason top-10 foe and made a 14-point comeback in an overtime win. They've gone on the road in one of the SEC's most hostile environments.
Saturday still marks UK's most difficult task to date in Mark Stoops' estimation.
"We've got a great opportunity this weekend and a great challenge," Stoops said. "I believe it will be the greatest challenge we've had all year."
The Cats (4-2, 2-2 SEC) travel to Starkville, Miss., for their annual matchup with SEC West rival Mississippi State (5-2, 1-2 SEC) on Saturday at 7:30 p.m. on the SEC Network. One man, quarterback Dak Prescott, has Stoops' attention more than anyone else.
"It is going to be a great environment against a very mature, good football team that has an unbelievable guy back there taking snaps and a great coaching staff and a group that is used to winning a bunch of games," Stoops said. "It is going to be a real challenge for us."
Prescott entered the season with Heisman Trophy buzz and has done nothing to disappoint, though two losses to top-15 SEC opponents have dropped his team from the polls. The holder of 23 MSU individual records, Prescott has completed better than 65 percent of his passes and thrown for 1,700 yards and 11 touchdowns.
"Dak Prescott, he's proven himself in the SEC and he's gotten better every year," defensive coordinator D.J. Eliot said of the senior. "I even see an improvement in him this year. He's calm in the pocket, he makes good throws, he makes good decisions."
As a testament to that fact, Prescott is yet to throw an interception this season.
"It seems like he's always so calm in the pocket and has a lot of poise," linebacker Josh Forrest said. "He makes smart decisions too. We're just going to try to make his decisions go faster."
Prescott is MSU's leading rusher to boot, running for a team-high 254 yards and four touchdowns. However, he's staying in the pocket and throwing more often than the last two seasons when he ran for a combined 1,815 yards.
"It shows you a quarterback that has an awful lot of poise, an awful lot of leadership and a lot of experience," Stoops said. "He knows what he is doing. They are really big at wide receiver too. They are talented and experienced and bigger guys. So we have to rise to the occasion and challenge these guys and make competitive plays."
The offense will have to rise to the occasion as well, and there's some evidence to suggest that will happen. The Cats rolled up 497 yards of total offense in a loss to Auburn last week and another 504 in a 45-31 shootout loss to MSU a season ago. In that game, Patrick Towles nearly outdueled Prescott to the tune of 466 total yards and four touchdowns.  Towles also made his UK debut against Mississippi State in 2012, throwing a 32-yard touchdown on his first college drive before sustaining an ankle injury.
"I really like having a chance to play," Towles said. "I think the last two times that I've played them, the offense has done a really good job and the coaches have been putting us in position to succeed. I expect nothing different come this week."
One difference, however, will be that Towles will have to face the Bulldogs on the road for the first time. Well known for the cowbells fans ring, Davis Wade Stadium is a tough place for the Cats to go for their first away game in more than a month.
"This is going to be as challenging as anywhere to go play and win," offensive coordinator Shannon Dawson said. "They're a good football team, their home environment is going to be great and everybody defends their home pretty well. It's going to be a challenge. I think our kids understand that."
Those kids will also have to be ready for a physical, attacking Mississippi State front seven. The Bulldogs rank 10th nationally in sacks, with their 19 quarterback takedowns coming from 11 different players. UK, meanwhile, is last in the SEC and tied for 116th nationally in sacks allowed per game at 3.2.
"We're protecting better, and so we've just got to continue on the path," Dawson said. "To be honest with you, it's no different week to week. I mean, you know, they're going to have guys that stick out. So overall within our scheme then our protection should be good. But again, we got to be careful."
Towles was taken down three times last weekend, the last coming on a fourth down that ended UK's potential game-winning drive and salted away an Auburn win. There's no time for wallowing given what the Cats have in front of them.
"There is heartbreak across the country and you have to respond and bounce back and go to work," Stoops said. "I believe our team will do that. Like I said, I thought we did a bunch of good things in this past game. And there are a lot of things we need to correct and get better, but our team is excited about doing that and learning."