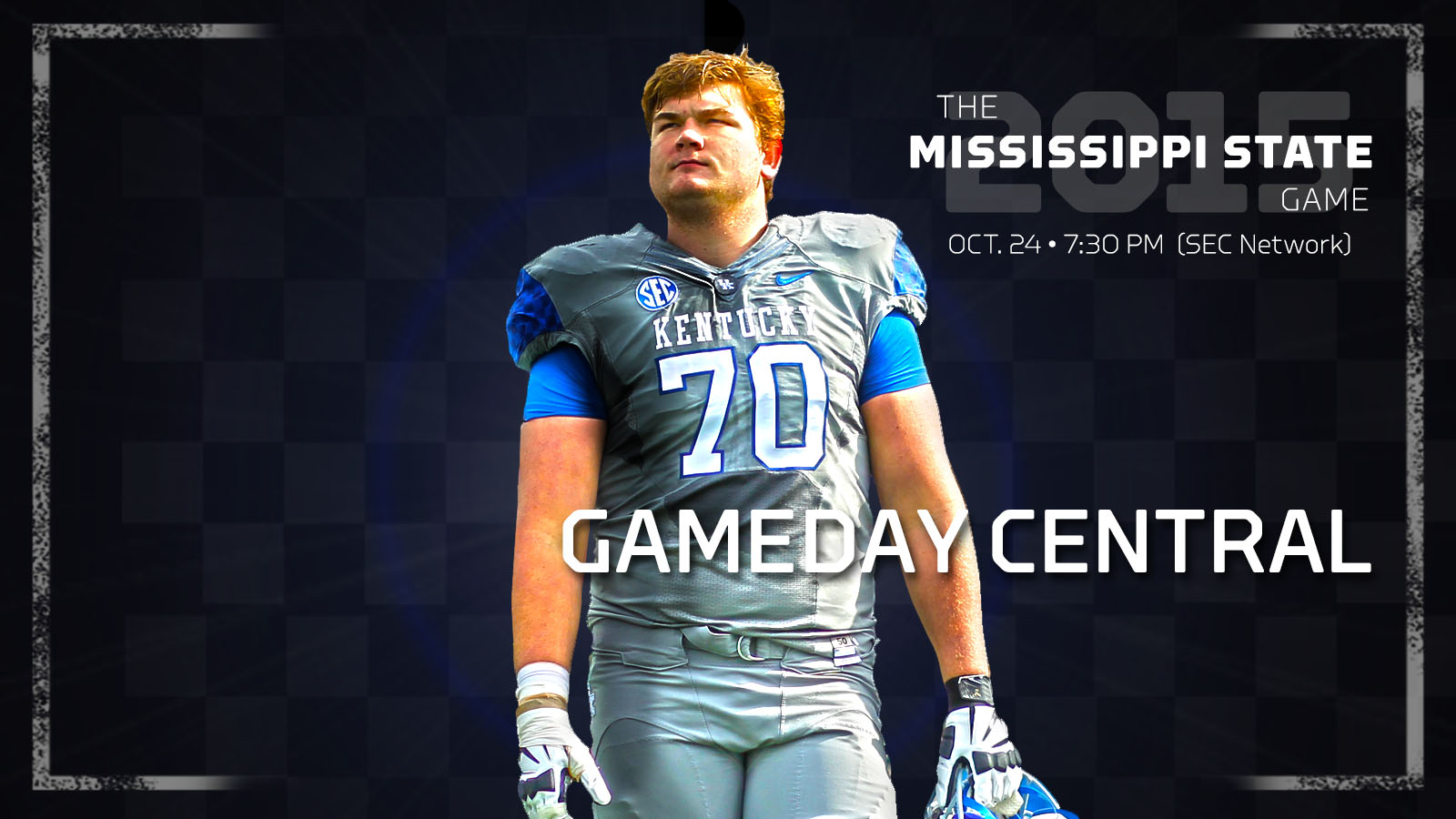 After a four-game homestand, Kentucky will return to the road with a conference tilt at Mississippi State, with kickoff on Saturday slated for 7:30 p.m. ET and the game televised live on the SEC Network.
Kentucky at Mississippi State
Sat., Oct. 24 – 7:30 p.m. ET
Davis Wade Stadium
Starkville, Miss.
Game Notes: UK

| MSU

Digital Gameday Program
Gameday App
Coverage

TV: SEC Network
Radio: UK Sports Network
Watch ESPN
Live Audio

Live Stats

Text Updates

UK
2015 Team Stats
MSU
4-2
Record
5-2
2-2
Conference Record
1-2
26.2
Scoring/game
34.1
387.5
Total offense/game
425.0
135.5
Rushing yards/game
141.9
252.0
Passing yards/game
283.1
24.8
Kickoff returns (avg)
21.0
10.6
Punt returns (avg)
18.0
39.5
Punting (avg)
42.0
28:52
Time of possession/game
23:43
40%
Third down conversion
37%
80%
Fourth down conversion
50%
23.2
Points allowed/game
18.0
374.8
Total yards allowed/game
368.4
167.5
Rush yards allowed/game
161.6
207.3
Pass yards allowed/game
206.9
Kentucky will be seeking its first win over the Bulldogs since 2008, a 14-13 result in Starkville. The all-time series, which dates back to 1914, is tied 21-21.
The Wildcats are coming off a 30-27 loss over Auburn in its first Thursday night home game since 1939. UK fell behind 23-10 at halftime to the Tigers, before rallying to cut the lead to three points with 4:06 remaining in the fourth quarter on a Mikel Horton TD rush to cap a 75-yard drive. UK's defense then responded, forcing Auburn to punt with 2:12 left in regulation. UK's drive was stopped at on fourth and three from the Auburn 46-yard line, thwarting a potential comeback win for the Wildcats.
In the game with Auburn, UK got a career outing from sophomore WR Garrett Johnson, who nabbed nine catches for 160 yards, the most receiving yards for a UK player since 2010. Junior QB Patrick Towles led a UK offense that collected a season-best 497 yards, with 359 coming in the air. The 497 yards also is the most allowed by Auburn this season. Junior S Marcus McWilson's 10 tackles led a strong second-half defensive effort that limited the Bulldogs to 110 yards in the second period.Kentucky will be playing in its first Thursday night home game since 1939 and its first Thursday game since traveling to Mississippi State in 2013. The Wildcats enter the game having won two consecutive after dropping the first of a season-long, four-game homestand.
Last time out, UK rallied from behind in the fourth quarter to edge Eastern Kentucky in overtime, 34-27. UK got a strong outing from junior QB Patrick Towles to spark the comeback, as UK scored 21 unanswered points to end the game after trailing by two TDs with five minutes remaining in the fourth quarter. Towles threw for 329 yards and three TDs in the win, finding sophomore WR Dorian Baker for a career-high eight catches and 86 yards, with two TDs, including the game-winning TD catch in overtime. Senior Cory Johnson set a program record – with records available as far as 1993 – with 19 tackles in the game, the most ever for a defensive lineman. Josh Forrest and Ryan Flannigan also added double-digit tackle efforts.
Cat Scratches: Toughest Challenge Yet Awaits Cats at Mississippi State
Kentucky has faced a team currently ranked in the top 15. The Wildcats have gone toe to toe with a preseason top-10 foe and made a 14-point comeback in an overtime win. They've gone on the road in one of the SEC's most hostile environments.
Saturday still marks UK's most difficult task to date in Mark Stoops' estimation.
"We've got a great opportunity this weekend and a great challenge," Stoops said. "I believe it will be the greatest challenge we've had all year."
The Cats (4-2, 2-2 SEC) travel to Starkville, Miss., for their annual matchup with SEC West rival Mississippi State (5-2, 1-2 SEC) on Saturday at 7:30 p.m. on the SEC Network. One man, quarterback Dak Prescott, has Stoops' attention more than anyone else. … Read the full story, here.
Series Record vs. Mississippi State
Mississippi State and Kentucky will be meeting for the 43rd time in a series that dates back to 1914. UK won the first meeting, 19-13 in Lexington. The series is tied 21-21, with Mississippi State leading the series in Starkville, 12-9. The Bulldogs have won all six meetings in the series since coach Dan Mullen took over in 2009. UK's last win in the series came in 2008 in Starkville, 14-13. Randall Cobb had a passing and rushing TD in the win in 2008, with UK's 12-play, 82-yard drive with 12:42 remaining in the third quarter served as the game-winning drive. UK held MSU to 304 total yards, including 43 yards rushing in the win. In 2014, then-No. 1 Mississippi State won the series, 45-31 in Lexington, its sixth straight win in the series. Seven consecutive meetings in the series have been decided by at least two TDs. The last – and only – time Mississippi State has owned a lead in the series came after taking a 5-4 advantage in the meetings between the two schools following a 26-0 win over UK in 1944.
Last time vs. Mississippi State
The Bulldogs, then the nation's top-ranked team, claimed a 45-31 win over Kentucky in the 2014 meeting in Lexington, improving MSU to 6-0 and handing UK its first home loss of the year to drop to 5-3. MSU jumped out to a 17-10 lead at halftime, with UK fighting back with a pair of TD drives late in the second half to get within a touchdown of the MSU lead. After Josh Robinson took a carry 73 yards to give MSU a 38-24 lead, UK mounted a seven-play, 71-yard drive to cut the lead to 38-31. With 2:22 left in regulation, UK's onside-kick attempt was taken 61 yards for a MSU touchdown to stretch the lead to the final margin, 45-31. MSU's grinded out the win on the strength of 542 yards of total offense, including 326 yards on the ground. UK was also explosive, collecting 504 yards of offense, including UK QB Patrick Towles throwing for 390 yards and two TDs. Towles also starred on the ground for UK, carrying the load of UK's 32-attempt rushing attack with 23 carries and 76 yards, with a pair of touchdowns. WR Ryan Timmons nabbed five catches for 114 yards, with senior WRs Javess Blue and Demarco Robinson each grabbing touchdowns catches. Defensively for UK, DE/LB Bud Dupree had 10 tackles, including a sack and 1.5 tackles for loss. LB Josh Forrest had nine tackles and an interception, with DTs Melvin Lewis and Cory Johnson each forcing fumbles. MSU's ground game was led by Robinson, collecting 198 yards and two TDs on 23 carries. QB Dak Prescott carried it 18 times for two TDs and 88 yards, also throwing for 216 yards on 18-of-33 passing 
Scouting Mississippi State
Mississippi State (5-2, 1-2 SEC) is coming off a 45-20 win over Louisiana Tech on Saturday. The Bulldogs fell behind 14-0 in the first quarter, before mounting a comeback and equaling the score at 17-17 on a TD pass with 2:53 remaining in the first half, taking a lead after captilizing on a turnover to end the half, 24-17. QB Dak Prescott led MSU in the comeback win over Louisiana Tech, throwing for 347 yards and two TDs, also rushing for a touchdown. Prescott leads MSU in rushing and passing, totaling 254 yards on the ground and four TDs, while throwing for 1,700 yards (242.9 per game) and 11 TDs in seven games, not throwing an interception and completing 66 percent of his attempts. MSU's rushing game is supported on the ground by Brandon Holloway, who has 160 yards on 36 carries, Ashton Shumpert, who has 42 rushes for 159 yards and a TD. Nick Fitzgerald owns three rushing TDs, with Aeris Williams scoring two TDs on the ground. In the air, Fred Ross leads the Bulldogs with 38 catches, for 422 yards and a TD. De'Runnya Wilson has a team-leading five TDs and 433 yards on 29 catches. Fred Brown has 16 catches for 250 yards and a TD. Defensively, MSU has been led by 61 tackles in seven games by Richie Brown, who has added 3.5 sacks and an interception. A.J. Jefferson has 10.5 tackles for a loss, including a club-high four sacks. Will Redmond has two interceptions. Kicker Westin Graves is a perfect 8-for-8 in field-goal attempts, with a long of 44. Logan Cooke has punted 23 times for a 42.3 yard average, with eight 50-yard punts and nine dropped inside the 20-yard line.  
Texas Roadhouse Countdown to Kickoff
Tune in to the UK Sports Network for the "Texas Roadhouse Countdown to Kickoff" two hours before every football game. From Cat Walk to Cat Talk, host Christi Thomas and former UK Quarterback Freddie Maggard will focus on the X's and O's of the game and bring a little fun to pregame in the first 30 minutes of the show. Afterward, Host Neil Price is joined by Oscar Combs, Dick Gabriel, Tom Leach and Jeff Piecoro to continue the official pregame broadcast until kickoff. The show is broadcast in Lexington on 98.1 WBUL & 630 WLAP, UK Radio Network affiliates, online at ukathletics.com, and in the UK Gameday App. For the first time, the two-hour pregame show will be live streamed every home game for fans to watch on ukathletics.com.