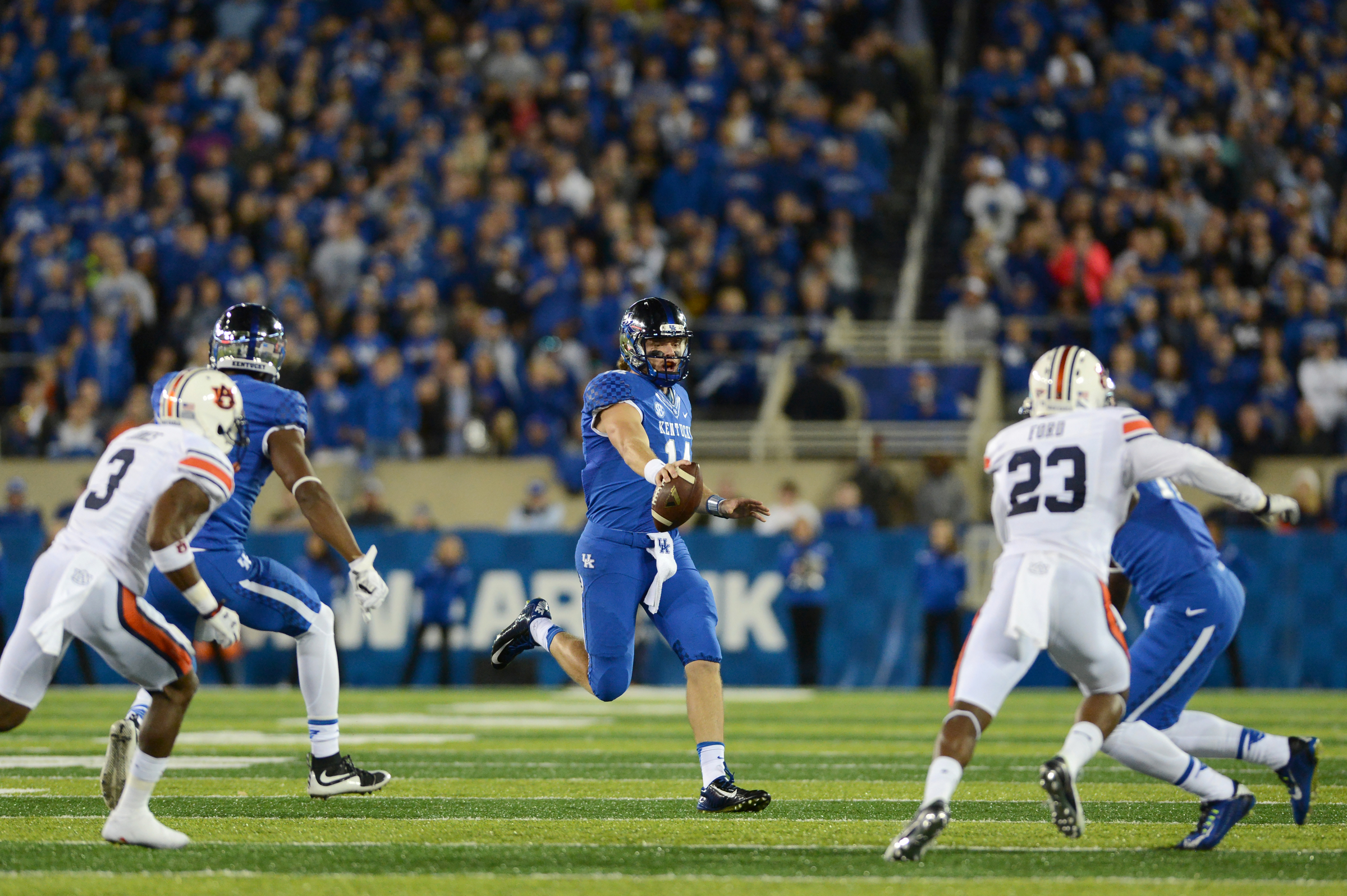 The tape revealed what Shannon Dawson expected.
Kentucky might have lost a tough one to Auburn last Thursday, but it wasn't due to an offense incapable of moving the ball.
"Offensively, I think we executed about as good as we have this year," Dawson said. "That's probably as close to what I envision offensive football looking like."
The Wildcats rolled up 497 yards of total offense, mixing the run and hitting a number of big plays with the pass. Auburn just managed three more points.
"We just need to do better about two or three critical situations really," Dawson said. "About three plays that we need to learn from. Other than that, we played fairly well. Just fell short. Think it was a clean game by both teams. We had one turnover, they had none. That's probably the difference in the game."
The one turnover came on an interception by Patrick Towles, who had a big night otherwise. Towles completed 27-of-44 passes for 359 yards, who had his third straight solid statistical outing after a loss to Florida.
"I think I'm a lot better player than I was week one and I feel like I'm starting to be more consistent, which is what we want," Towles said. "With every game, I've felt spurts of playing some really, really good football and I've had some spurts of playing some not-so-good football. I think in that Auburn game, with the exception of really two or three plays, I played some pretty good football."
Dawson sees the same progression from his junior quarterback.
"The course of that game, I think the key element is when you see the ball getting spread around a good bit, that's when the quarterback's comfort level is getting better," Dawson said. "Hopefully we can maintain that level. We need to distribute the ball. Obviously there's going to be a guy here and there that catches for 150-200 yards, but we need different guys touching it."
Garrett Johnson was the player who had 160 yards against Auburn, but four more players had multiple catches.
"If you look from the beginning of the year till now, you see that at the beginning of the year we had games where not a lot of guys were touching it," Dawson said. "Now we're getting more people touching it."
Dawson isn't surprised to see that kind of development as the season wears on, considering he's in his first season as offensive coordinator. He was hired in part for the sake of system continuity after Neal Brown left to become head coach at Troy, but there are still adjustments to be made.
"I know that people say, 'Well, the offense is similar,' " Dawson said. "Well, every offense is similar, but we call it different, we program people different, we teach it different. I mean, it's different. So, the first year regardless of whether it's young guys or old guys, the first year is frustrating."
Frustrating, yes, but promising as well. The Cats, you see, keep getting better.
"Today was a really good day of practice," Towles said. "Excited about how our mentality has been unchanged, how we had that worker's mentality and we're ready to go on Saturday."