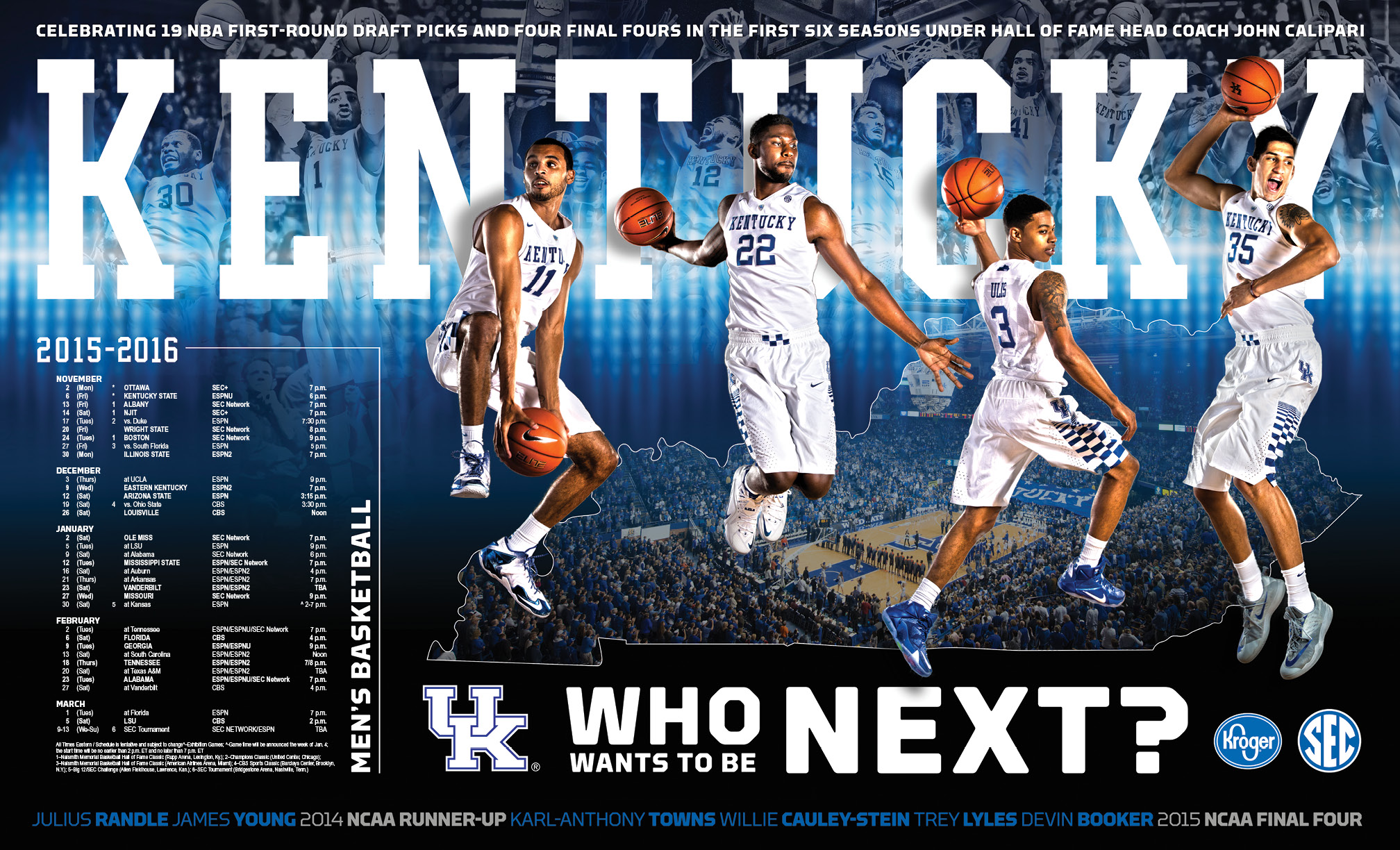 October 20, 2015 - 05:17 PM
UK Athletics Unveils Poster Ordering Online
LEXINGTON, Ky. – Kentucky Athletics posters are now available for online ordering at UKathletics.com/posters.
To coincide with the distribution of men's and women's basketball posters this week, fans' orders of all UK Athletics team posters will now be fulfilled online.
All UK athletics schedule posters are free, but online orders incur shipping costs.
Orders are subject to NCAA rules restrictions. Fans can order no more than 12 posters.
This marks the first time UK Athletics posters for sports like football, men's and women's basketball, and the rest of UK's teams are available online through UKathletics.com. In the past fans outside the state of Kentucky had to call or send mail orders to receive posters.
Posters are free if they are picked up at the welcome center located in the Joe Craft Center at 338 Lexington Ave. Fans in the Lexington area are strongly encouraged to pick up the posters/schedule cards due to the amount of requests UK Athletics receives.
There are three versions of this year's men's basketball poster featuring action shots of all 12 of UK's scholarship players. Isaiah Briscoe, EJ Floreal, Dominique Hawkins and Isaac Humphries are on one poster; Skal Labissiere, Marcus Lee, Charles Matthews and Jamal Murray are on the second; and Mychal Mulder, Alex Poythress, Tyler Ulis and Derek Willis are on the third.
The men's basketball posters are also available for free in more than 100 Kroger stores, including every Kentucky location. Limited quantities are available in each store, so fans are recommended to pick up their posters as early as possible. Some stores may already have given out their full allotment. A complete listing of Kroger stores distributing the poster can be found here.
Women's basketball posters will be available in Kroger stores at a later date. Football posters are no longer available as they've all been distributed.
For the latest on the Kentucky men's basketball team, follow @KentuckyMBB on Twitter, Facebook and Instagram, and on the web at UKathletics.com.