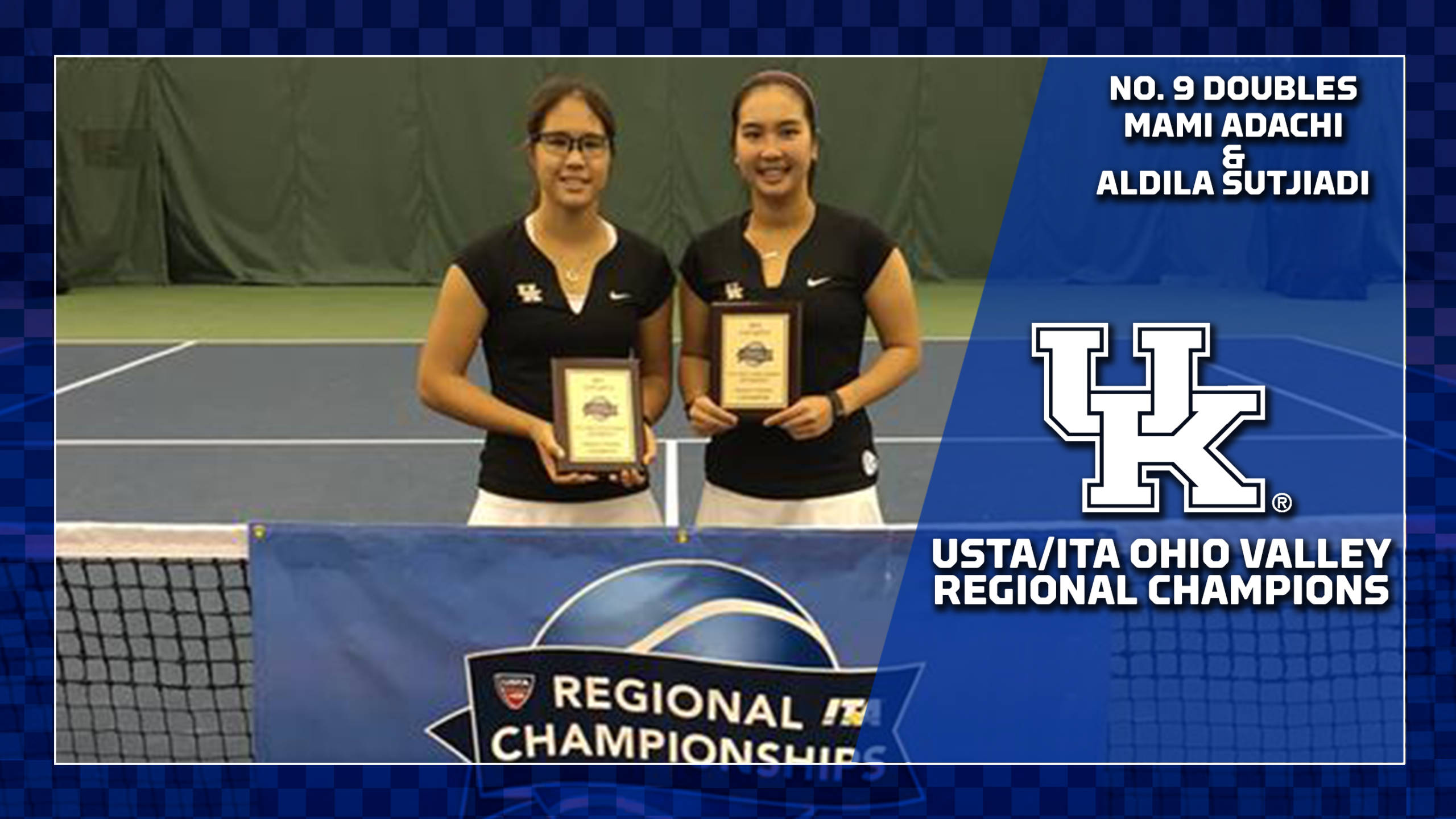 October 19, 2015 - 01:39 PM
Adachi and Sutjiadi Capture Doubles Championship Title at ITA Regionals
WEST LAFAYETTE, Ind. – The No. 9 ranked pairing of Mami Adachi and Aldila Sutjiadi handily captured the doubles title at the USTA/ITA Ohio Valley Regional Championships, earning the duo automatic entry to the USTA/ITA National Indoor Intercollegiate Championships on Nov. 12-15.
Adachi and Sutjiadi move to 9-1 in doubles action during the fall season with their victory over No. 1 Vanderbilt's Courtney Colton and Astra Sharma.  Though the Commodores are not ranked as a unit, Colton is one half of the No. 4 pairing in the nation while Sharma is a member of the No. 28 duo.  
The Wildcats were able to defeat Vandy in two sets, with a 6-3 win in the first before clinching their title with a 6-4 second set.  Throughout the tournament, Adachi and Sutjiadi conceded just 25 games in seven sets.  
"I am very happy and excited for our win today," commented Sutjiadi.  "I'm very proud of Mami, who was able to overcome her nerves by being aggressive and swinging on her shot.  We both had a touch match on singles, but we were able to turn around and did an awesome job on doubles."
"I'm so happy we won this tournament and got into the national indoors.  We'll do our best and enjoy the tournament in New York," added Adachi.
Kentucky's opening set featured an 8-4 defeat of Memphis's Janina Berres and Gabrielle Paul before blanking Evansville's Doreen Crasta and Marine Drazyan, 8-0, later that day.  They moved on to Xavier's Alexandra Brinker and Cristina DiLorenzo on Saturday, picking up an 8-4 victory over the Musketeers.  Their tightest match came in the semifinals, when they squared off with Vandy's Sydney Campbell, the other member of the No. 4 pairing with Colton, and Fernanda Contreras Gomez.  Adachi and Sutjiadi picked up a 6-4 win in the first set before coming out on top of a tiebreak in the second to advance to the finals with a 7-6(6) victory.
The two now look forward to the USTA/ITA National Indoor Intercollegiate Championships, which will be a 20-team doubles draw.  Automatic entry includes champions from the USTA/ITA Division I Regional Championships, winners of the USTA/ITA National Small College Super Bowl, as well as the consolation champions and doubles finalists from the Riviera/ITA Women's All-American Championships.  The Championships will be held at the USTA Billie Jean King National Tennis Center in Flushing, N.Y.
Head coach Carlos Dradá commended his entire squad on their efforts over the four days of tournament play, explaining, "I am proud not only of Aldila and Mami, but all eight athletes who competed this weekend.  Our results show that our process is being implemented at an elite level."
Visit UKathletics.com for the most up-to-date information on the Kentucky women's tennis team and all 22 varsity sports. For additional info, notes, and behind-the-scenes updates, follow the team on Twitter at @UKWomensTennis and on Facebook.
Doubles
Championship Final
#9 Mami Adachi/Aldila Sutjiadi (UK) def. Courtney Colton/Astra Sharma (VU) 6-3, 6-5