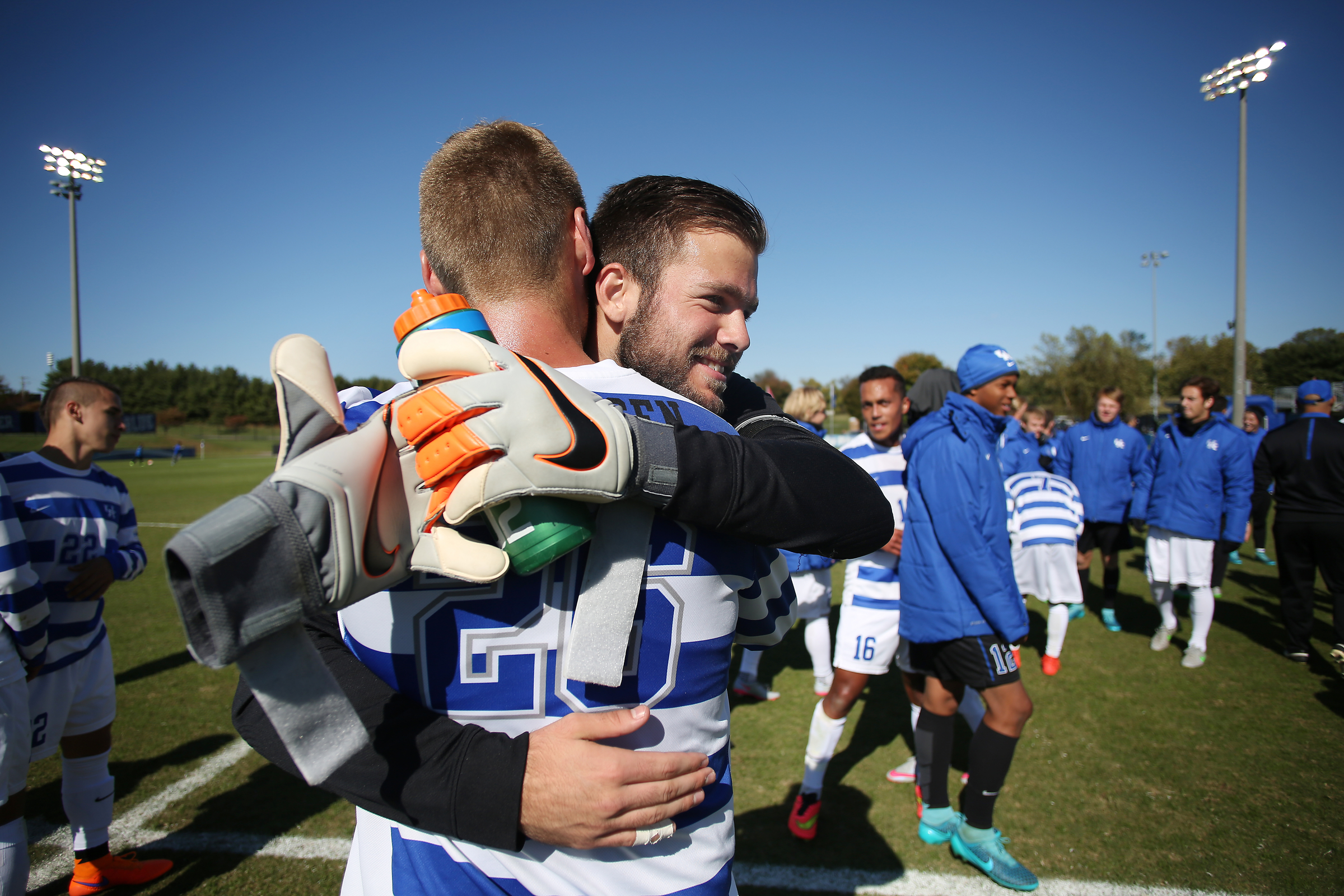 October 18, 2015 - 04:54 PM
#15 UK Moves atop C-USA with 1-0 Win over #17 South Carolina
LEXINGTON, Ky.  – Jordan Wilson nodded a header in at the near post just past the half-hour mark to position the No. 15 Kentucky men's soccer team at the top of the Conference USA table by virtue of a 1-0 win over No. 17 South Carolina on Sunday at The Bell. 
With the win Kentucky maintained its 100-percent record (4-0-0) in C-USA to tie South Carolina (8-3-1, 4-1-0 C-USA) for first place in the league on 12 points. Kentucky has a game in hand. 
Senior goalkeeper Callum Irving recorded his fifth clean sheet of the year to claim sole possession of the Kentucky all-time record with 23 career shutouts. Irving made four saves in the match on 10 South Carolina attempts on goal.
He was on his toes from the jump, as the All-American keeper had to quickly adjust to a deflected rebound effort just more than a minute into the game. But that would prove to be South Carolina's best chance of the match, and while he was forced to dive to stop a shot in the second half and endure a late push by the Gamecocks, Irving proved to be up for every challenge he faced on Sunday.
The goals
Jordan Wilson's first-career goal was the difference in the fixture that has come to be known as the Southeastern Conference Men's Soccer Championship. 
Tanner Hummel drew a foul just on the edge of the box 10 yards from the bi-line, affording UK a set piece from a dangerous spot. Kristoffer Tollefsen hit a ball to the near post, where Wilson beat his marker and headed in to give the Wildcats a lead they would not relinquish. 
The notes
With the win, Kentucky moved to 8-3-1 overall and 6-1-1 this season at The Bell, where 1,359 fans turned out for Sunday's Blew Out match. The first 250 of them received complementary Bluevuzelas, which helped create another exciting atmosphere.
Kentucky's 100 percent record in the league applies to more than just wins and losses as UK has scored six and conceded none in four C-USA matches this year.
Tollefsen's assist was his second of the year.
Kentucky has held opponents scoreless six times this season (Irving was replaced by Stuart Ford late in UK's 6-0 win over Eastern Illinois by rule preventing that shutout from going on his record).
Irving's shutout moved him past UK all-time greats Brian O'Leary (1997-00) and Andy Gruenebaum (2002-05) for the top spot in the Kentucky record book.
Kentucky and South Carolina sit atop the C-USA table on 12 points, with defending regular-season champion Charlotte and No. 9 Old Domion next on 10 points. 
For the second year in a row, Kentucky is the last remaining unbeaten team in C-USA action. The Wildcats have five more games this regular season, with four of them in-conference.
Kentucky earned its second win this season over a team ranked in the top-25 of the coaches' poll, having won 1-0 at then-No. 20 New Mexico, two weeks ago. The Wildcats are 2-1 against top-25 teams this year.
UK will take six days off before another conference showdown at No. 9 Old Dominion next Saturday.
The all-time series between the only SEC schools that sponsor varsity men's soccer is now tied at 6-6-3. Kentucky has a 4-2-1 lead in games contested in Lexington.
The quote
"Every game our goal is to defend hard and not give away many chances." Irving said. "The second half they were kind of coming at us, but Jordan (Wilson), (Alex) Bumpus, Charlie (Reymann) and Tanner (Hummel) and the holding midfielders worked hard and were able to take away any serious chances that they had. It's comforting as a keeper to know you have guys in front of you with the quality to help you out.
"(The record) gets put on me, but like I said to the guys' it gets put on me, but it's a whole team effort every time.' Especially with a great center-back like Jordan in front of me. I don't think he, and our defenders, get enough recognition for what they do."