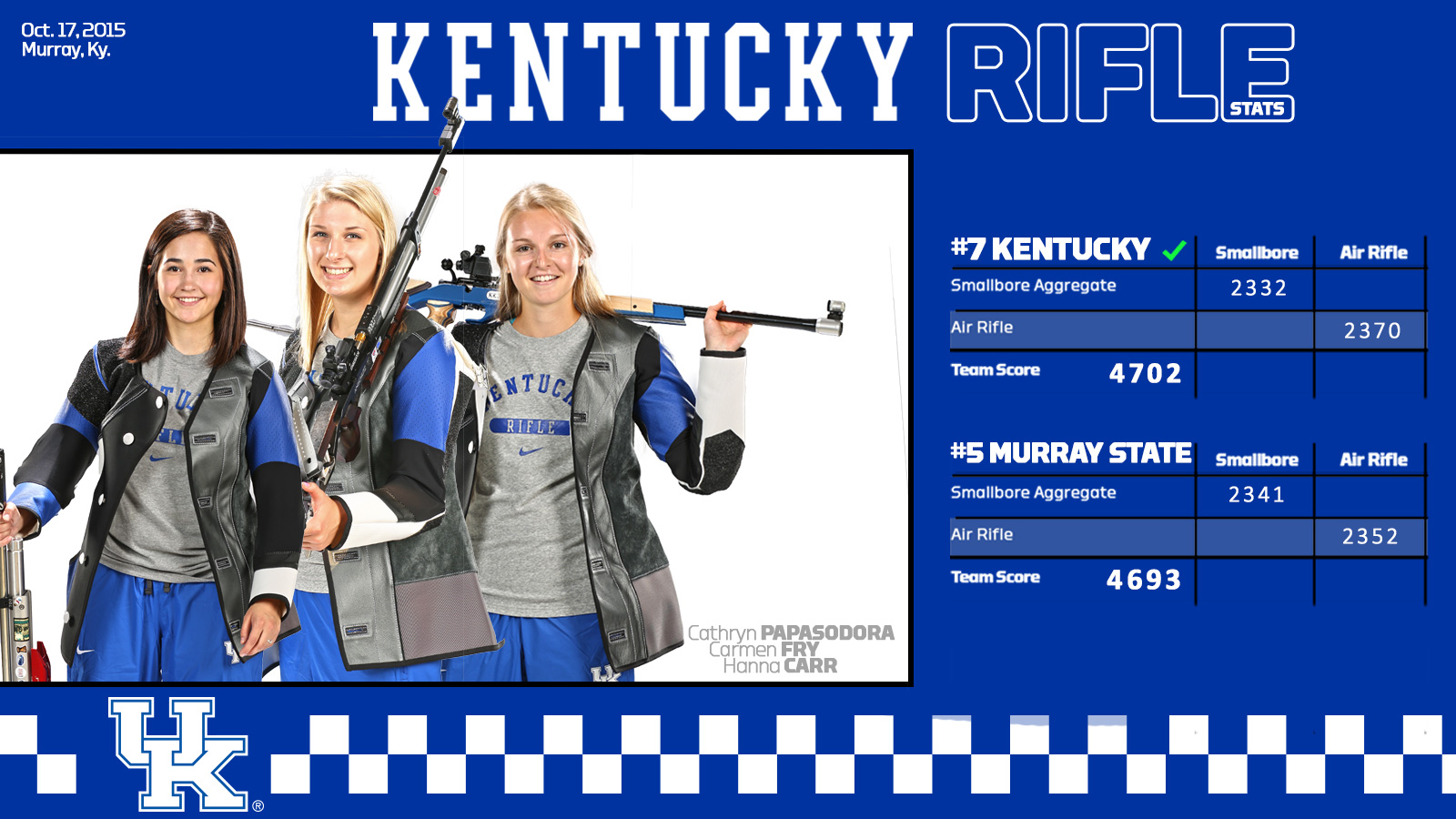 LEXINGTON, Ky.  – Seventh-ranked Kentucky battled back from a nine-point deficit after smallbore to defeat fifth-ranked Murray State 4702-4693 on Saturday.
Murray State led 2341-2332 after smallbore, but UK outscored the host 2370-2352 in air rifle to clinch the win and move to 2-0 this season.
"The team handled themselves well considering the way we started," head coach Harry Mullins said. "(The) kneeling (portion of smallbore) did not agree with us today, but the team held strong through prone and standing. Three freshmen, Carmen Fry, Hanna Carr and Cathryn Papasodora, had personal-best scores in smallbore, which really helped getting to that 4700 mark.
"I was happy with the way we started in air rifle, we just have to finish a little better."
Carr led the way for UK in smallbore for the second week in a row with a score of 585. Papasodora also shot 585, and Fry shot 582. Connor Davis, the reigning Great American Rifle Conference Champion in smallbore, shot 580 in his season debut. Jason Sharbel shot 561.
Davis – the 2014 NCAA and 2015 Pan Am Games Champion in air rifle – led the way for UK in that event alongside Fry in air rifle. Both shot 593. 
Papasodora and Carr each scored 592 and Heather Kirby earned a 591.
Kentucky broke 4700 for the first time this season as the Wildcats fielded a more inexperienced squad than in the season opener last week than the one that shot on Saturday. Last week Kentucky scored 4666.
"Overall we took a step in the right direction,"  Mullins said. "Murray state is a very talented squad and for us to come out of there with a win is a good accomplishment. We will get back to work this week and see what we can do at home next weekend."
Kentucky's home opener will come on Saturday, Oct. 24.