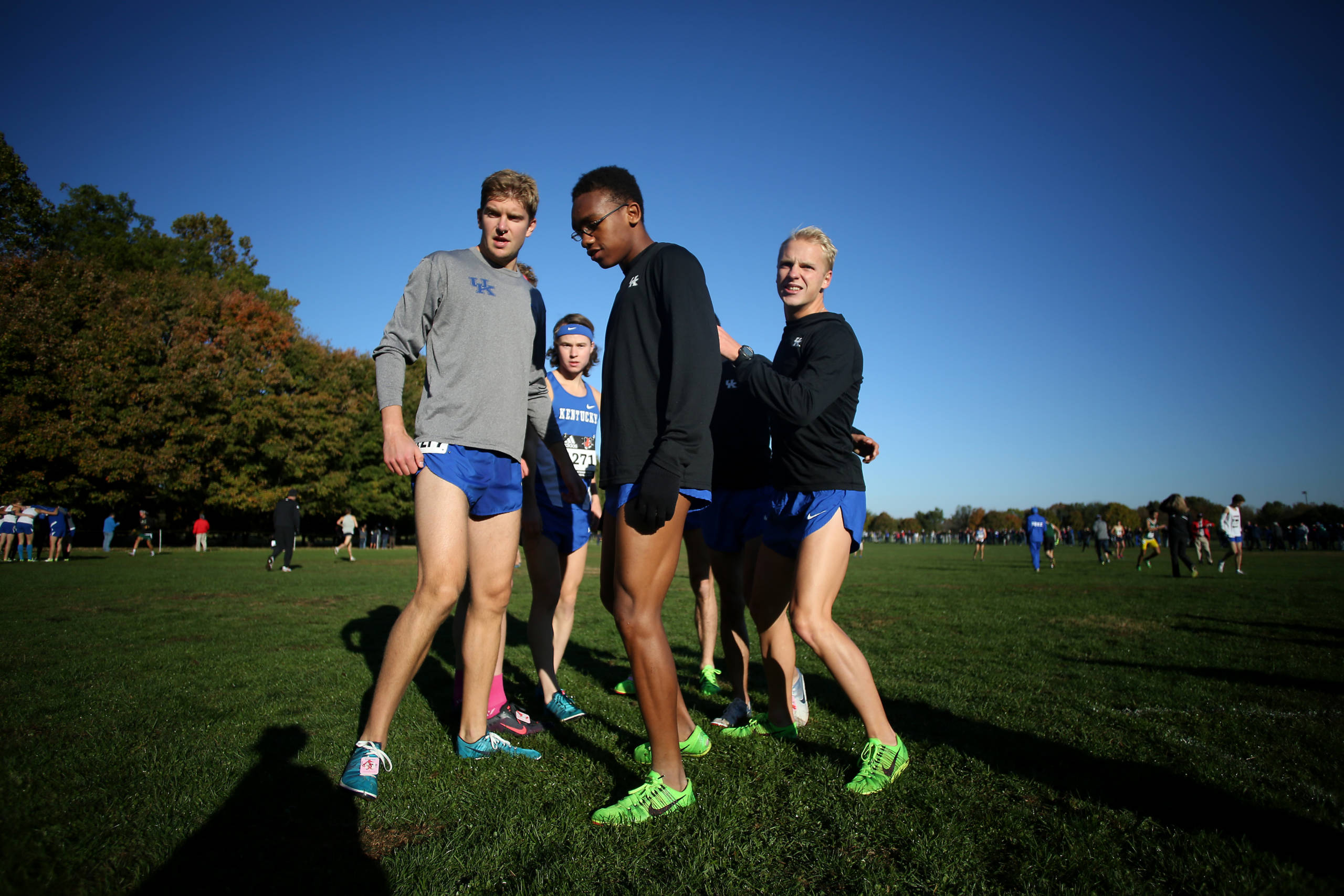 October 17, 2015 - 04:07 PM
UKXC Men Fight Through Early Stumbles for 25th at Pre-Nats
LOUISVILLE, Ky. – The Kentucky men's team suffered multiple painful falls near the start and had to fight from there for a 25th-place finish at arguably the most competitive regular-season cross country meet in the country on Saturday, the Pre-National Championships Invitational.
Multiple Wildcats including Jacob Thomson, who has consistently been UK's top runner this year, got caught up in traffic, hit the deck and were hit in the lower body by some spikes in the opening seconds of the race. From there the Wildcats were behind the eight-ball all race.
Spencer Hrycay was UK's No. 1 finisher, 78th overall in 24:12.70. Thomson fought back for a 123rd-place time of 24:27.60.
Zack Beavin placed 137th in 24:32.70, Ryan Polman placed 151st in 24:39.20 and Kendall Muhammad rounded out UK's top-five with a 181st place time of 24:47.50.
Kunc strong again
Katy Kunc's solid season continued on Saturday as she led the way for the Wildcats with a 31st place time of 20:34.50.
Amy Hansen was UK's No. 2 finisher, 216th overall in 21:47.90. Carolina McCaslin was 226th in 12:55.30, Devynn Miller was 231st in 21:59.20 and Avery Bussjager was 246th in 22:03.60. 
Saturday's meet concluded the regular-season as the Wildcats will next compete at the Southeastern Conference Championships in College Station, Texas on Oct. 30.
Men's Results
Place: 25  |  Points: 670 


Runner

Place

Time

Points

Spencer Hrycay (JR)

78

24:12.7

78

Jacob Thomson (SO)

123

24:27.6

123

Zack Beavin (SR)

137

24:32.7

137

Ryan Polman (SR)

151

24:39.2

151

Kendall Muhammad (FR)

181

24:47.5

181

Lou Styles (SO)

211

25:00.4

211

Mick Iacofano (JR)

231

25:05.0

231
Women's Results

Place: 41  |  Points: 931  

Runner

Place

Time

Points

Katy Kunc (SO)

31

20:34.5

28

Amy Hansen (JR)

216

21:47.9

212

Caroline McCaslin (JR)

226

21:55.3

222

Devynn Miller (FR)

231

21:59.2

227

Avery Bussjager (FR)

246

22:03.6

242

Michelle McKinney (SO)

254

22:07.6

250

Aundrea Busse (SO)

283

22:29.0

279