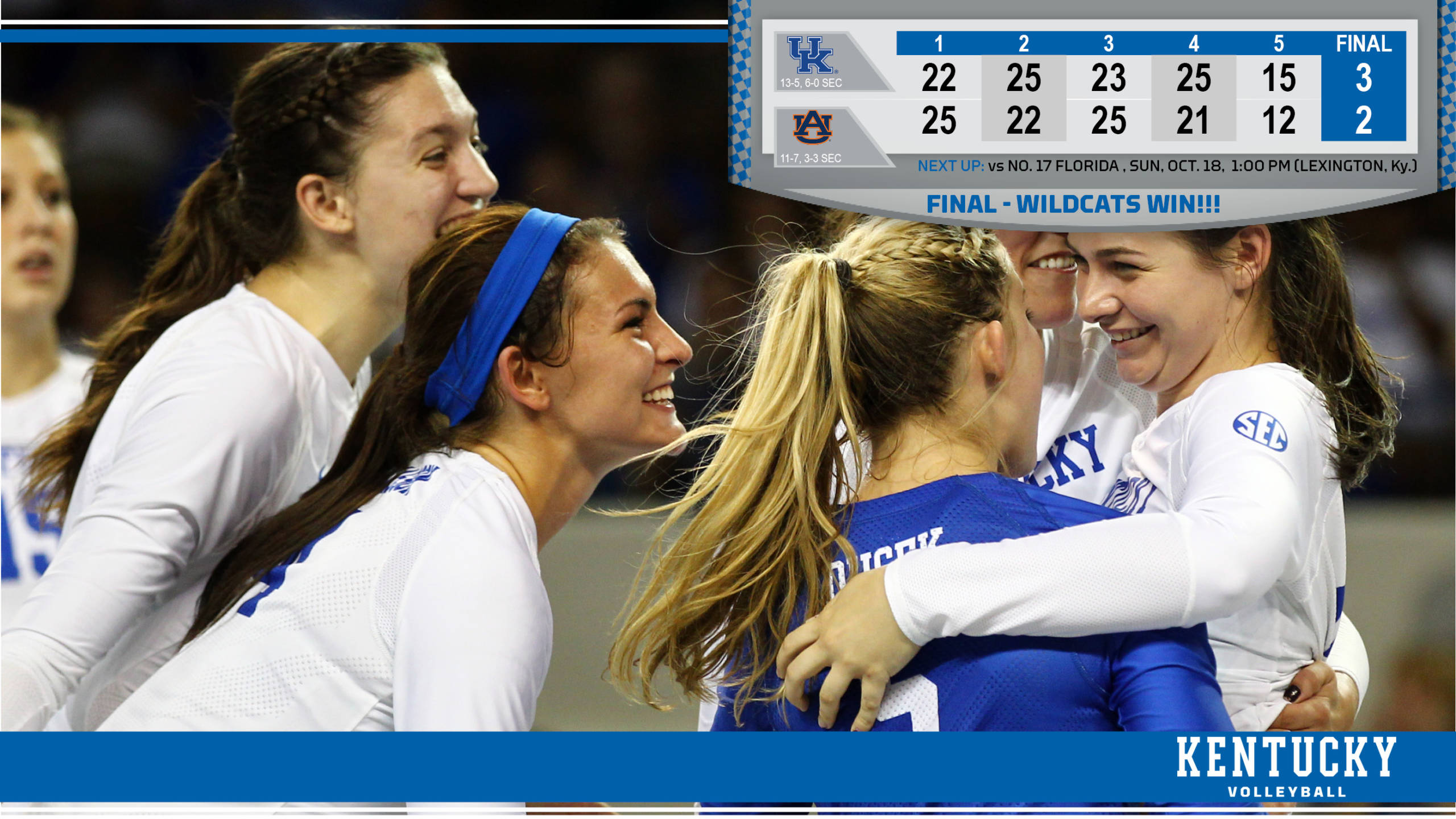 October 17, 2015 - 02:15 AM
Dusek Sets Program Record in Five Set Win over Auburn
AUBURN, Ala. – The No. 20 Kentucky Wildcat volleyball team battled a full five sets en route to its ninth consecutive win, taking down the Auburn Tigers, 3-2 (22-25, 25-22, 23-25, 25-21, 15-12), on Friday, Oct. 16 in Auburn Arena, powered by a record-breaking night from sophomore Ashley Dusek.
It came down to the final frame for the Cats, with the teams splitting the first two points. UK would take the next two as freshman Brooke Morgan crushed a slide and Kentucky forced an error for the 3-1 lead. After two quick points for Auburn, Morgan notched another kill for a 4-3 lead. The sides exchanged points, when a quick dump from senior setter Morgan Bergren gave UK the 8-6 lead into the break. Auburn went on to take three-straight, grabbing an 8-9 lead and forcing a Wildcat timeout. A kill from junior Anni Thomasson tied the match at 10-all, before sophomore Emily Franklin smashed her ninth kill of the night for the 11-10 lead. Auburn called time and took a point, but a solo block for Morgan, followed by a kill from the freshman forced Auburn's final timeout with UK leading, 13-11. A big kill from Thomasson closed it out for UK, as the team sealed the win with a 15-12 fifth set victory. 
 "Once again our strengths came through when we needed it," said 11th-year head coach Craig Skinner. "Digging and blocking the ball was key to our success when we couldn't get the offense going. We were very tough the last two sets and pulled it out against a tough Auburn team."
With the win, Kentucky moves to 13-5 on the year, while advancing to a perfect 6-0 mark in Southeastern Conference play. Auburn moves to 11-7 in 2015 with a 3-3 SEC record. 
UK resumes play on Sunday, hosting the No. 17 Florida Gators at 1 p.m. in Memorial Coliseum. The match is set for national broadcast on SEC Network with Jenny Hazelwood and Cara Capuano on the call. Last time the two sides faced off, Kentucky left Gainesville, Fla. with a 3-1 upset over the Gators. 
The Wildcats relied on an impressive defensive effort once again to earn the five-set win. The team registered 93 digs and 17 blocks – both season highs – to hold the Tigers to .144 hitting. Sophomores Ashley Dusek and Emily Franklin both contributed heavily to the effort with career nights. Dusek logged a career-best 40 digs during the night, setting a new program record for digs in a match. The record was set 22 years ago when Ann Hall logged 39 against the South Carolina Gamecocks on Oct. 22, 1993. Franklin had a career night with 10 blocks – including two solo stops. The Mesa, Ariz. Native also added nine kills and four digs.
Three Wildcats in Thomasson, Morgan and sophomore Darian Mack notched double-figure kills. Thomasson and Mack both logged their fifth double-doubles of 2015. Thomasson had 13 kills and 15 digs while adding a block; Mack had 12 kills, 12 digs and three blocks. Morgan added 12 kills – eight coming in the final two sets – and tacked on four blocks.
Brown had another solid outing at the net, killing eight balls and adding six blocks during the match. Freshman McKenzie Watson logged 12 digs during her back row performance. Bergren had her 14th career match with 50 or more assists, notching 51 in the outing. The senior had an impressive all-around performance, providing seven kills, six digs, five blocks and three aces. 
SET RECAPS
Set 1
The Wildcats and Tigers spent the early going feeling one another out, trading the first six points to a 3-3 tie. Following three straight points from Auburn, a kill from Brown and an attacking error pulled UK within one. The teams would tie at 10-10 before the Tigers gained a 17-12 lead. Kentucky came out after calling time firing on all cylinders, scoring three-straight capped by a rejection from Mack and Franklin, forcing an Auburn timeout at 15-17. The timeout wouldn't phase the Wildcats, who would continue to roll, scoring three more for an 18-17 lead before Auburn took its final timeout of the set. The two tied at 19-19 before Auburn scored back-to-back points, forcing Kentucky to use its final timeout. Kentucky took three of the next four points to tie the match at 22-all. Auburn would close out the set with three straight scores. 
Set 2
Kentucky got off to a slow start in the second, as the Tigers took four of the first five points. Down 1-4, the Cats scored on a Tigers error and an ace from Thomasson to pull within one. The two sides traded point to 8-11, before a quick dump from Bergren and an error brought UK within one, 10-11. Kentucky found itself in a familiar situation headed into the second media timeout, trailing 12-15 once again. The sides would trade blows before a kill from Morgan and back-to-back Tiger errors gave UK an 18-17 lead. Brown hammered home a kill following the longest rally of the second set for the 19-17 lead, forcing an Auburn timeout. The Tigers would respond with two quick points to knot it up at 19-19, forcing Kentucky to call time. The Wildcats responded with three straight points on a kill from Brown and two forced errors to take a 22-19 lead. Auburn called timeout, but UK continued the run with a kill from Mack. Auburn went on to score three straight points, with Kentucky calling timeout with a 23-22 lead. UK took care of business, as Mack got a kill before teaming up with Franklin for a block to win the set, 25-22.
Set 3
Back-to-back blocks marked the opening of the third set for Kentucky as the Wildcats took five of the first six points to open up on a 5-1 lead and force an early Auburn timeout. The timeout did little to slow UK, as the Cats took four of the next seven for a 9-4 lead. Auburn wouldn't go down without a fight, scoring four straight to back UK into taking its first timeout with a 9-8 lead.  The sides tied at 9-9 before regaining the lead on a kill from Brown. The sides swapped points before UK edged out to an 18-17 lead on a kill from Thomasson. Auburn went on to grab three straight points, forcing Kentucky to call time trailing 18-20. UK would trail by four before an error, a kill from Brown and a big block pulled the team within one. UK fought off set point once, but fell 23-25 in the third frame. 
Set 4
UK came into the fourth storming out to a commanding 6-0 lead including back-to-back aces for Bergren. Auburn took its first timeout and made a 4-1 run before a Thomasson kill stopped the spurt. A dump from Bergren gave UK an 11-7 lead, with an ace from Thomasson growing the lead to 12-7. Auburn would string together points, pulling within two before UK used its first timeout with a 13-11 lead intact. The sides continued to trade blows, with three kills from Morgan leading UK to an 18-15 edge. Bergren and Brown tacked on a block to extend the lead to 19-15, pushing Auburn to call time. The Tigers responded, pulling to within two before UK called its final timeout with the 21-19 lead. 
Set 5
See paragraph two
By the Numbers
40 – Ashley Dusek set a new career-high and broke the UK single match record for digs with 40 
22 – With Dusek's 40 digs, the sophomore broke a 22-year-old record
17 – The Wildcats recorded 17 blocks in the match, tying the season high it set against Louisville earlier this season.
10 – Emily Franklin had a career-best 10 blocks. She came one kill shy of a double-double.
9 – With the win, UK has now won nine straight, including a perfect 6-0 in SEC play.
3 – Three players recorded double-digit kills in Mack (13), Thomasson (13) and Morgan (12)
1 – The Wildcats remain the only undefeated team in SEC play. 
Kentucky's Memorial Coliseum will play host to the NCAA Regionals Dec. 11-12. UK is one of four sites selected for the Sweet 16 and Elite Eight matchups with one team advancing to the Final Four in Omaha, Neb., from the Lexington Region. This marks the third time in five seasons Memorial Coliseum will host this premier volleyball event.
For the latest on the Kentucky volleyball team, follow them on Twitter, Facebook and Instagram, and on the web at UKathletics.com.