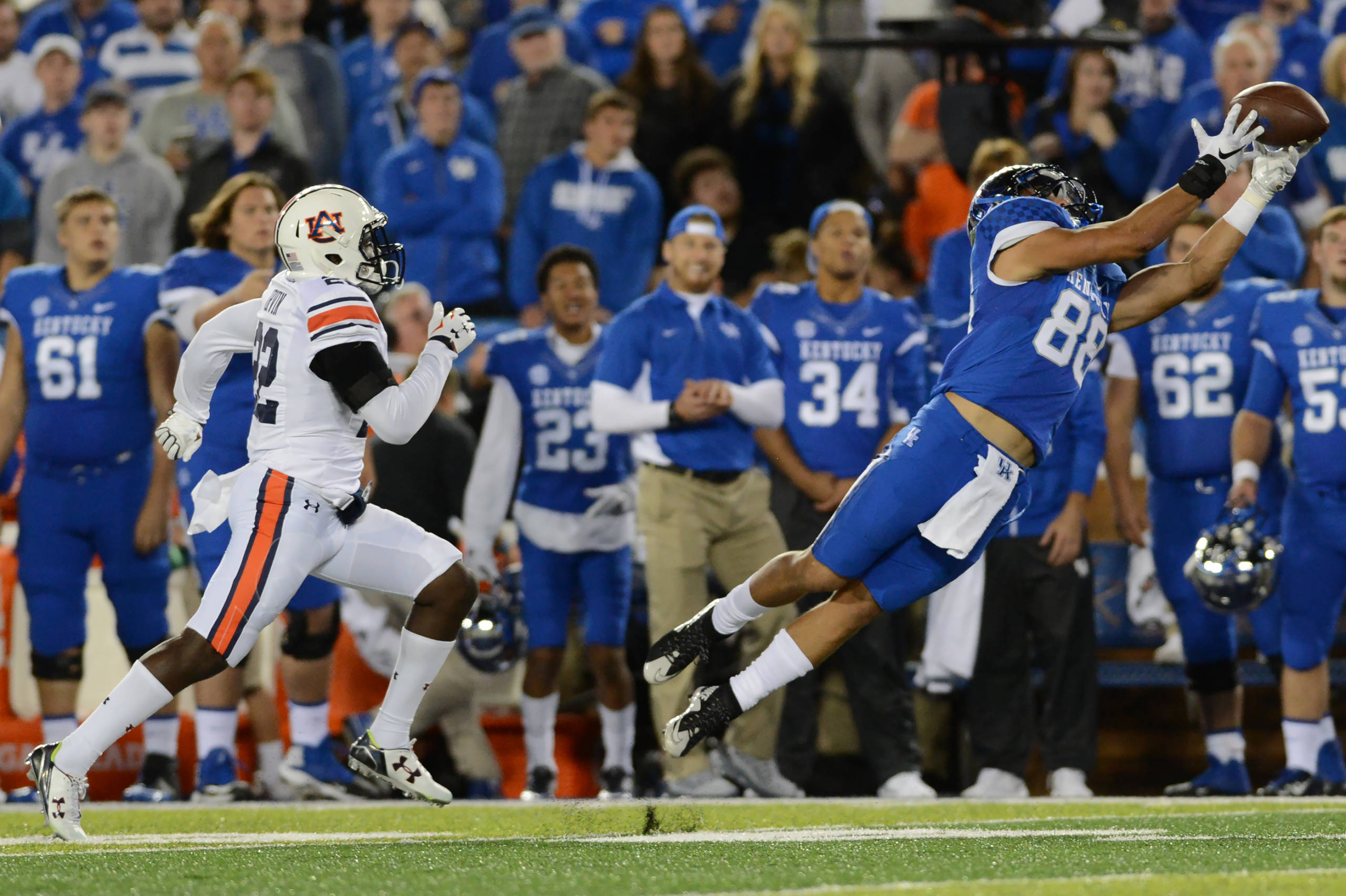 Garrett Johnson was surer by the minute that Kentucky would pull off the win.
He was optimistic throughout, but when Mikel Horton bullied his way to a one-yard touchdown to cut Auburn's lead to a meager three points he was confident.
"When it was four minutes left, I was on the sideline, I was like, 'Yeah, we got it,' " Johnson said.
Johnson, who had his way with the Tiger defense to the tune of nine catches for 160 yards, was even more confident a few plays later when the offense was set to get the ball back.
"After our defense stopped them, I was like, 'Yeah, we got it,' " Johnson said. " 'We're going to do it.' "
When Johnson reeled in his final catch to take UK to near midfield with plenty of time on the clock, there was no doubt in his mind about what would happen.
"I definitely thought we were going in," Johnson said.
But in an instant, it was over.
The Wildcats wouldn't pick up another first down and Auburn escaped Commonwealth Stadium – sold out for the fourth time in five games – with a 30-27 win. Three points separated UK (4-2, 2-2 Southeastern Conference) from a big win under a national spotlight.
"As you can imagine, a very difficult loss for our team," Mark Stoops said. "I felt like our players played extremely hard. But like I just told them, when you have a bunch of tough games it comes down to making some plays and give them credit, they made the plays to win the game and we did not."
That's the most revealing thing about Kentucky's second loss by five points or fewer to an SEC opponent, that the simplest of plays and slimmest of margins decide these kinds of games.
"That's what I told the team is that is the glass half full or is it half empty?" Stoops said. "We know we can make those plays, and I don't fault our team, they're prepared, they know — they believe they can make them, they know they can make them, and it comes down to a few plays here and there."
The final drive, of course, is what most will remember.
Fans hit the exits thinking about the run play UK drew up for Boom Williams – who returned to the lineup in style with 113 rushing yards and two touchdowns – on second-and-five from the Auburn 46 in the final minute. Even though Auburn showed a two-high safety look that made Shannon Dawson believe a run play would easily gain the first down and much more, the Tigers stopped him after a gain of two and precious seconds bled off the clock.
"Obviously every call is bad when it doesn't work," Dawson said. "I'll take the blame for that 100 percent. Obviously it was a bad call in hindsight and so should have done something else."
Stoops does wish UK could have the call back, but he also stands by his offensive coordinator.
"So it's real easy to second-guess him. I don't," Stoops said. "They were playing two-high, and we thought we could split them. If we split them for 12 yards, then we're sitting in here saying, well, that's a genius cal."
On the ensuing play, UK again got the look it wanted when Jeff Badet was isolated in single coverage down the left sideline on a go route. Patrick Towles lofted a pass to him that Badet nearly reeled in, but a Tiger defender wrestled the ball from his grasp as the two hit the ground together inside the five-yard line.
"That's what we were dying to get, just a chance," Dawson said. "And we had an opportunity."
UK's final opportunity came on fourth down, but Towles was forced from the pocket and dropped for a two-yard loss.
As much as the final plays might weigh on fans' minds, the Cats know better than to pin the defeat solely on them. The big plays came throughout, namely when Towles was intercepted looking for Dorian Baker in the end zone when UK had a first-and-goal looking to tie the game at 14-all.
"I just gotta throw that ball high in the back," said Towles, who completed 27-of-44 passes for 359 yards. "He ran a good route. That's on me. I just gotta throw a better ball."
A series later in the second quarter seemed much more innocuous, but no less harmful to UK's cause. The Cats tried for a scoring drive in the final two minutes before halftime, but Auburn stopped them and forced a punt with 57 seconds left.
All of a sudden, UK went from thinking about points before halftime to giving Auburn good field position and eventually a field goal that gave the Tigers a 23-10 lead at the break. As fate would have it, the field goal ended up being the difference.
Halfway through the 2015 season, UK has played six games decided by a single possession. The Cats expect it keep up.
"For my heart, I hope not," Towles said. "But yeah, that's the nature of our league. We're going to play really good football teams week in and week out and we gotta win close games. We've been on the better side of some close and we've been on the worse side."
UK's approach in the wake of both wins and losses has been the same, and it will be the same again this week. All the Cats can do is work to be ready the next time they have a chance to win a big-time SEC game like the one they lost Thursday.
"We're as close as we can possibly get, I guess," Towles said. "We got a long season left. We have six games left. We're 4-2. We felt like we had—those games we dropped, we felt like we had chances to win. So I'm not mad about where we're at. I'm happy with where we're at. We got a long way to go. We got a six-game season in an extremely tough league, tough and physical league. We just gotta keep grinding."