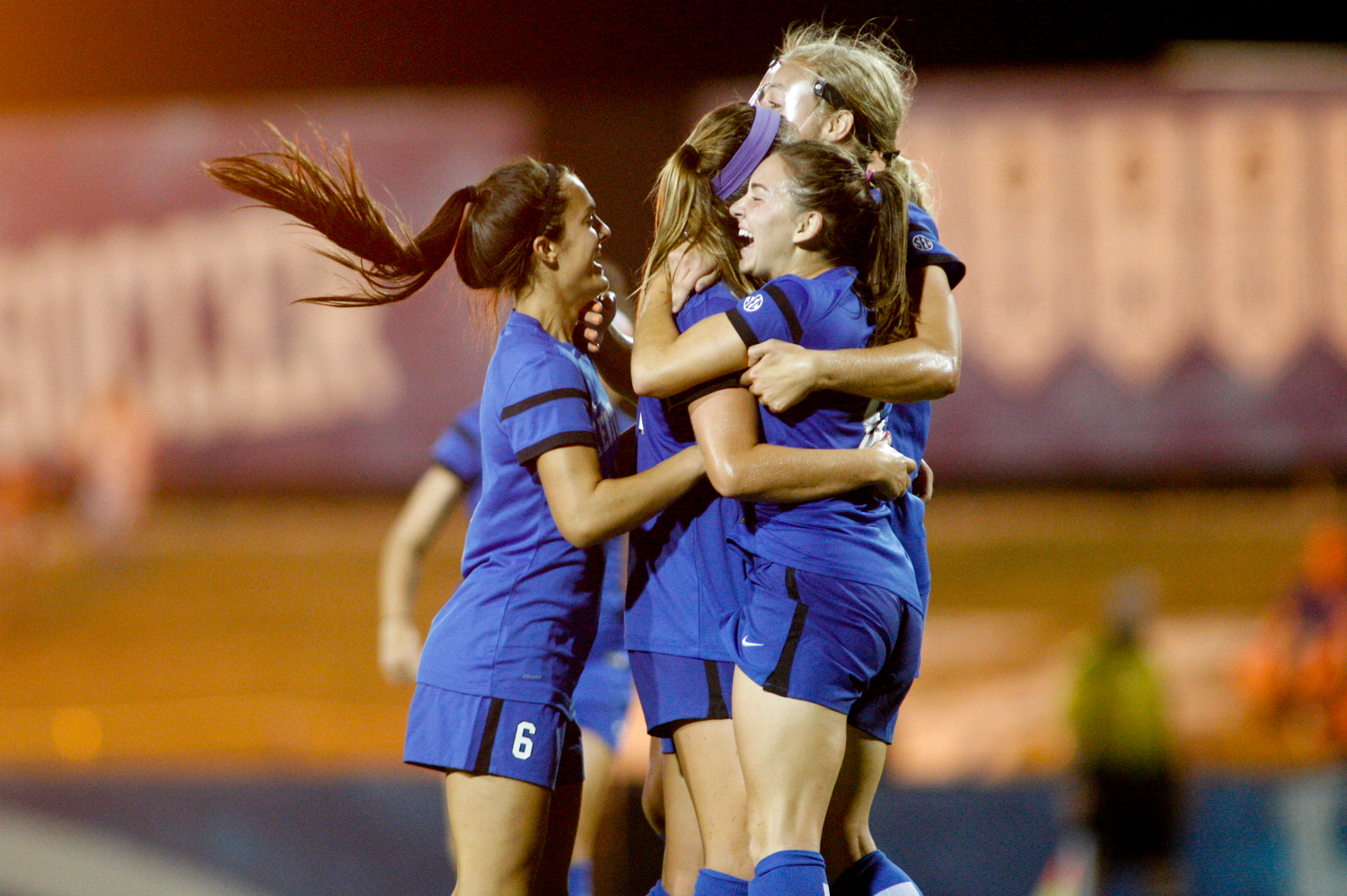 October 15, 2015 - 10:09 AM
Kentucky Hosts Texas A&M In SEC Championship Rematch
LEXINGTON, Ky. – The Kentucky women's soccer team will host the No. 22 Texas A&M Aggies on Friday night in the final stand-alone weekend of the 2015 Southeastern Conference season in a rematch of the 2014 SEC Championship match. Friday's match will kick off at 7:30 p.m. ET and will be shown live on the SEC Network+, WatchESPN and ESPN3 with Neil Price and JD Stephenson on the call. 
UK enters Friday's match on a three-match winless streak, although the Wildcats have picked up a result in two of their last three matches. The Wildcats drew 0-0 with the Vanderbilt Commodores on Friday night at The Bell before dropping a 3-0 decision on the road to Mississippi State on Sunday night. UK was shutout in back-to-back matches for the first time since 2010. 
This weekend's matchup marks the fourth all-time meeting between Texas A&M and Kentucky. Friday night is a rematch of the 2014 Southeastern Conference Tournament Championship match, which Texas A&M won, 1-0. Since the Aggies joined the SEC in 2012, the Wildcats are 0-2-1 vs. TAMU, with its only result coming in a 2-2 draw in Lexington in 2012.
The No. 22 Texas A&M Aggies head to Lexington for a key contest against the Kentucky Wildcats with both squads on the periphery of the SEC title hunt. Texas A&M is tied for fifth in the SEC standings with 12 points (4-3-0), trailing first-place South Carolina (16 points – 5-1-1) by four points. The Wildcats are also in need of a victory in order to keep their league title hopes alive, tied for seventh place with 11 points (3-2-2). 
The Maroon and White are looking to snap a three-game road losing streak at Kentucky. Texas A&M boasts one of the largest caches of offensive weapons in the nation. Among SEC teams, the Aggies are the lone squad to boast more than seven players with three or more goals. Haley Pounds (9), Janae Cousineau (4), Mikaela Harvey (4), Emily Bates (5), Kate Hajdu (3), McKayla Paulson (3) and Ally Watt (3) all have three or more goals on the season.
UK is 33-6-5 in its last 44 home games, dating back to the 2012 season, with wins over No. 4 Florida (2014), No. 20 Washington, No. 24 South Carolina (2014), No. 13 Florida (2012) and a draw with No. 6 Texas A&M (2012). UK has won its last three NCAA Tournament matches on home soil (UT Martin, Ohio State, SIUE).
UK has had 11 different players score a goal this season, which is the most in the SEC. Seven players (Swift, Dooley, Klump, Raetzman, Ledman, Keen, Miller) have scored multiple goals, and that also leads the league, with one more than Tennessee.
For the latest on the Kentucky women's soccer team, follow @UKWomensSoccer on Twitter, Instagram and Facebook, as well as on the web at UKathletics.com.