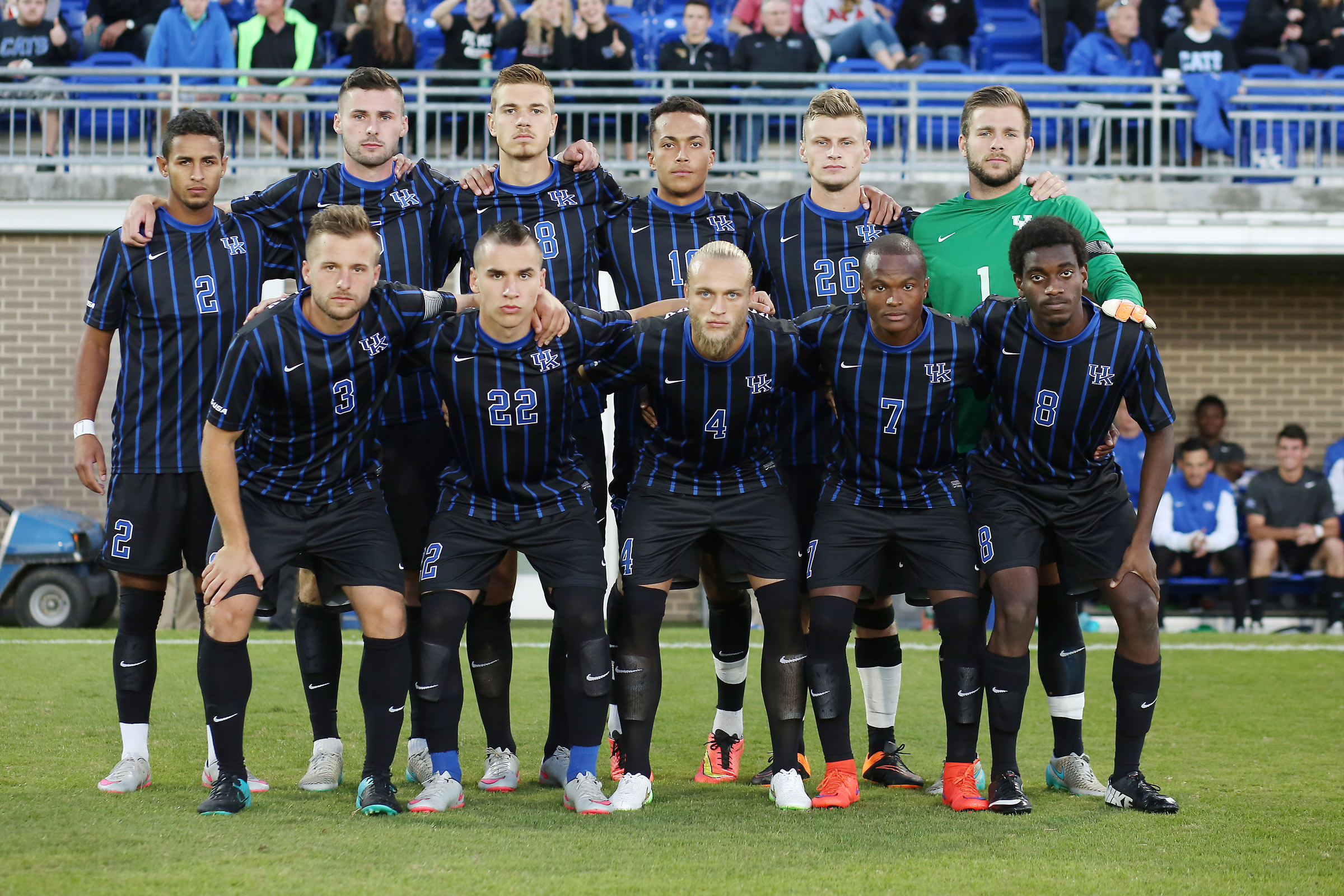 October 14, 2015 - 10:18 PM
Ohio State Breaks UK's Five-Match Win Streak with 1-0 Win
LEXINGTON, Ky.  – Ohio State's Danny Jensen found the back of the net in the 57th minute to make the difference in the Buckeye's 1-0 win over No. 15 Kentucky on Wednesday at The Bell. 
Ohio State (7-4-2) won its sixth straight, and snapped UK's five-match winning streak, which had been its best run of the season to date. 
The Wildcats (7-3-1) will have to regroup quickly as they will face South Carolina on Sunday at The Bell. Both those teams are undefeated in Conference USA play.
The goal
Ohio State's goal broke a spell of strong attacks by the Wildcats.
It came on the break with a quick throw in leading to a Kyle Culbertson cross across the six-yard box from the byline. Jensen snuck in behind his marker, and nodded a low header into the right corner of the goal. Notably, Irving did incredibly well to get in the way of the header, but from three yards out unmarked he couldn't quite keep it out. 
Other action
Kentucky's best chance of the evening came on 50 minutes as Hampus Agerstr?m struck a venomous ball from 10 yards outside the box that beat two-time reigning B1G Player of the Week Chris Froschauer, but hit off the left upright. The rebound fell to Matsoso, whose smashed effort was well saved by the visiting keeper.
Indeed Matsoso – the reigning C-USA Player of the Week – turned in the lively performance in attack that has been typical of the Hermann Watch Lister this season. He played multiple good balls to try and break down the Ohio State defense, had multiple tries from distance just missed the frame. 
But his rebound effort was indicative of UK's broader performance on the evening. While looking dangerous on the attack in some extended spells, the Wildcats weren't quite clinical enough in the final third.
The Wildcats will welcome C-USA's first-place South Carolina to The Bell at 1 p.m. on Sunday. The match has been designated a "Blew Out" with bluevuzelas set to be distributed to Cats fans in attendance the fixture colloquially known as the Southeastern Conference Men's Soccer Championship.
The quote
"It was a tough loss for us," head coach Johan Cedergren said. "Ohio State is a good team, that I'd be surprised if they're not in the NCAA Tournament. We played okay. One of the things we were saying was to be careful in transition so to give up a goal like we did irks me a little bit. I think we can do better there.
"Today it didn't bounce our way but in the end we have to recover and get ready for a huge match for us on Sunday."