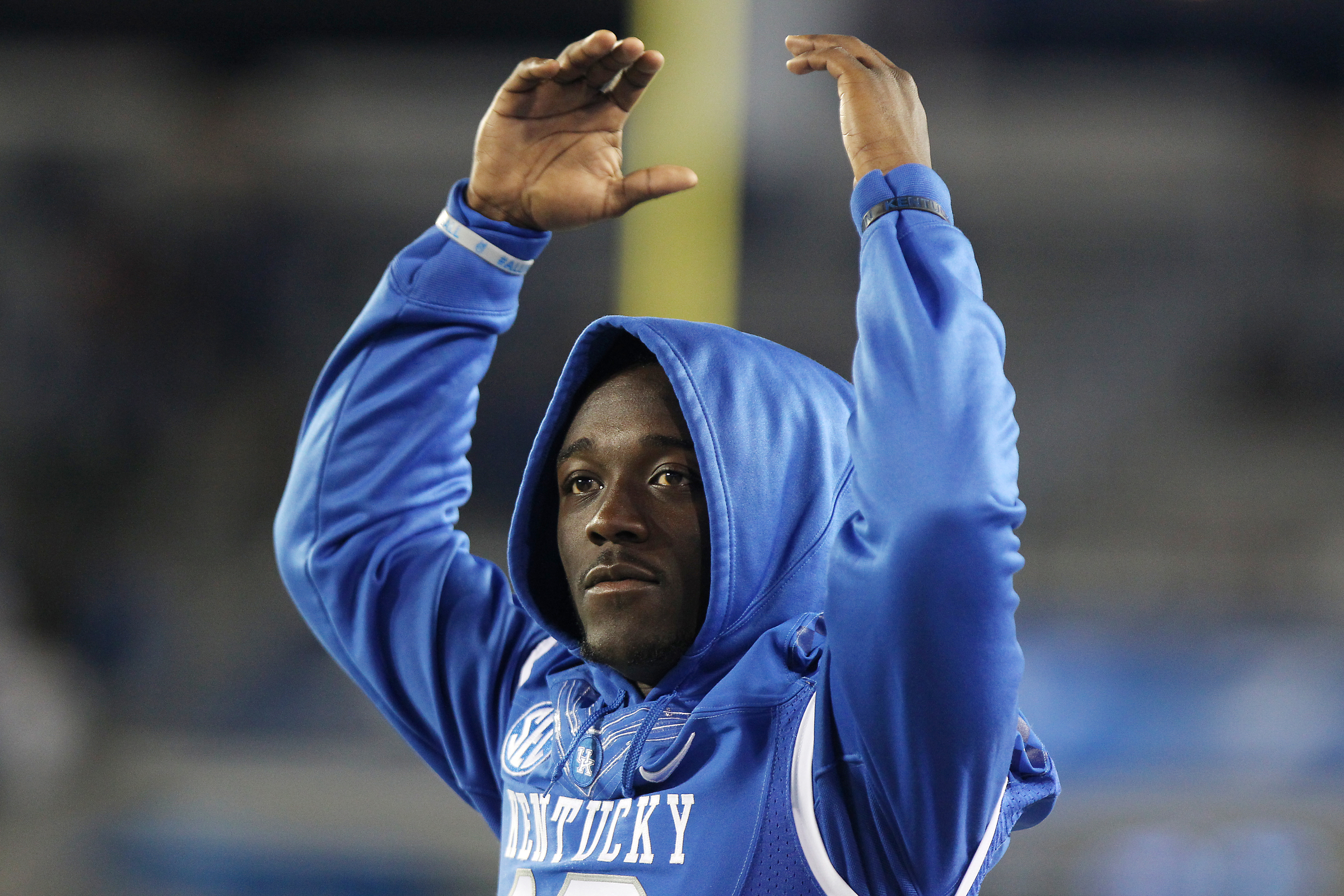 An open date meant Kentucky's players and coaches had the rare opportunity to watch some college football on Saturday.
They took advantage.
"I got to enjoy a Saturday for one time, like regular people," offensive coordinator Shannon Dawson said. "Got to sit and watch some games later in the evening."
Patrick Towles watched with his family.
"It was wonderful," Towles said. "It was nice not to have to stress on a Saturday."
Boom Williams watched plenty of football himself, but he wouldn't have minded the stress.
"It was (nice to relax)," Williams said, "but it was also kind of sad not being able to have a game on Saturday, be able to go out there and have fun."
Williams, you see, had a personal open date the Saturday prior. Dealing with personal issues, the sophomore running back watched UK's heart-stopping comeback win over Eastern Kentucky from the sideline in street clothes, relegated to cheering on his teammates.
No longer.
"He is back in good standing and he was back for the Eastern game for a few days and ever since he has been back 100 percent and good to go," Mark Stoops said.
UK's leading rusher is back atop the depth chart at running back for a big Thursday primetime showdown with Auburn.
"We're looking forward to it," Williams said. "Another chance, another great opportunity. It's going to be another big step for us in our program."
What Stoops hopes is that the Williams who has returned to his team has developed a new level of maturity through the last two trying weeks.
"That is part of us building our program and growing and bringing along some young guys still," Stoops said. "Just because we have talked about him for a year and a half doesn't mean they are grown yet. We have a lot of kids in that situation that we are still trying to bring along. You know how we feel about playing in this league and competing at a high level. You better have some grown men."
Early returns suggest Williams has made progress toward becoming that kind of grown man.
"He's doing great," Dawson said. "Great energy, great attitude. Obviously we are a better team with him on the field. He understands that and we understand that. We want him to be on the field as much as possible. We are a lot better with him out there."
His return, to say the least, is a welcome one. Williams was off to a sprinting start to the 2015 season, totaling 322 yards through his first three games before Missouri shut him down and he sat out the EKU game.
"It means a lot," Towles said. "We're better with him, no doubt about it, and he's going to make a lot of plays for us on Thursday. … He's done a really good job in practice. It's good having him back, no doubt."
Williams is thankful to be back. But even more, he's thankful for the way his teammates stayed behind him before he was able to return.
"Through that little period I had, things going on, those guys supported me through that, through the whole situation and supported me ever since I've been back on the field practicing with the team," Williams said. "So it feels good to be back out there and get some things done and be able to have that belief from the teammates that you can go out there and do the things that they need you to do."
Not putting on pads on back-to-back Saturdays wasn't easy for Williams. The good thing is that's all over, and a couple days earlier than usual to boot.
"We'll be out there Thursday," Williams said.