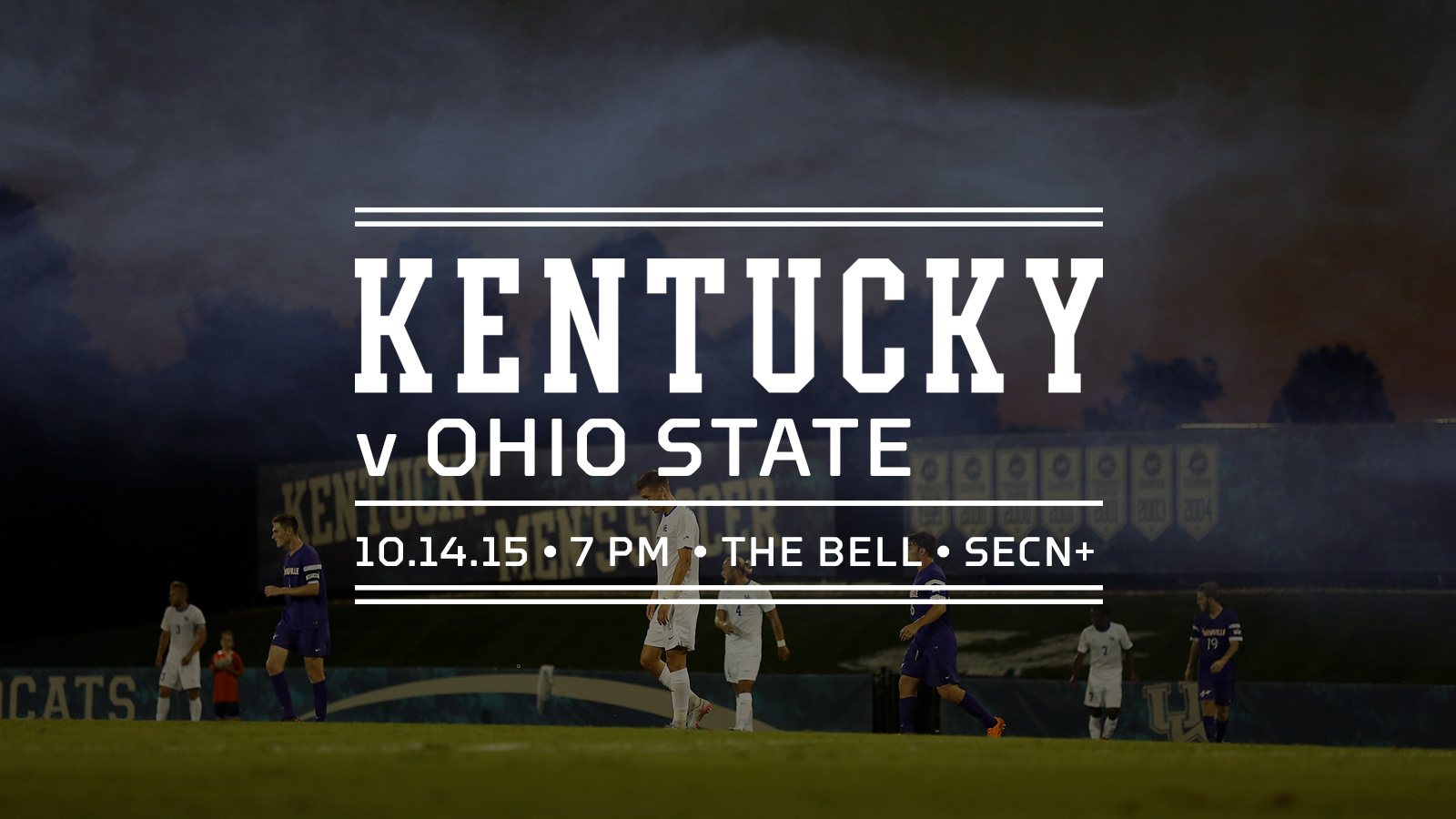 October 13, 2015 - 02:59 PM
No. 15 Men's Soccer Welcomes Ohio State to The Bell
LEXINGTON, Ky.  – The No. 15 Kentucky men's soccer team will begin a run of matches against high-quality opposition when it takes on Ohio State at The Bell at 7:05 p.m. on Wednesday.
Kentucky, currently on a five-match winning streak, now enters a portion of the schedule where each of its next three foes is ranked inside the top-25 of the NCAA Rating Percentage Index. 
Wednesday's match will be broadcast on SEC Network+. 
The match has been deemed a "Black Out" where the first 150 Wildcats fans in attendance will receive a free "Black Out The Bell" tee-shirt.

The setup
Kentucky (7-2-1, 3-0-0 C-USA) enters the match having won five in a row, with one goal conceded compared with 15 scored during that span.
Napo Matsoso had a hand in each goal, one scored and three assisted, in UK's last outing – a 4-1 win over Evansville last Wednesday. For his efforts, he was named Conference USA Player of the Week, on Monday. Wildcats have earned that honor two weeks in a row as Stefan Stojkovic picked up the same accolade last week.
Goalkeeper Callum Irving has kept shutouts in five matches this season, including four straight prior to the last meeting. He has 22 career clean sheets, tying him for the UK all-time record with Brian O'Leary (1997-00) and Andy Gruenebaum (2002-05). 
Evansville scored a 71st-minute goal last Wednesday to break UK's 404-minute and 25-second scoreless streak, which spanned the duration of four matches plus more than two halves in the bookend matches. Since the Evansville goal came off a penalty, the Wildcats still haven't conceded in the run of play during that span.
Stojkovic scored his fifth goal from the last four matches against Evansville. His four-match scoring streak ties for the fourth longest in program history.
The opponent
Ohio State is unbeaten in its last seven matches with wins from each of its last five.
Ohio State enters the match ranked No. 22 in the RPI and receiving votes in the coaches poll. The Buckeyes are coming off a 1-0 overtime win at Indiana last week to improve to 6-4-2 overall and 2-1-1 in Big 10 play.
Goalkeeper Chris Froschauer is the two-time reigning B1G Player of the Week.
Kentucky is 3-4-4 against Ohio State all-time. Last season, Kentucky and Ohio State drew 1-1 in Columbus, Ohio. 
The Wildcats won the last meeting in Lexington, 2-1 in 2004.
The logistics
Tickets are free for Wildcats fans wearing black apparel. 
The first 150 Cats fans through the gates to The Bell will receive a black UK soccer shirt. Additionally, 50 fans registered with BBN Rewards who have checked in a four men's soccer home games prior will be eligible to pick up black "Stand United" scarves.
Otherwise, tickets are $5 for the general public and $2 for youth and seniors. Fans can call (800) 928-2287 for tickets, or purchase at the ticket window at The Bell. 
Gates will open at 6 p.m.
Kentucky's 600-plus season ticket holders can wear their 2015 Kentucky Soccer scarves to gain admission.
Kentucky has welcomed 10,536 fans to men's soccer games at The Bell this season, an average of 1,756 per game, which has given the Wildcats one of the best gameday atmospheres in the country.
Parking for the match is first come first served located outside the stadium's main entrance. Overflow parking will be available above the soccer practice field as directed by UK event staff.