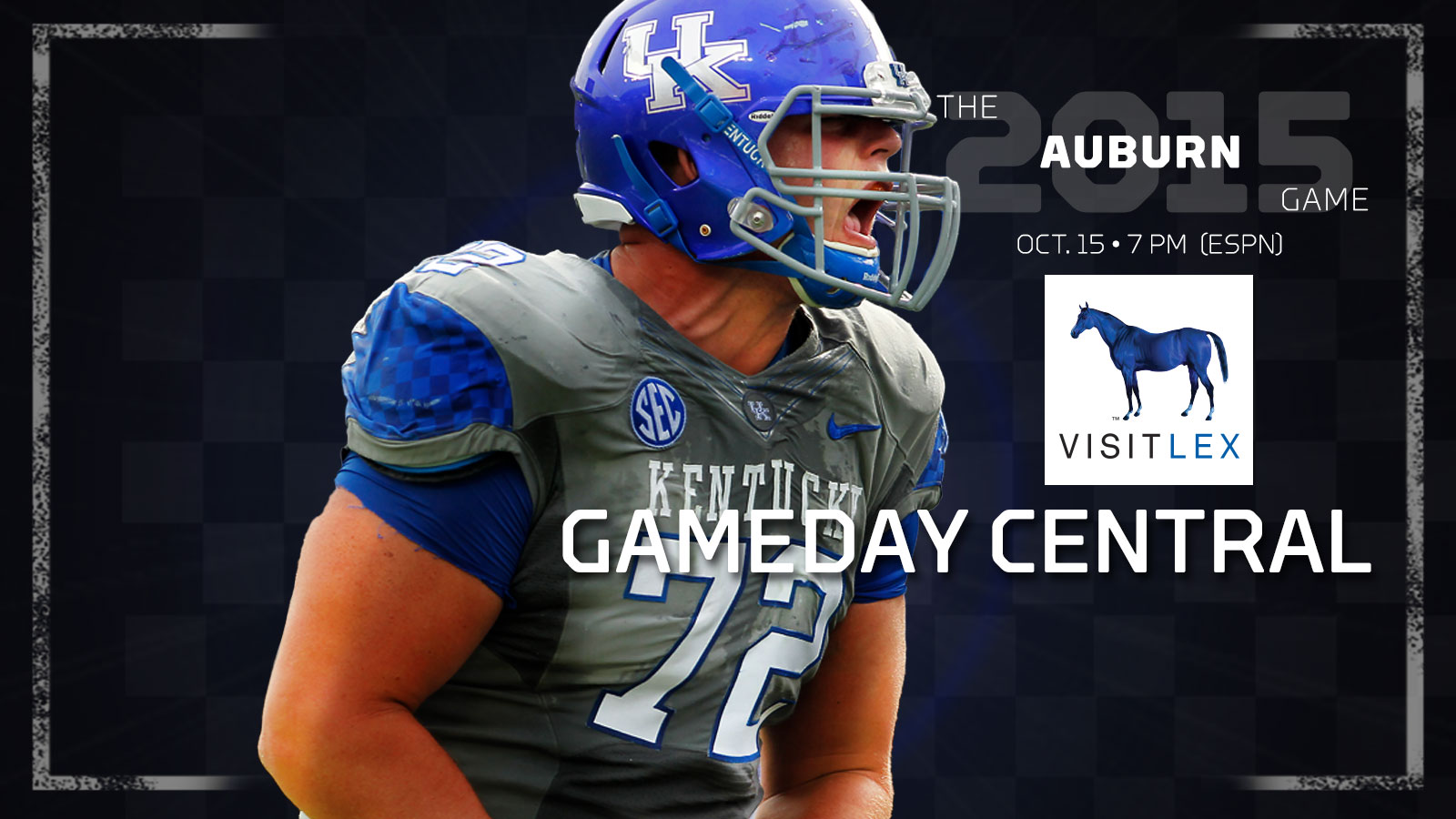 Winners of four of its first five games to open 2015, Kentucky will seek to secure its third Southeastern Conference win with a showdown with the Auburn Tigers on Thursday, with kickoff slated for 7 p.m. and the game televised live on ESPN and broadcast on the UK Sports Radio Network.
Auburn at Kentucky
Thur., Oct. 15 – 7:00 p.m. ET
The New CWS
Lexington, Ky.
Game Notes: UK

| AU

Digital Gameday Program
Gameday App
More Gameday Info
Coverage

TV: ESPN
Radio: UK Sports Network
Watch ESPN
Live Audio

Live Stats

Text Updates
Texas Roadhouse Countdown to Kickoff (5:30 p.m.)

UK
2015 Team Stats
AU
4-1
Record
3-2
2-1
Conference Record
0-2
26.0
Scoring/game
24.6
365.6
Total offense/game
343.8
135.0
Rushing yards/game
190.0
230.6
Passing yards/game
153.8
25.5
Kickoff returns (avg)
31.1
10.6
Punt returns (avg)
9.7
40.1
Punting (avg)
44.3
28:31
Time of possession/game
28:17
41%
Third down conversion
42%
88%
Fourth down conversion
67%
21.8
Points allowed/game
25.4
368.4
Total yards allowed/game
412.0
170.6
Rush yards allowed/game
209.6
197.8
Pass yards allowed/game
202.4
Kentucky will be playing in its first Thursday night home game since 1939 and its first Thursday game since traveling to Mississippi State in 2013. The Wildcats enter the game having won two consecutive after dropping the first of a season-long, four-game homestand.
Last time out, UK rallied from behind in the fourth quarter to edge Eastern Kentucky in overtime, 34-27. UK got a strong outing from junior QB Patrick Towles to spark the comeback, as UK scored 21 unanswered points to end the game after trailing by two TDs with five minutes remaining in the fourth quarter. Towles threw for 329 yards and three TDs in the win, finding sophomore WR Dorian Baker for a career-high eight catches and 86 yards, with two TDs, including the game-winning TD catch in overtime. Senior Cory Johnson set a program record – with records available as far as 1993 – with 19 tackles in the game, the most ever for a defensive lineman. Josh Forrest and Ryan Flannigan also added double-digit tackle efforts.
Cat Scratches: Cats Eager to Start Unique Week
No one – not Mitch Barnhart, not Mark Stoops and not any Kentucky coach – has hidden from the fact that the first Thursday primetime game in program history is an opportunity for the Wildcats.
"Thursday night games have been done a long time on ESPN, and they've become quite a showcase for institutions, for communities, for your conference," Barnhart said.
"We have another great opportunity, playing Auburn at home on national TV on Thursday night," Stoops said.
"You look forward to those games, no doubt," offensive coordinator Shannon Dawson said. "Everybody is watching. It's a chance to go out and make a statement." … Read the full story, here.
Series Record vs. Auburn
Auburn leads the all-time series with Kentucky, 25-6-1, dating back to 1934. Auburn also leads the record in games played in Lexington, 12-4, winning its last eight meetings in Lexington. UK's last win over Auburn in Lexington came in 1966, 17-7. The Wildcats are seeking their first win over the Tigers since a 21-14 win at Auburn in 2009. Auburn has won 16 of the last 17 meetings in the series.
Last time vs. Auburn
Auburn escaped Lexington with a 37-34 win over Kentucky in a thriller in 2010, en route to a national title. After Auburn took a 31-17 lead into halftime, UK answered with 14 points in the third quarter, behind the dazzling performance of QB/WR Randall Cobb. With 7:31 remaining in the game, Kentucky finished a 14-play, 53-yard drive with a Craig McIntosh field goal to even the game at 34-34. The Tigers then rallied on the star performance of QB Cam Newton, who would drive the Tigers 74 yards in a grinding winning drive that ended with a Wes Byrum field goal as time expired. Newton finished with 198 yards and four TDs rushing, with 210 yards in the air. UK QB Mike Hartline was 23-for-28 with a touchdown, with Cobb also throwing for a score. Cobb had seven catches for 68 yards and a receiving TD, also rushing for two TDs and 47 yards. 
Scouting Auburn
Led by third-year head coach Gus Malzahn, Auburn has re-emerged as a national power, earning a spot in he BCS National Championship game in 2013, his first season at the helm after starting his head coaching career at Arkansas State in 2012, winning the Sun Belt Conference. Auburn is averaging 343.8 yards per game in 2015, including 190 rushing yards. The Tigers own wins over Louisville and Jacksonville State to open the year, before suffering a loss at LSU to open league play and then a setback vs. Mississippi State to end Sept., 19-7. In its last game, Auburn beat San Jose' State, 35-21 at Jordan-Hare Stadium. The Tigers once again boast a strong tailback in Peyton Barber, who has four 100-yard rushing games in 2015, including 137 yards vs. Mississippi State, and a five TD game vs. San Jose' State in his previous game. Barber has 558 yards and six TDs in five games. Roc Thomas also has 143 yards on 29 carries. QBs Jeremy Johnson and Sean White have shared the position, with Johnson throwing for 473 yards on 43-of-72 passing, charting five TDs. White is 26-for-38 and 296 yards over two games. WR Ricardo Lewis has a team-high 193 yards and 19 catches, with one TD. Melvin Ray has two touchdowns and nine catches, with Roc Thomas owning eight catches for 163 yards and one TD. Defensively, Johnathan Ford has a club-leading 49 tackles, with Cassanova McKinzy leading the team with five tackles for a loss and three sacks. The Tigers have four interceptions as a team and have forced seven fumbles. 
Texas Roadhouse Countdown to Kickoff
Tune in to the UK Sports Network for the "Texas Roadhouse Countdown to Kickoff" two hours before every football game. From Cat Walk to Cat Talk, host Christi Thomas and former UK Quarterback Freddie Maggard will focus on the X's and O's of the game and bring a little fun to pregame in the first 30 minutes of the show. Afterward, Host Neil Price is joined by Oscar Combs, Dick Gabriel, Tom Leach and Jeff Piecoro to continue the official pregame broadcast until kickoff. The show is broadcast in Lexington on 98.1 WBUL & 630 WLAP, UK Radio Network affiliates, online at ukathletics.com, and in the UK Gameday App. For the first time, the two-hour pregame show will be live streamed every home game for fans to watch on ukathletics.com.
Reminder to Fans Tailgating
As a general reminder to all fans tailgating, please do not leave any items unattended or unsecured in the parking lots. Please break down and put away all personal belongings prior to entering the stadium.