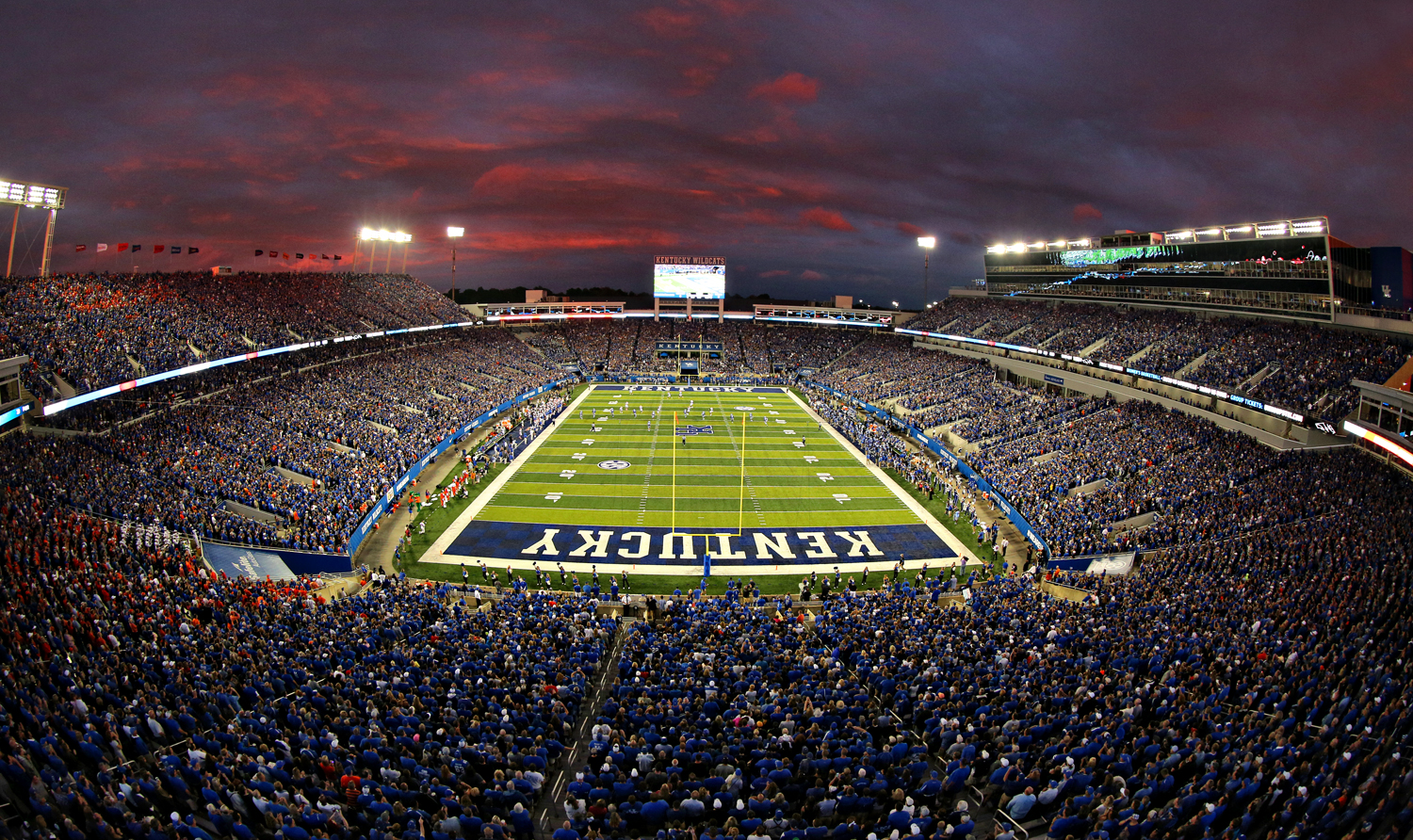 LEXINGTON, Ky. – After more than a year of preparations in conjunction with university and city officials, UK football will host the first Thursday primetime game at The New Commonwealth Stadium on Thursday at 7 p.m. against Auburn.
Thanks to extensive work and flexibility by its on-campus partners, UK Athletics is prepared to keep its parking and in-stadium operations as similar as possible to a normal Saturday game day.
•    Permit parking – Permitted parking lots will open at 8 a.m. on Thursday.
•    Non-permit parking – Cooper Drive and the Non-Reserved Disabled Lot at the corner of University Drive and Farm Road will open at 8 a.m. on Thursday. Free, non-permit parking in Parking Structure #2 and #6 will open at 3:30 p.m. on Thursday. Parking Structure #3 will be available for free, non-permitted parking after 5 p.m.
•    RV parking – Entry into the main RV lot will be allowed at 8 p.m. on Wednesday. RVs without permits may park at Keeneland beginning at 9 a.m. on Tuesday.
•    Shuttles – Go Ground will provide a free downtown shuttle leaving from Rupp Arena on West High Street and from High Street directly south of the Transit Center garage, operating every 25 minutes on Thursday. Pre-game, Lextran will operate a shuttle between Keeneland & Commonwealth Stadium, one bus every hour ($1 each way).  Fans are encouraged to park their vehicles where they will finish their day as there will not be a general public shuttle back to Keeneland post-game.  
Though operations will remain much the same, fans are asked to be aware that traffic is expected to be heavier than usual on Thursday. With a 7 p.m. kickoff, outbound work-day traffic and inbound game-day traffic will overlap. As a result, delays are certain and fans should arrive to the stadium as early as possible.
Fans attending the game are also asked to respect the University of Kentucky community and understand that lots used for game-day parking on Thursday will be used for regular campus parking on Friday. Fans should clean up the areas around their tailgates as much as possible to accommodate the quick turnaround.
For complete information about attending Thursday's game, visit ukathleticsgameday.com/thursday.
University of Kentucky students, faculty and staff parking in areas used for game-day parking must be moved by 7 a.m. on Thursday. Those students and employees who park in areas restricted for credentialed game day parking will be accommodated in a variety of community partner off-campus parking facilities. The university is partnering with a leading transportation management firm called, Go Ground. The Go Ground buses – all of which are disabled-accessible – will transport members of the UK community to and from assigned remote, off-campus parking lots.
Students, faculty and staff can find complete information about the Thursday game at uky.edu/thursdayfootball.