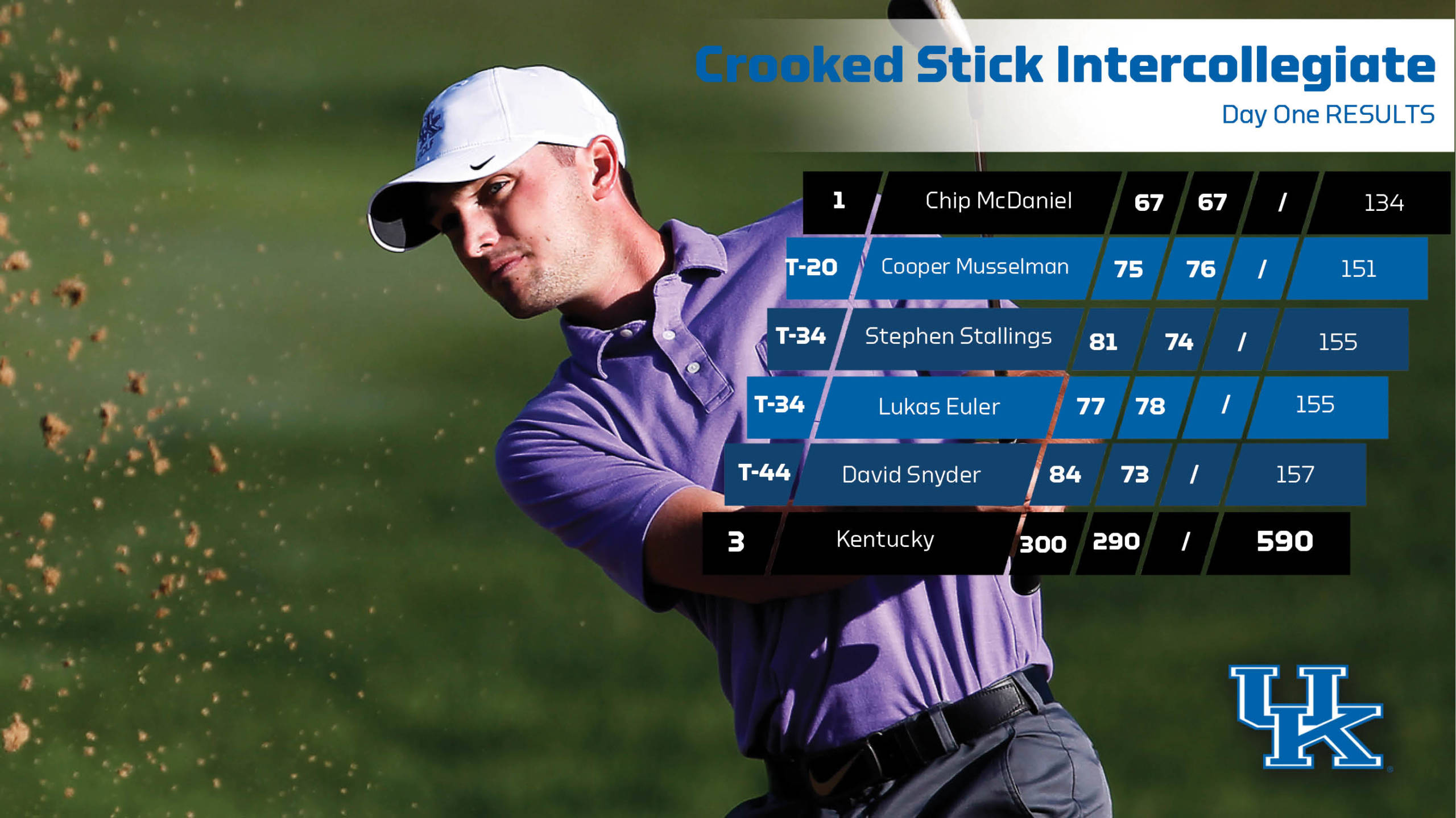 October 12, 2015 - 08:57 PM
McDaniel Takes Command of Leaderboard on Day One
CARMEL Ind. – Sophomore Tyler 'Chip' McDaniel put together the most impressive performance of his young career to lead the Kentucky men's golf team on the opening day of play at the Crooked Stick Intercollegiate. The Manchester, Ky., native posted consecutive rounds of five-under par, 67, to take a commanding eight-stroke lead on the individual leaderboard through the opening 36 holes of play on the PGA Tour Championship course. 
McDaniel will enter the final 18 holes of play on Tuesday owning an eight-stroke lead over two different players after logging the best rounds of any competitor on the course during both rounds of 18 on Monday. Kentucky sits in third place through 36 holes and is in search of a third-consecutive top-five finish to begin the 2015-16 season. 
What coach Brian Craig is saying:
"The birthday boy had a special day today. Chip McDaniel's back-to-back 67s on a course like Crooked Stick is pretty spectacular. He did a great job of leading our team today on his 20th birthday. We battled hard but did not have our best stuff overall. However, I loved our effort and our grit on a tough day. Tomorrow is a new day. We need to continue to prove ourselves each day."
The Starting Lineup:
Through the opening 18 holes of play, McDaniel notched two eagles and three birdies to go in front on the leaderboard. He opened play on the back nine and pared his first four holes. He misfired on the No. 14 with a bogey, but immediately came back with his first eagle of the day on the 15th. He concluded his front nine at 1-under par. As he turned the corner, he opened the final nine holes with back-to-back birdies on the No. 1 and 2. After suffering a minor setback on hole No. 5, he would finish in stylish fashion. On his version of No. 17, McDaniel birdied the par-four, eighth hole. UK's sophomore sensation then eagled the par-five ninth for the 5-under round.
McDaniel's second round featured six birdies and just one bogey. He again started on the back nine and fired a four-under through his opening nine holes. He birdied on three-consecutive holes from 15-17. He would move to six-under through 14 holes, but would lose a stroke on the par-four seventh hole. He finished his round flawlessly for his second-straight 67. 
Sophomore Cooper Musselman is in a tie for 20th place through the opening 36 holes of action. He logged rounds of 75 and 76 to finish the day at 7-over par. He had five birdies combined in the two rounds as he looks for his first top-20 finish of the season with 18 holes to play.
Junior Stephen Stallings and freshman Lukas Euler are both tied for 34th. After an opening round of 81, Stallings fired back with a 2-over par, 74, in the second round. Euler charted rounds of 77 and 78 to conclude the afternoon at 11-over par. 
Senior David Snyder shook off a rocky start to the day to move ahead 18 spots on the leaderboard with a 1-over par, 73, during the second round. It was the second-best round of 18 for any Wildcat on the day. His second round featured an on the par-five 15.  
The Tournament Field:
Kentucky surged ahead two spots during the second round to move into sole possession of third among the 12-team field. No. 1 Illinois owns the team overall lead by 14 shots over second place and 24th-ranked Purdue. The Wildcats sit just five strokes off of the Boilermakers. Rounding out the top five is No. 6 Duke in fourth and Xavier in fifth. The Wildcats own a one-shot lead over the Blue Devils heading into the final day of action.
The Course:
Crooked Stick Golf Club, a Pete Dye-designed course, has hosted prestigious amateur events in addition to a PGA Championship, a U.S. Senior Open and a Solheim Cup. It hosted the 2012 BMW Championship as part of the PGA Tour's FedEx Cup Playoffs.
The two-day, 54-hole tournament concludes with the final round on Tuesday. Play begins off of the No. 1 and 10 at 9 a.m. tomorrow. Live scoring is once again available at golfstat.com.
Crooked Stick Golf Club
Carmel, Ind.
Oct. 12-13
Par: 72
Yardage: 7,290
3 – Kentucky (300, 290 – 590, +14)
1 – Chip McDaniel (67, 67 – 134, -10)
T20 – Cooper Musselman (75, 76 – 151, +7)
T34 – Stephen Stallings (81, 74 – 155, +11)
T34 – Lukas Euler (77, 78 – 155, +11)
T44 – David Snyder (84, 73 – 157, +13)