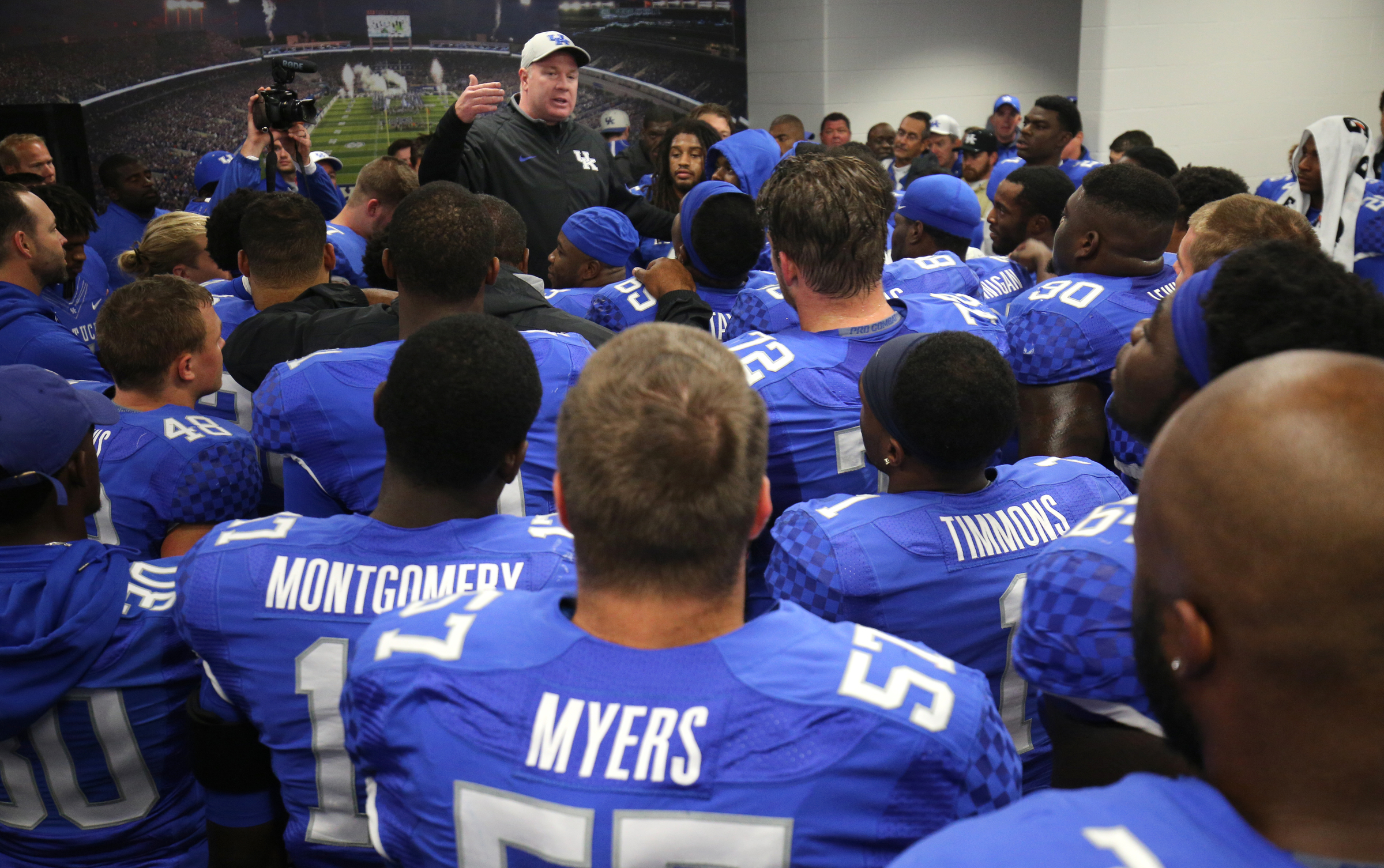 No one – not Mitch Barnhart, not Mark Stoops and not any Kentucky coach – has hidden from the fact that the first Thursday primetime game in program history is an opportunity for the Wildcats.
"Thursday night games have been done a long time on ESPN, and they've become quite a showcase for institutions, for communities, for your conference," Barnhart said.
"We have another great opportunity, playing Auburn at home on national TV on Thursday night," Stoops said.
"You look forward to those games, no doubt," offensive coordinator Shannon Dawson said. "Everybody is watching. It's a chance to go out and make a statement."
But to make that statement, it won't take some kind of different level of intensity or effort in preparing for the game, which will kick off at 7 p.m. on Thursday at Commonwealth Stadium.
"I haven't seen anything above and beyond and quite honestly I don't want it to be that way," Stoops said. "I want to see a good workman's like approach all the time with that energy and enthusiasm and I have seen that."
Though Stoops is looking for nothing more than consistent week-to-week effort from his team, the fact of the matter is that preparing for Auburn is a little different. For starters, game week is simply shorter, but the Cats did have the benefit of an open date preceding the Thursday game.
"It was nice," Stoops said. "We got basically one whole extra day off on the front end. So I gave them Sunday and Monday off (after EKU game) where you are normally off on Sunday, they also had Monday off. We came back and practiced Tuesday, Wednesday, Thursday, coaches recruited on Friday and then it was a quick turnaround because Saturday morning was basically Monday for us."
Thanks to the open date, UK's injury list is a bit shorter. Left tackle Jordan Swindle will return, as will defensive tackle Regie Meant.
"It definitely gave us some time healing up for the most part," Stoops said. "We are at midseason and banged up a little bit, but we will have to deal with that, most teams are."
Kicker Austin MacGinnis has "kicked lightly" and is day to day, while linebacker Jordan Jones and C.J. Johnson are "question marks." Johnson's injury is a new one, as the defensive tackle who had 19 tackles against EKU sustained it last week in practice when he "got rolled up."
"We will be in better shape because Regie will be back full speed," Stoops said. "They both have some strengths and they are different type players. Regie gives us a little bit more stout inside and Cory is more active against spread teams. Having Regie back will help if Cory is out."
Though his absence was due to a personal issue rather than injury, Boom Williams will return to action on Thursday. Stoops hopes watching the EKU game in street clothes will help the sophomore hone his focus now that he is again atop the depth chart at running back.
"That is part of us building our program and growing and bringing along some young guys still," Stoops said. "Just because we have talked about him for a year and a half doesn't mean they are grown yet. We have a lot of kids in that situation that we are still trying to bring along."
UK is also trying to bring along a handful of players who are not seeing the field on game day, players who got an extended look in practice last week.
"We got some good work from those guys," Stoops said. "We did take some extra reps and pushed the younger guys and just get a look at them. It is always helpful. I constantly talk about developing our team and making our players better and that is a big part of it getting those young guys reps and getting them work."
Stoops was impressed with a number of players on both sides of the ball, but no one stood out more than Tavin Richardson and Jabari Greenwood. The two freshman wide receivers are redshirting this season, but not because they aren't talented.
"They are two quality wide outs," Stoops said. "If it would have been our first two years here those guys would have played a bunch of snaps, but I think we are deeper and developing guys and bringing them along at the correct pace if you will. But across the board I think we are better on the scout team for sure."
Richardson and Greenwood, however, won't be on the field Thursday, but the players who will be have shown Stoops what he needed to see after the Cats overcame a subpar effort and 14-point fourth-quarter deficit to beat EKU last time out.
"I have seen the focus," Stoops said. "What I am talking about there is not just physical but the mental focus that goes into it. You have to be sharp. Yes, I think we are much better in that area. No coach is going to be completely content with where you are at in that area or any area, but we are getting better. I really liked it over the last week and a half."