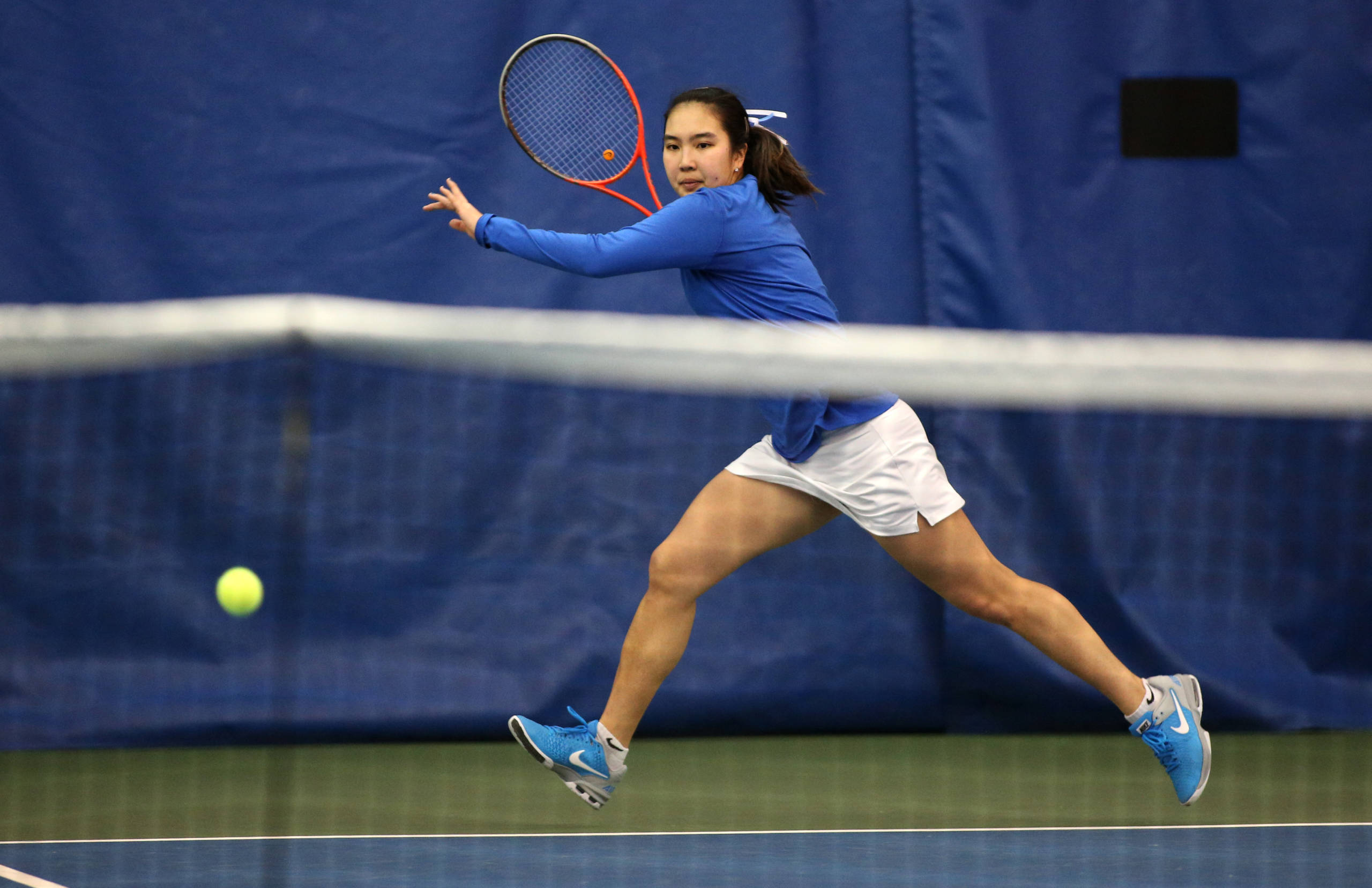 October 11, 2015 - 06:32 PM
Adachi, Parazinskaite, and Sutjiadi Remain Undefeated in Singles
SEATTLE, Wash. – The Kentucky women's tennis team finished up its weekend on the West Coast, winning four of seven matches in singles action on Saturday at the Washington Invitational.
With their victories, Mami Adachi and Aldila Sutjiadi have started out the year with a perfect record in singles, and have dropped just one match in doubles as the No. 9 ranked pairing.  Additionally, freshman Akvile Parazinskaite holds an unblemished record in singles.
Adachi took on Laura Gulbe of Pepperdine in the morning portion of the tournament, taking down her opponent 7-6(1), 6-4.  Sutjiadi squared off with host Washington's Miki Kobayashi, winning 7-5 in the first set before blanking Kobayashi 6-0 in the second set.
The remaining victories for the Wildcats came from freshmen Justina Mikulskyte and Parazinskaite.  Mikulskyte took down No. 65 Apichaya Runglerdkriangkari of Pepperdine in matching 6-3 sets, whle Parazinskaite defeated another Wave, disarming Danielle Feneridis, 6-0, 6-3. 
Kirsten Lewis, Nadia Ravita, and Kate Lanier rounded out Kentukcy's lineup for the day.  Lewis went up against Washington's Grace Ysidora, dropping the match in identical 6-4 sets.  Ravita took on Dzina Milovanovic of Pepperdine with a 6-4 loss in the first set before falling 6-1 in the second.  Up against Paloma Gomez of Oregon, Lanier had a 6-3, 6-2 setback against the Duck.
The Wildcats will have a quick turnaround before their next competition, as they will head to Lafeyette, Ind. for the five-day ITA Regionals, Oct. 16-20. 
Visit UKathletics.com for the most up-to-date information on the Kentucky women's tennis team and all 22 varsity sports. For additional info, notes, and behind-the-scenes updates, follow the team on Twitter at @UKWomensTennis and on Facebook.
Day Three Results
Singles
Adachi (UK) def. Gulbe (PEPP) 7-6(1), 6-4
Milovanovic (PEPP) def. Ravita (UK) 6-4, 6-1
Mikulskyte (UK) def. #65 Runglerdkriangkari (PEP) 6-3, 6-3
Parazinskyte (UK) def. Feneridis (PEPP) 6-0, 6-3
Sutjiadi (UK) def. Kobayashi (UW) 7-5, 6-0
Ysidora (UW) def. Lewis (UK) 6-4, 6-4
Gomez (OR) def. Lanier (UK) 6-3, 6-2