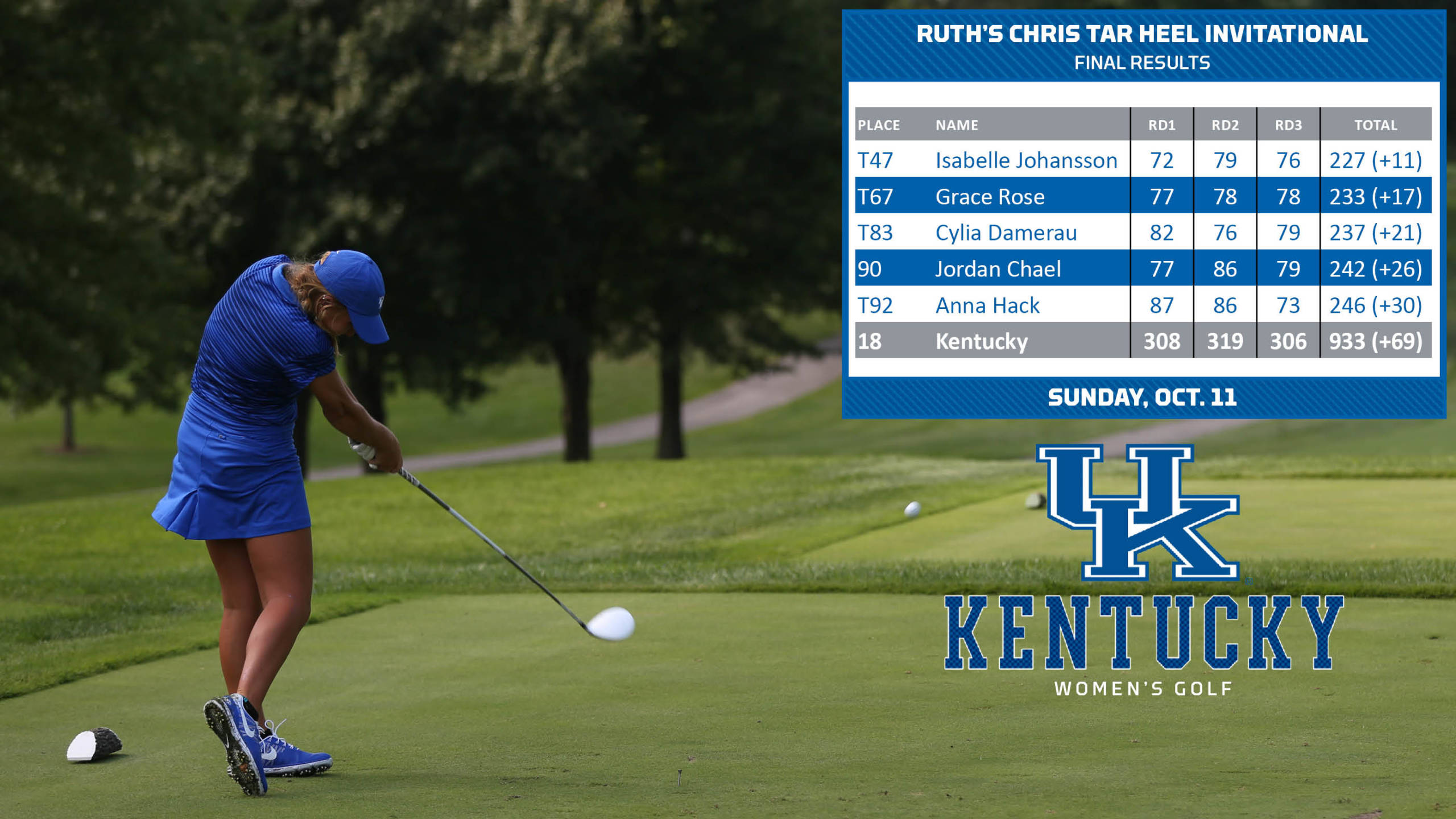 October 11, 2015 - 04:03 PM
Hack Reveals Potential in Final Round of Tar Heel Invitational
CHAPEL HILL, N.C. – Appearing in just her second collegiate tournament, freshman Anna Hack showed her potential with a solid final round at the Ruth's Chris Tarn Heel Invitational on Sunday.
Hack, who hails from Paducah, Ky., shot 1-over par in the final round at the UNC Finley Golf Course in Chapel Hill, N.C., easily the best of her young career so far. Hack led Kentucky in its best round of the tournament as the Wildcats finished the weekend in 18th place. 
Overall, the Wildcats shot 69-over par in the talent-filled field in Chapel Hill. UK's team score of 306 on Sunday was its best of the weekend and second best in nine rounds this season.
With Leona Maguire winning the individual championship at 4-under par, Duke cruised to its second straight Ruth's Chris Tar Heel Invitational championship with a team score of 3-over par. 
Sophomore Isabelle Johansson notched her third straight top-50 finish to start the 2015-16 season with a 47th-place finish. After falling from the leaderboard with a rough Saturday, Johansson rebounded nicely with a round of 4-over par to close out the weekend. 
Hack finished a ways back in a tie for 92nd place at 30-over par, but Sunday's round will give her plenty to build off of going forward. With four birdies in the third round, Hack nearly carded the first even- or under-par round of her career. She bogeyed her final hole of the day to narrowly miss the accomplishment.  
Sophomore Grace Rose closed the Tar Heel Invitational with a 6-over-round and tied for 67th. Senior Cylia Damerau and junior Jordan Chael each recorded scores of 7-over par in the final 18 holes to finish in a tie for 83rd and 90th place, respectively. 
This weekend's tournament marked one of the stiffest tests the Wildcats will face all year. Thirteen of the 18 teams in Tar Heel Invitational were ranked in Golfweek Magazine's top-50 rankings. A remarkable 15 of the 18 teams in the tournament made last year's NCAA regional field, including Kentucky. Perhaps more impressive is 10 of the teams in this year's field were among the 24-team field at the 2015 NCAA Championship.
Kentucky has one more tournament – Oct. 23-25 at the Landfall Tradition in Wilmington, N.C. – in the fall before breaking for the winter. 
As always, fans can follow the team on Twitter, Facebook and Instagram, as well as on the web at UKathletics.com, for the latest Kentucky women's golf information.