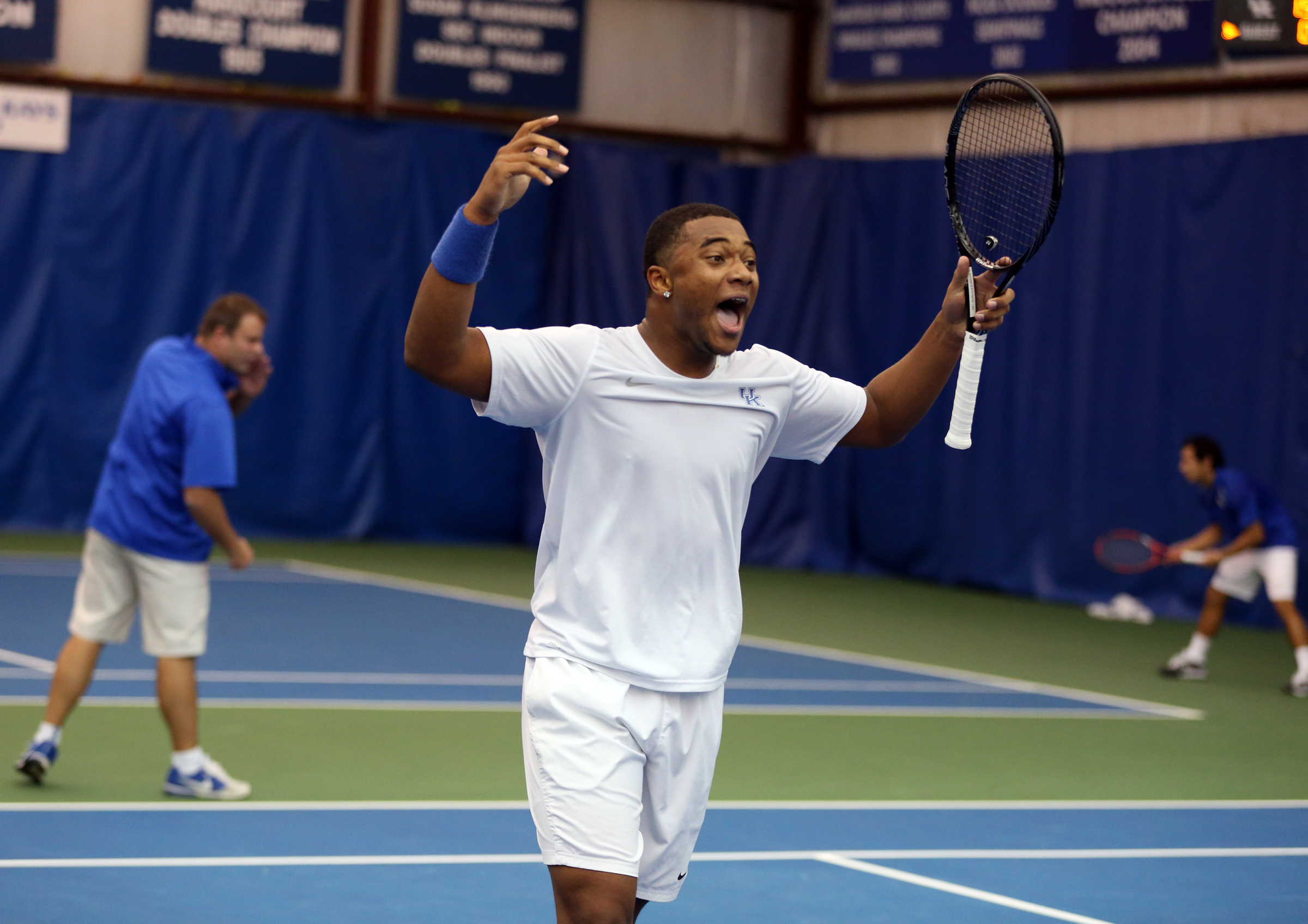 October 9, 2015 - 10:38 PM
Bushamuka Notches Top-55 Win at ITA All-American
TULSA, Okla. – Kentucky men's tennis sophomore William Bushamuka notched his second top-55 win of the fall season on Friday afternoon at the ITA All-American. Senior Beck Pennington suffered his first setback of the tournament on Friday as well.
Bushamuka began Friday in the consolation bracket, facing stiff competition in No. 52 Sasha Gozun for the University of South Florida. Bushamuka played tough and fought through to take down the foe in straight sets, 6-3, 6-4.
"William beat his second opponent in the top 55 this fall season with the win today," said fifth-year head coach Cedric Kauffmann. "He played well throughout. He was very solid and played big points much better than last year. He's growing each match, and he has a chance for another ranked win again tomorrow."
For Pennington, Friday marked the first loss of the All-American. The Kentucky native faced No. 42 Nick Crystal of Southern California. Pennington was overmatched on the day, falling in a tough 6-4, 6-2 decision.
"I don't think Beck played up to his potential today, but he was playing against one of the best counter-punch players in the country. He broke Crystal plenty but just found himself getting broken more often. We always came from down 0-30 on service games and against a great returner like him it's difficult to come back. Beck's first serve percentage was fine but his location was a little off. He was very good about staying on the hitting zones. Beck got a ranked win this week and got back on track a little bit, but we need to make a run next weekend at Regionals."
The 2015 Saint Francis Health System ITA Men's All-American Championships span from Oct. 8 – Oct. 12. Live stats and live stream of All-American play is available through University of Tulsa athletics here. Following UK men's tennis' play in the All-American Championships, the team will head to Knoxville, Tenn. to compete in regional play. 
For more information on the Kentucky men's tennis team, follow @UKMensTennis on Twitter or Kentucky Men's Tennis Team on Facebook.