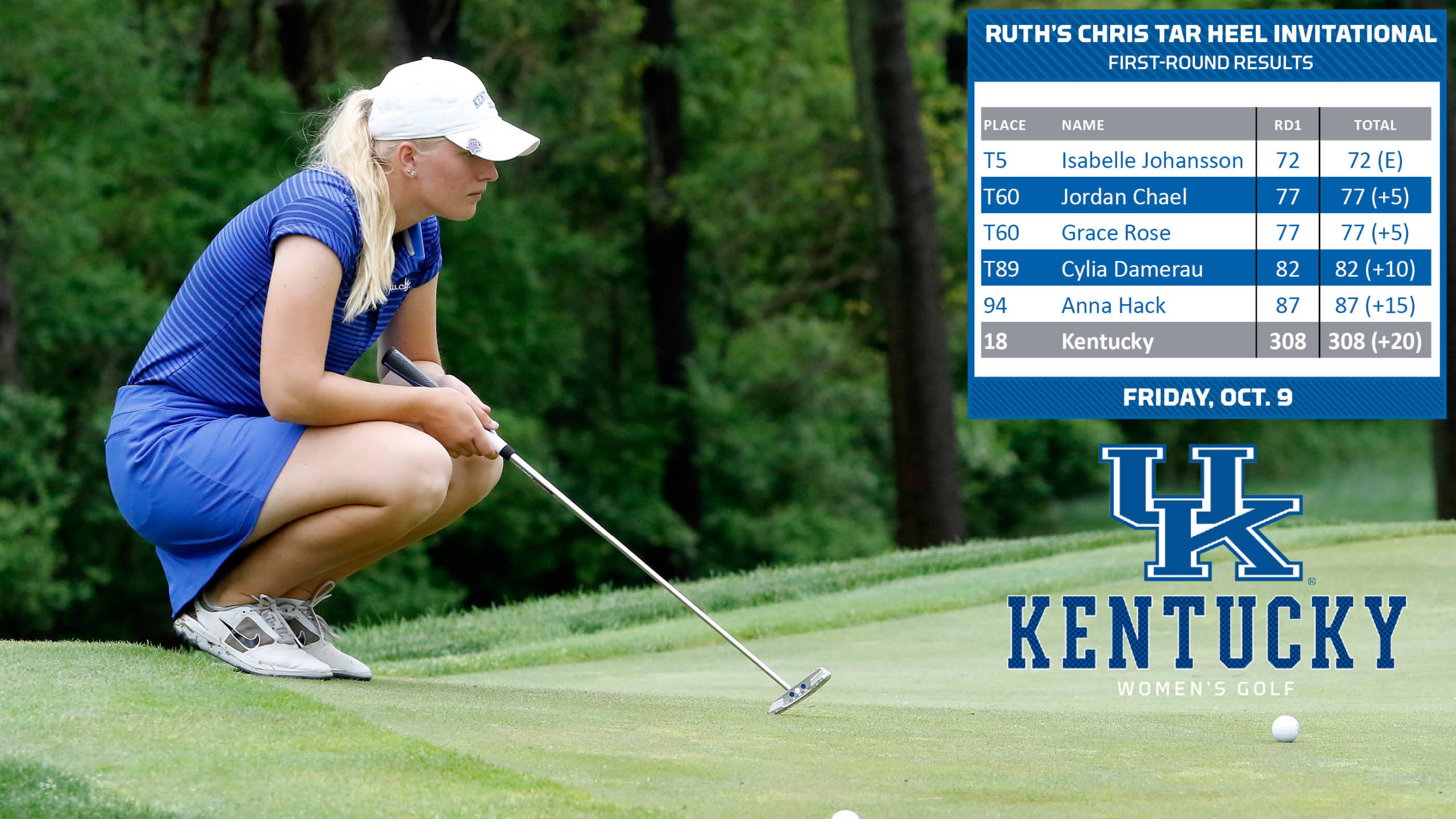 October 9, 2015 - 07:20 PM
Johansson Fires Even-Par Opening Round at Tar Heel Invitational
CHAPEL HILL, N.C. – Playing against arguably some of the toughest competition she will face during the regular season, Isabelle Johansson finds herself in the mix after one round of play at the Ruth's Chris Tar Heel Invitational. a
Johansson fired a first-day even-par 72 and is in a tie for fifth place after the first 18 holes at the UNC Finley Golf Course in Chapel Hill, N.C. The sophomore from Sala, Sweden, along with the rest of the Kentucky women's golf team, will resume play Saturday with 18 more holes. The final round is Sunday.
Overall, the Wildcats carded a first-day 308 (20-over par). In 18th place, UK has some ground to make up, but the defending Tar Heel Invitational champion, Duke, is the only team currently below par (3-under par). 
Fans can follow the second-round action at golfstat.com. 
Johansson recorded three birdies on the day, each of a different variety. She birdied the par-3 14th hole, the par-4 first hole and the par-5 third hole. The 2015 NCAA Championship individual qualifier had just three bogeys on the day for her first even- or under-par round of the young season.
Michigan State's Katie Sharp leads the field at 4-under par.
Junior Jordan Chael was unable to record a birdie Friday, but she made just five bogeys and is within striking distance of the leaders at 5-over par. She's tied with teammate Grace Rose, who carded a birdie on the par-5 sixth hole, for 60th place.
Senior Cylia Damerau, after a one-tournament absence, made her return Friday with an 82. She's in a tie for 89th. Freshman Anna Hack, playing in just her second career tournament, is in 94th place at 15-over par.
This week's tournament marks one of the stiffest tests the Wildcats will face all year. Thirteen of the 18 teams in Tar Heel Invitational are ranked in Golfweek Magazine's top-50 rankings. A remarkable 15 of the 18 teams in the tournament made last year's NCAA regional field, including Kentucky. Perhaps more impressive is 10 of the teams in this year's field were among the 24-team field at the 2015 NCAA Championship.
Located in Chapel Hill, N.C., the UNC Finley Golf Course is playing at 6,379 yards, par 72 this week. The current course was designed by Tom Fazio and opened in 1999.
Admission is free all weekend and the public is encouraged to attend.
As always, fans can follow the team on Twitter, Facebook and Instagram, as well as on the web at UKathletics.com, for the latest Kentucky women's golf information.
Ruth's Chris Tar Heel Invitational 
UNC Finley Golf Course
Chapel Hill, N.C
Oct. 11
Par: 72
Yardage: 6,379