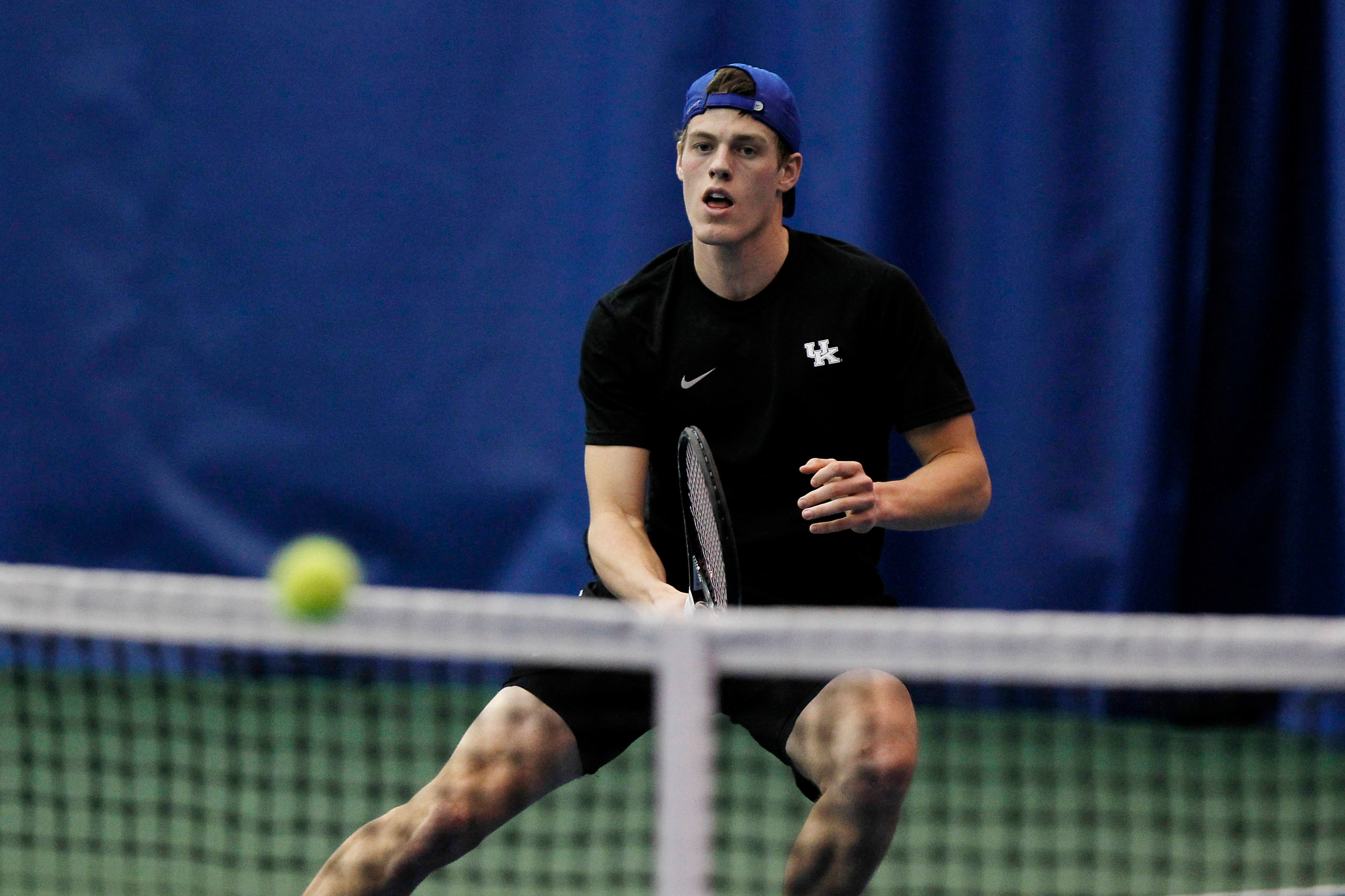 October 8, 2015 - 10:27 PM
Wildcats Compete in First Day of ITA Men's All-American Championships
TULSA, Okla. – Senior Beck Pennington advanced to the second round of play on Thursday as sophomore William Bushamuka had a setback in the first day's action, as the two members of the Kentucky men's tennis team competed in the first round of the main draw of the ITA Men's All-American Championships. The ITA Men's All-American Championship is the most competitive tournament of the fall season in collegiate tennis.
"It could have been a great day for us, but it still ended up pretty good," said fifth-season head coach Cedric Kauffmann of the team's play on Thursday evening. "William lost a tough match, battling back after dropping the first set. I was proud of how he played. We have talked as a team about fighting back and switching momentum, and he did that today. Up a break in the third, he played a little loose mentally. When he ended up getting to the tiebreaker we didn't execute at all, but that's on me. I didn't get him playing physical and smart. Beck did a little bit of the same. He had a little bit left over from last week in Virginia, but by the second set he settled down. I was very happy with his first serve percentage towards the end, and he never tried to hit too hard. He moved his opposition around the court and came up on the right balls. He needed this win."
The Cats went 1-1, with Pennington highlighting the day. The senior went three sets with Yale's Tyler Lu. After dropping the first set, 2-6, he fought back for a 2-6, 6-4, 6-4 victory to advance to the tournament's next round.
Bushamuka, also playing in the main draw, had a tough loss to Georgia's Walker Duncan. The two went down to the wire, with Bushamuka finding himself on the wrong end of a 6-2, 1-6, 7-6(5) result. 
"We have tough matches again tomorrow. Each day we have to get better to get the result we need." 
The 2015 Saint Francis Health System ITA Men's All-American Championships span from Oct. 8 – Oct. 12. Live stats and live stream of All-American play is available through University of Tulsa athletics here. Following UK men's tennis' play in the All-American Championships, the team will head to Knoxville, Tenn. to compete in regional play. 
For more information on the Kentucky men's tennis team, follow @UKMensTennis on Twitter or Kentucky Men's Tennis Team on Facebook.