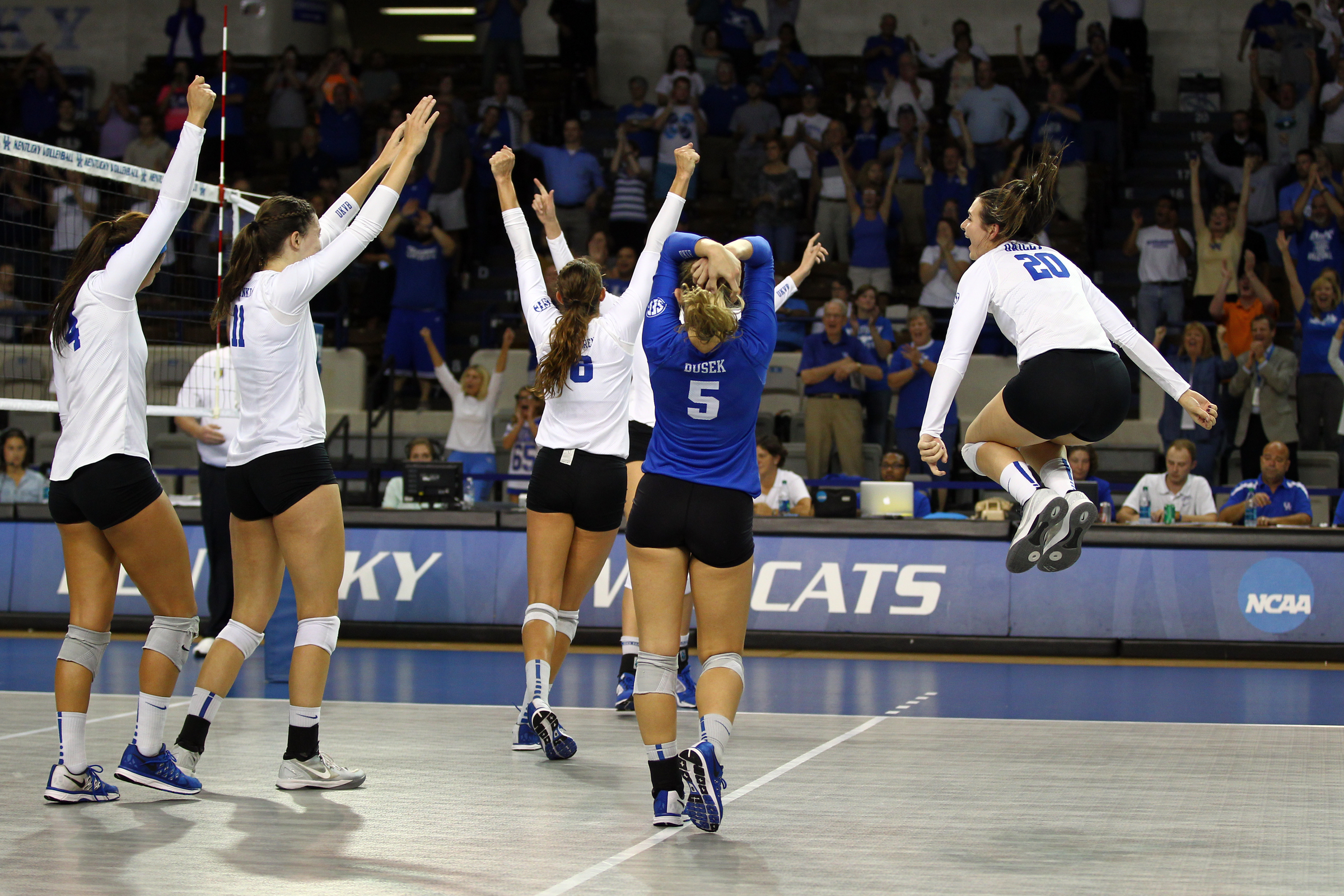 October 7, 2015 - 10:35 PM
Balanced Wildcats Earn Sweep of No. 22 Arkansas
LEXINGTON, Ky. – A balanced effort offensively and defensively paved the way for a 3-0 (25-23, 25-12, 25-21) sweep of No. 22 Arkansas for the 20th-ranked Kentucky volleyball team on Wednesday night in Memorial Coliseum. Six players posted five or more kills, while five more had seven or more digs in the winning effort which pushed Kentucky to 12-5 overall record on the year and a perfect 5-0 in Southeastern Conference action.
"It was definitely a blue collar effort tonight," said 11th-year head coach Craig Skinner. "Arkansas is a very athletic and physical team, and we expected the match to go like the first and third sets did. I'm proud of this team's composure and ability to really commit to focusing on each point." 
Kentucky won its eighth-consecutive match with tonight's sweep and it's the third win over a top-25 ranked foe this season. Arkansas fell to 13-3 and 3-1 in league play in a contest that featured the top two teams in the SEC. UK will enjoy a break from action for eight days before traveling to Auburn on Friday, Oct. 16. 
Senior setter Morgan Bergren registered a double-double effort with 32 assists and 11 digs. She distributed the ball at an expert level with five players notching five or more kills on the night. Bergren also had five kills of her own. 
Junior Anni Thomasson and freshman Brooke Morgan posted nine kills apiece. Thomasson added a team-high 11 digs, while Morgan was in on four of UK's eight blocks. Sophomore Emily Franklin added eight kills – including six in the opening frame. Classmates Darian Mack and Kaz Brown had six and five, respectively. Brown paced the defensive effort with seven of UK's eight blocks to help limit the Razorbacks to a .128 hitting clip.  
Freshman McKenzie Watson had nine digs, with seven of them coming in the dominating second set, while sophomore Ashley Dusek scooped up eight Arkansas attacks. 
Set Recaps
Set 1 
Thomasson opened the match with a kill down the line and from there the teams swapped points back-and-forth. The Razorbacks capitalized on a UK miscue to take the first multi-point lead of the set at 7-5.  A kill from Mack from the back row knotted the score at 11 apiece. The visitors then scored four of the next five points for a 15-12 edge at the media timeout. The lead stretched to four midway through the frame. The Wildcats did not go away and pulled to within two at 21-19. Brown teamed up with Morgan and then Thomasson for back-to-back blocks to tie the score at 22. Thomasson gave UK set point with a sizzling cross-court shot. Arkansas was unable to connect off of Thomasson's serve and the Cats claimed the opener by a 25-23 margin, climbing back from a five-digit deficit at 21-16. Franklin led the charge with six kills in the set as UK laid down 15 total. Thomasson added four of her own, while Mack had a team-high four digs and Brown was in on three rejections.
Set 2
The second stanza opened in much the same fashion as the first, but the Wildcats created significant separation at 7-2 following multiple blocks from Brown, and a kill and ace from Thomasson. The Razorbacks pulled back to within four at 12-8, but UK ended the threat with an astute kill over the block from Morgan. Kentucky's collective effort and an 8-0 burst enabled the Wildcats to stretch the lead to as large as 13 at 22-9. A service error from the visitor's lifted Kentucky to a 2-0 lead at the break behind a 25-12 second set victory. UK suffocated the Razorbacks into a .000 hitting clip, while the offense was led by Brown's four hammers. Watson had a set-high seven digs and Brown was in on all three Big Blue blocks.
Set 3
Arkansas utilized an early spurt to generate a three-point edge at 6-3 in the early going of the third set. The lead stretched to five at 9-4 and Kentucky took an early timeout. UK pulled back to within one at 9-8 and would eventually tie it on a Thomasson kill at 11-11. UK's junior would take advantage of an overpass on the very next play for the first UK lead of the frame. Kentucky stretched the lead to three at 16-13 and Arkansas opted for a timeout. The Razorbacks fought back and eventually evened the score at 17. From there the teams traded points until UK broke free with an ace from Dailey and a blocking error charged to the visitors to make the score 23-21. Morgan finished off the sweep with a kill for the 25-21 win.  
By the Numbers
13 – The largest lead UK had in the dominating second set at a 22-9 advantage
8 – Consecutive Wildcat victories
7 – Blocks Kaz Brown registered – her ninth match with five or more rejections this season
6 – Players with five or more kills 
2 – Double-double efforts by senior Morgan Bergren this season who had 32 assists and a team-high 11 digs tonight 
Kentucky's Memorial Coliseum will play host to the NCAA Regionals Dec. 11-12. UK is one of four sites selected for the Sweet 16 and Elite Eight matchups with one team advancing to the Final Four in Omaha, Neb., from the Lexington Region. This marks the third time in five seasons Memorial Coliseum will host this premier volleyball event.
For the latest on the Kentucky volleyball team, follow them on Twitter, Facebook and Instagram, and on the web at UKathletics.com.