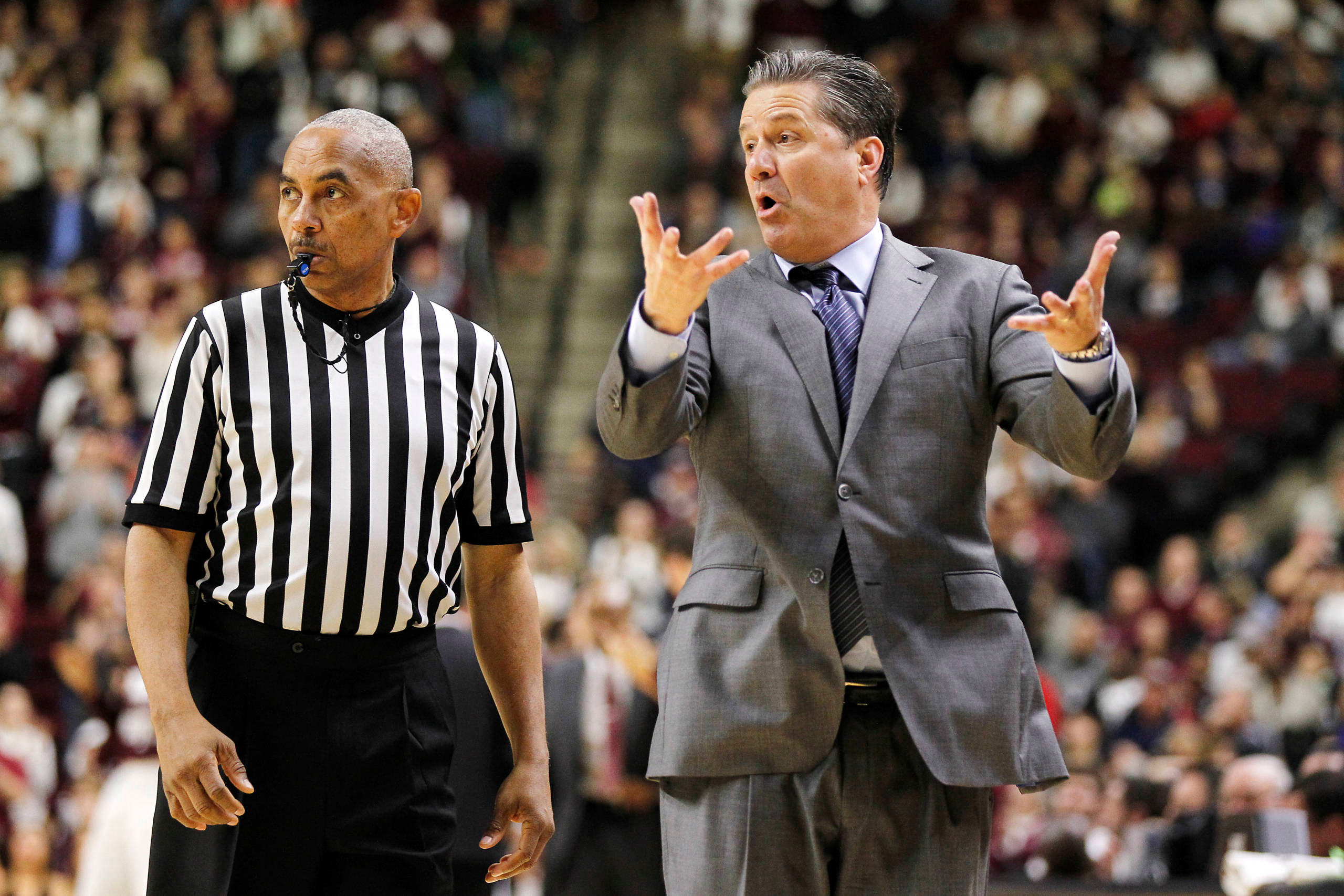 October 7, 2015 - 02:53 PM
Calipari Preaches Patience in Early Going
LOUISVILLE, Ky. – It is Oct. 7, and the Kentucky men's basketball team doesn't play its first regular-season game until Nov. 13. For that head coach John Calipari is very thankful.
Beginning Oct. 2, Calipari can work with his team 20 hours per week, and based on his comments to a crowd of approximately 750 at the Galt House in Louisville on Tuesday, he will want to use every minute he can prior to the Cats' season opener vs. Albany.
"This year's team, as we speak, we stink," Calipari said. "I said to them two days ago – we had yesterday off – I said there's one really good thing that's happening. And they said, 'What's that, Coach?' I said, 'We're not playing tomorrow. So we're OK. I'm not going to panic yet."
After going 38-1 last season, seven Wildcats submitted their names to the NBA Draft, taking 2,486 points and 1,142 rebounds with them.
"I did this yesterday: So, I put up a tape of us running an offense last year for the team to see it so we could put it in and they'd see it," Coach Cal said. "And as I walked out of the door, Tyler was out ahead of me and I called him back as we left the room. I said, 'Tyler, oh my gosh. Did you see this?' He said, 'What?' 'See how good we were last year?' He busted out laughing. He said, 'We were really good. We were really good.' "
The Wildcats return senior forward Alex Poythress, who is still rehabbing from a torn ACL suffered last December, juniors Dominique Hawkins (who is out four weeks with a broken bone in his hand), Marcus Lee and Derek Willis, as well as Tyler Ulis, the sophomore point guard on the other end of that conversation with Coach Cal.
Among the returners, Ulis has shined, Calipari said, and will need to help lead the team, especially in the early going. At practices, Calipari has sometimes given his team half of the instructions before pointing toward Ulis, directing him to finish his sentences, and more times than not the 5-foot-9 floor leader has been spot on.
After posting the third-best assist-to-turnover ratio (3.55) in the country last season, Calipari said he's raised his game even more over the offseason and carried that into workouts at the Joe Craft Center.
"Tyler Ulis in three days of practice had 25 assists and three turnovers, which is really good," Coach Cal said. "… I'm telling you, early on we're going to be ugly. We gotta hope that Tyler is so good that we get by being ugly."
Despite Calipari's warnings that his team "stinks" right now, it's not likely that many outsiders will buy much of what he's saying. After all, Kentucky has been to four of the past five Final Fours, were a record 38-0 last season and welcome in the No. 1 recruiting class in the nation.
That recruiting class is headlined by forward Skal Labissiere and guard Jamal Murray, who were each named preseason All-Americans by CBS on Tuesday even though they're freshmen. Labissiere, like another star international freshman big man who played at UK last year, Karl-Anthony Towns, has seen plenty of criticism from Calipari in the early going of practices, but it's being driven by his potential more than his faults.
"Skal's got a ways to go," Calipari said. "I'm all over him like I was Karl right now. Why would you say I'd be harder on him than the other guys? Because he has more. He can be the No. 1 pick, so I'm going to drive him. Like, I'm mad at him he got six rebounds and five blocks the other night. I'm like, 'You could get 12 rebounds and 10 blocks.' He's looking at me like, 'I've never practiced this hard or this long in my life.' "
And the same can be said most likely for each of the Cats' six scholarship newcomers. Doing two-a-days against fellow Division I student-athletes is another level of competition, and doing it at Kentucky can be even more arduous.
With the first game a little more than one month away, Calipari said he is still trying to figure out just how to fit all of his new pieces together. Fortunately for him, he seems to have a team filled with kids who are starving for that hard work and competition.
"The greatest thing is we got great kids," he said. "They are going to do what we ask them to do. I'm telling you, I'm coaching them. The problem is we better be right in what we're teaching them because they will do it. Everything right now is an experiment. I have no idea how we're going to play offensively. I really don't know if we're going to press, how we're going to press, if we're going to play zone. I'm throwing things out and looking at it, watching it and seeing what fits this team.
"But I'm going to have fun. I'm having fun right now practicing. The guys are trying, they're working."