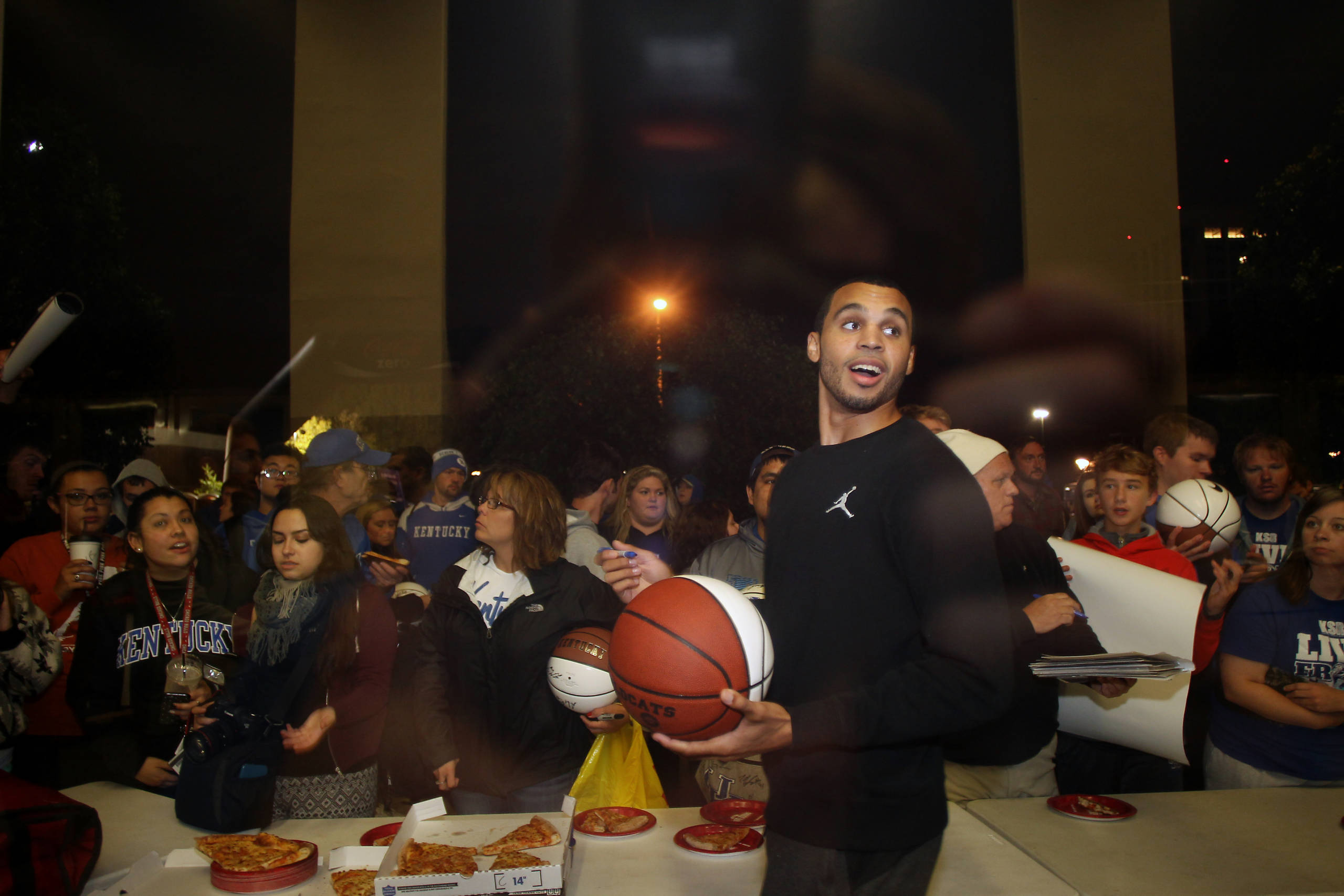 October 5, 2015 - 11:26 AM
The Old New Guy: Mulder Balancing Leadership, Learning
Mychal Mulder came on campus and joined a set of teammates with whom he had never played. Knowing their time together would be limited, Mulder knew they would have to jell in short order.
They did, and Mulder left school for bigger and better things after a wildly successful two-loss season that saw him earn All-America honors.
Sound like something close to a best-case scenario for Mulder's junior season at Kentucky?
Maybe so, but it's a script Mulder already wrote at his previous stop, Vincennes University.
"In the years I spent there, as a freshman I kind of looked to the sophomores for leadership and to set the tempo a little bit," Mulder said. "About halfway through that year, I kind of knew what was expected at that level. As a sophomore coming back from a pretty strong team in our first year, me and a pretty big group of guys as sophomores, we were able to take on pretty much any team in the country. We wanted to make a name for ourselves."
Mulder, averaging 15.7 points and 6.4 rebounds per game during his final season at Vincennes, made enough of a name for himself that John Calipari came calling. Even though Mulder grew up far away from Lexington in Windsor, Ontario, the 6-foot-4 wing knew exactly what Coach Cal was offering with that scholarship.
"I was aware of UK when it comes to basketball since I was little," Mulder said. "Kind of a hard program to miss if you watch basketball."
Mulder knew he wasn't going to find a spotlight brighter than the one he'd play under at UK. He also knew he wasn't going to find a tougher challenge anywhere else. Mulder could have gone somewhere else and stepped immediately into a featured role, but instead he's embracing everything that comes with being a Wildcat.
Though it was on a smaller scale, Mulder made similar decisions both in choosing to attend a different high school than his friends and going far away to Vincennes.
"I could have gone closer to home and stuff like that but I knew that my coach there (Vincennes' Todd Franklin) was going to be really tough on us and really hardcore on us and make us the best he could," Mulder said. "That's what he did and it turned out to be great. So I wouldn't see a point in switching now and taking the easy way out and going somewhere else when I know this is going to make us the best players that we can possibly be, is in this building right here."
That will also be the place where the Cats seek to build the same kind of team chemistry that carried Vincennes to a 33-2 record. Mulder plans to apply the lessons he learned through that process.
"It gave me a little bit of experience in that area of how important team bonding is, how important it is to know everybody and be close with everybody," Mulder said. "Sacrifice. You gotta sacrifice something for the team sometimes. You're not always going to do exactly what you want and that's perfectly fine because at the end of the day team accomplishments will get you individual accomplishments and what you want."
Mulder's experience gives him a unique perspective compared to his fellow newcomers. It's one he hopes to put to good use.
"I feel like it's exciting to be in that situation where I'm a junior and they could look to me and some of the older guys for leadership and mentorship, whatever they need," Mulder said. "Just as a great teammate in general. To any of these guys, I just want to be a great teammate and to be thought of as the guy who's always working as hard as I can and they know I'll run through a wall for them and I know they'll do the same for me. I think that's an exciting experience in itself."
Two years older than his freshman teammates, Mulder is a veteran in one sense. But in another, he's still playing Division-I college basketball at Kentucky for the first time just like Skal Labissiere, Jamal Murray, Isaiah Briscoe, Charles Matthews and Isaac Humphries.
"It's a balance that you gotta work," Mulder said. "I'm new to UK but I've been a college student before. I'm ready to take on the size of college classes and the course load and stuff like that. The only real difficulty, I gotta find my classes. But other than that, I've played college basketball. Not at this level, but I've played college basketball. So I think that's going to be a positive thing on my time here."
One of many, Mulder hopes.
"I think as players we all just need to come together," Mulder said. "I mean, we've had a great preseason and we've been working really hard. Coming together as a team, it's a work in progress and we're doing pretty well at it. I feel like as long as we continue down that road we'll be fine."