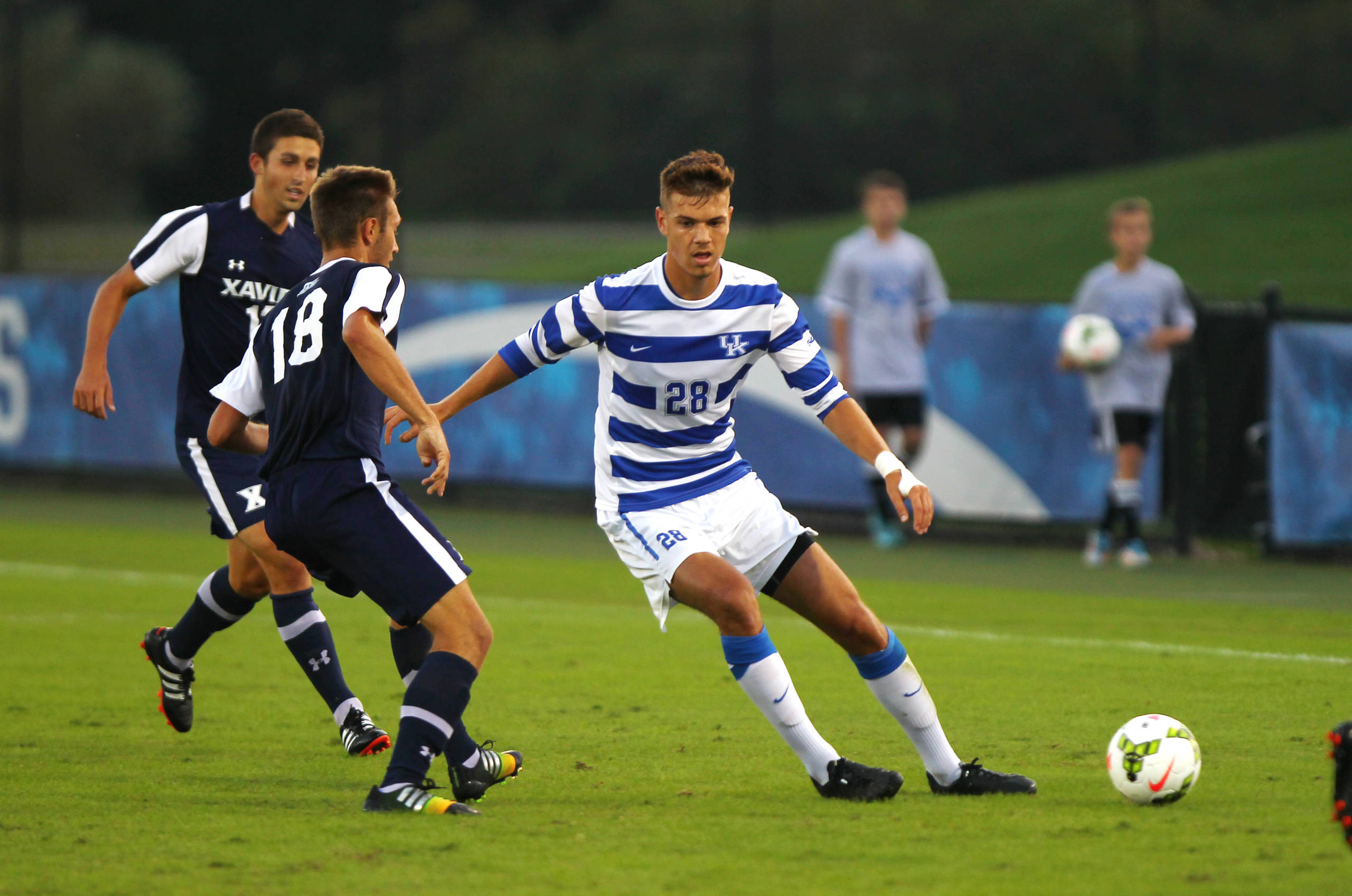 October 5, 2015 - 11:16 AM
Stojkovic Named C-USA Offensive Player of the Week
LEXINGTON, Ky. — After scoring the golden goal with 86 seconds remaining in double overtime to give the Kentucky men's soccer team a 1-0 win at No. 20 New Mevico, sophomore Stefan Stojkovic has been named Conference USA Co-Offensive Player of the Week, it was announced by the league office on Monday morning.
A native of Halmstad, Sweden, Stojkovic's fourth goal in the last three matches lifted Kentucky to the key conference win on Sunday at UNM and vaulted Kentucky (6-2-1, 3-0-0 C-USA) square into the race for the league regular-season title.
Stojkovic beat a pair of New Mexico defenders to secure a pass from Napo Matsoso in the 109th minute, then sliding the ball past the UNM keeper into the corner of the net for the game-winning tally. Stojkovic was rampant throughout the tilt, firing four shots against the UNM defense, which entered the game tied with UK for the best goals-against average in the circuit.
Kentucky has now won four consecutive matches since entering league play, including a non-conference win over Eastern Illinois. Stojkovic leads UK with four goals and an assist, with Xahne Reid adding three goals and three assists and Matsoso charting three goals and two assists.
In goal, senior Callum Irving is charting the best career in Kentucky history after his shutout at New Mexico on Sunday. Irving, a native of Vancouver, British Columbia, has 22 shutouts in his career to move into a three-way tie for the UK all-time record with Brian O'Leary (1997-00) and Andy Gruenebaum (2002-05). Has kept five shutouts this season overall, including four consecutive.
The Wildcats return to action on Wednesday, playing host to non-conference foe Evansville at 7 p.m. at The Bell.