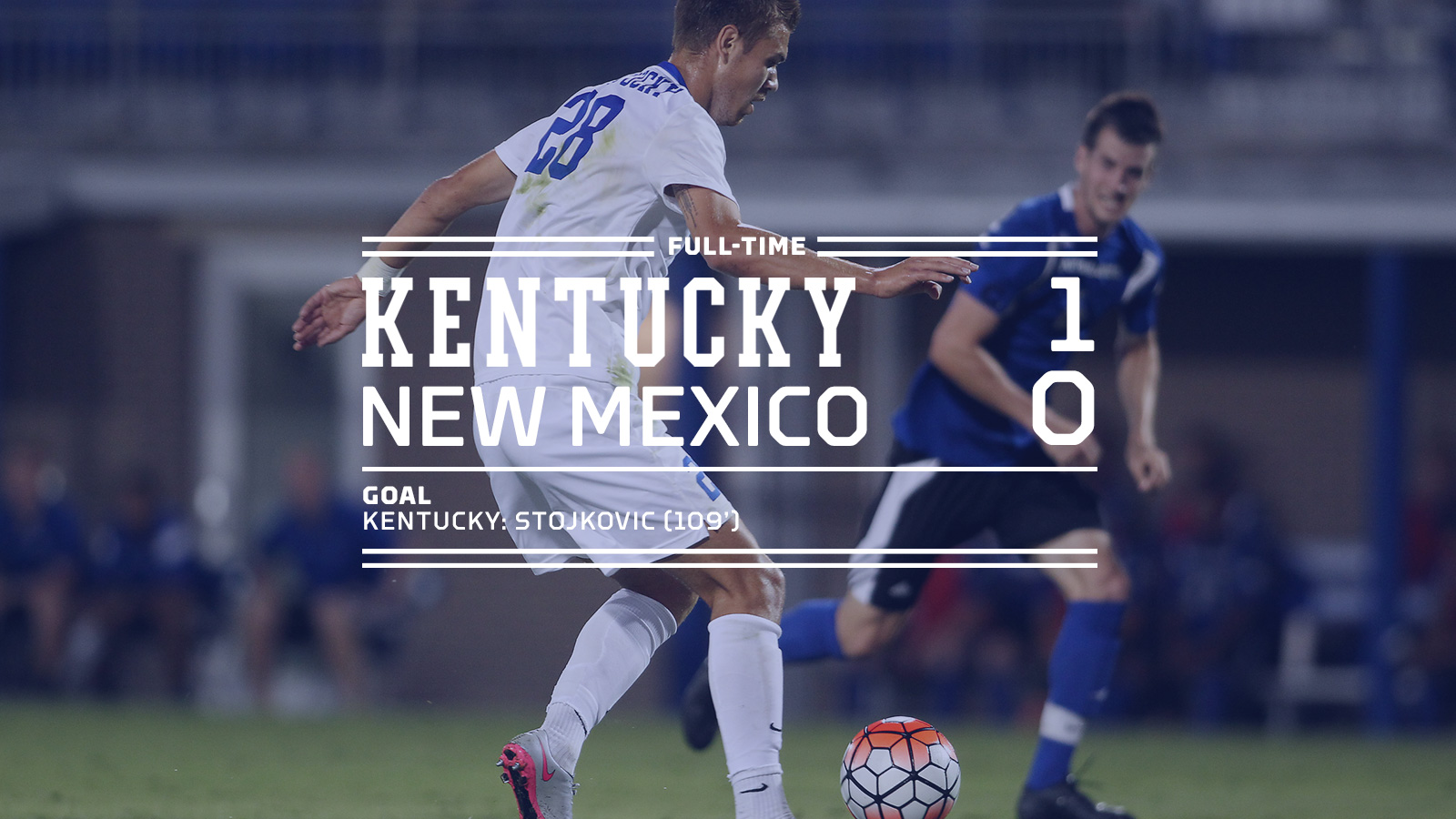 October 5, 2015 - 12:24 AM
Stojkovic's 2OT Goal Gives UK Soccer 1-0 Win at #20 New Mexico
Box Score
ALBUQUERQUE, N.M.   – Stefan Stojkovic scored a golden goal with 1:26 to play in double overtime to lift the Kentucky men's soccer team to a 1-0 win at No. 20 New Mexico. 
Stojkovic beat two New Mexico defenders to get on the end of a Napo Matsoso square-ball and then slid the ball past the UNM keeper into the corner of the net.
That's a winner! Stefan Stojkovic slots home with 1:23 to play! The Cats are 6-2-1, and a big 3-0 in @CUSASoccer. pic.twitter.com/v0H2By7URp

— Kentucky Mens Soccer (@UKMensSoccer) October 5, 2015
Kentucky won its fourth straight, and remained undefeated in Conference USA. The Wildcats are now 6-2-1 overall, 3-0-0 in the league.
Goalkeeper Callum Irving kept the 22nd shutout of his career, moving him into a three-way tie for the UK all-time record with Brian O'Leary (1997-00) and Andy Gruenebaum (2002-05). 
Irving has kept four-straight clean sheets, and five this season overall.
Stojkovic has now scored four goals in his last three matches. Notably, he also scored a late winner at top-ranked Notre Dame last season.
Matsoso notched his second assist of the year, to go along with three goals.
Irving, playing behind a back-four of Charlie Reymann, Jordan Wilson, Alex Bumpus and Tanner Hummel, made one save – a good one, which came in the closing seconds of the first overtime period.
But saves didn't fully capture Irving's strong performance as he was flawless in coming to claim dangerous crosses and martialing the rearguard all night.
After dominating the first half, but failing to find a breakthrough, New Mexico made a strong start to the second half, but failed to seriously trouble Irving — largely thanks to UK's defensive prowess. But for the majority of the match, UK looked the more likely side to score. So even though they had to wait 108 minutes to break the deadlock, Sunday's result was a much-deserved win for the Cats based on the run of play and the quantity of chances as UK out-shot UNM 18-11. 
The quote
"Amazing result for our team," Irving said. "Obviously we started off the season with a bit of a rough patch, but the past few games we've brought the level back up. This was a signature performance for us. We grinded from the beginning, the whole team played strong and then Stefan is a poacher. He'll take any chance he can get and he put it away for us. So it's a great result."
The notes
Kentucky is now 2-1-0 against New Mexico having won two in a row. Sunday's win was UK's first in Albuquerque.
The Lobos entered the match ranked No. 15 in the NCAA rating percentage index.