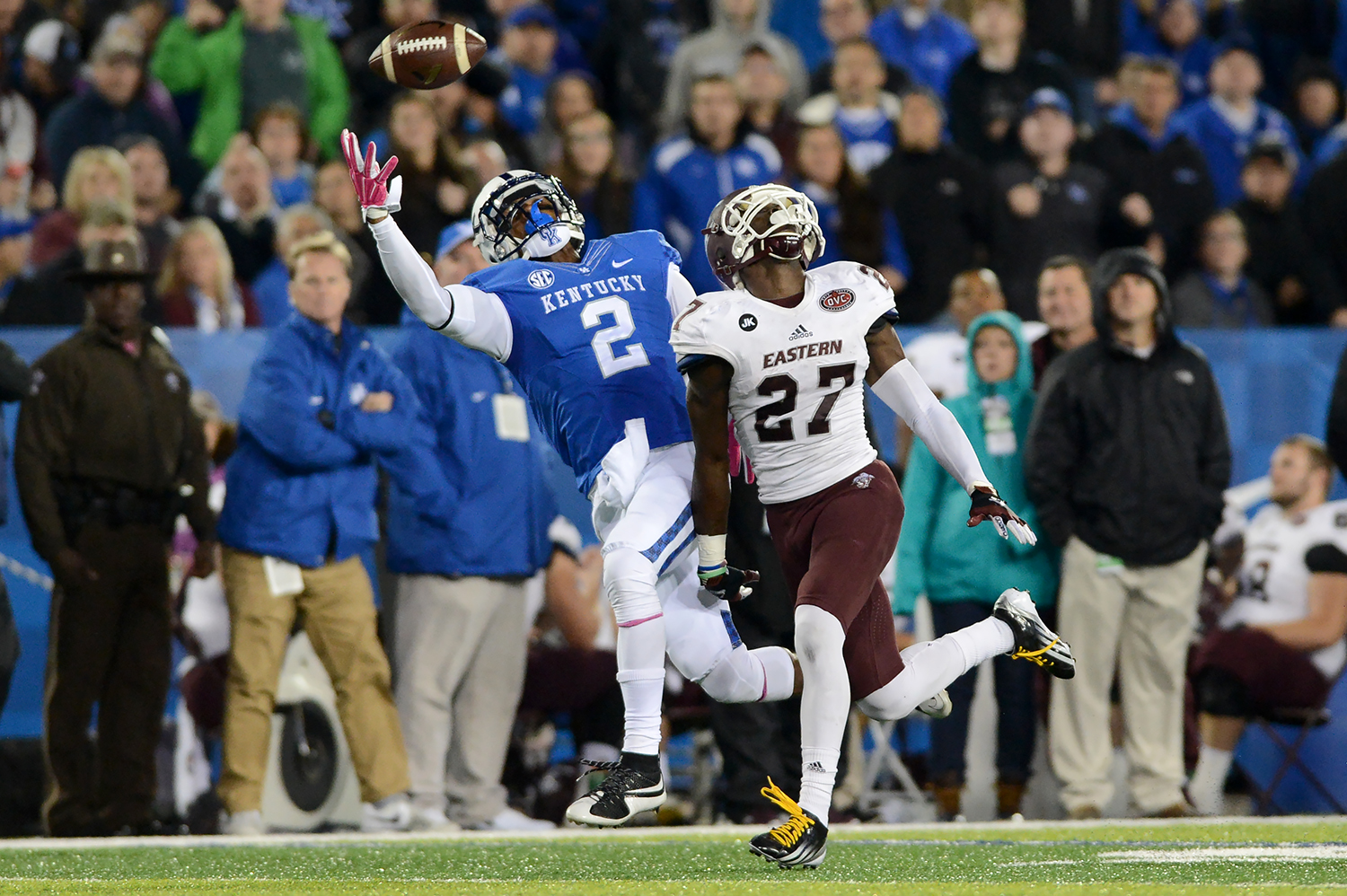 Eastern Kentucky had just scored a touchdown to stretch its lead to 27-13. With 7:39 left, the Colonels seemed poised for a season-defining upset and Kentucky headed for a momentum-halting defeat.
Mark Stoops couldn't help but let bad thoughts creep in.
"I'll be honest, it wasn't looking good," Stoops said. "It really wasn't."
Patrick Towles was thinking along the same lines.
"Not a lot of good stuff, I promise you that," Towles said, asked about his inner monologue at that moment.
But by the time Towles started interacting with his teammates and preparing to lead the subsequent drive, the negativity was gone. In its place was Towles' customary confidence.
"You gotta have that mentality," Towles said. "There was never any point where I thought we were going to lose the game. And I honestly believe that. There were probably 20,000 people who did, but that wasn't me. And that's not our team. Our team, we're going to fight no matter who it is, no matter who we're playing."
That confidence might have seemed slightly irrational at the time. But by the time the Wildcats scored two touchdowns to tie the game in regulation and another in overtime to secure an unlikely 34-27 victory and a second 4-1 start in as many seasons, that had changed.
"At least our kids don't quit," offensive coordinator Shannon Dawson said. "We didn't quit. We figured out some stuff that was working at the end and we just stuck with it. We figured out three or four things that we could do and we just kept doing it."
On offense, those things often involved Towles finding Dorian Baker.
The 6-foot-3 sophomore caught the game-tying touchdown on a do-or-die fourth-and-three from the EKU five-yard line with 52 seconds left, rising over a defender after he and Towles made an at-the-line adjustment to a fade route.
"We had a concept that we were going to work on the left side, but I looked at Coach Dawson, I was like, 'We got one-on-one,' " said Towles, who completed 29-of-42 passes for 329 yards and three touchdowns against two interceptions. "And I'm going to take that 10 out of 10 times."
"He actually made a good play on the ball, but I just had to go up over top of him and take it from him because we had to win," Baker said.
In overtime, Towles went back to the well, feeding Baker first on a third-and-seven and next on first-and-goal from the three-yard line for the game-winning score. With his final two catches, Baker had eight receptions for 86 yards.
"We had some guys step up and make some plays late," Stoops said. "I am very proud of our team and our determination to stay with it and to finish the game and to somehow find a way to get the victory."
Sandwiched around Baker's big plays were a pair of defensive stands. The Cats forced a three-and-out to get the ball back to the offense for Baker's game-tying score, then stuffed the Colonels in overtime in overcoming a pass-interference penalty.
Fittingly, it was C.J. Johnson who came up with the final tackle, a sack of wide receiver Arien Beasley, who was looking to throw after receiving a pitch back.
"I ain't gonna lie, I was tired," Johnson said. "I was just out there playing. When you get tired, you just gotta play your assignment. When I saw him back there trying to throw the ball—I saw him pitch it first and so that's when I knew I was on him because I was out there. I just played it, really."
Johnson had a right to be tired. Following up an 11-tackle performance in UK's win over Missouri, Johnson delivered 19 stops, including 2.5 for loss.
"At the end of the day, the only thing that really matters is that we won," Johnson said. "I could have got 19 tackles and if we would have lost it would have been nothing."
In addition to rendering Johnson's big night meaningless, a loss would have made for a major step back for a program that has progressed significantly in Stoops' third season. On the heels of that big win over Mizzou and talk of all the things they could accomplish, the Cats came out indisputably flat, regardless of the final outcome.
"We don't respond to that very well," Stoops said. "So, we can't be nice. At all. And so that's the game of football. You have to respect the game, respect the preparation, respect your opponent and you got to play with a toughness and a mental edge about you or else you won't look very good."
UK will have to look much better for its next outing, a prime-time Thursday matchup with Auburn on Oct. 15. As "fortunate" as he feels to escape Saturday with a win, Stoops knows there is much work ahead.
"Overall not very pleased with our effort," Stoops said. "And we'll get back to work, we have a bye week this week to get some guys healed up that we need to do and get back and get back to work and fundamentally get better as a football team."