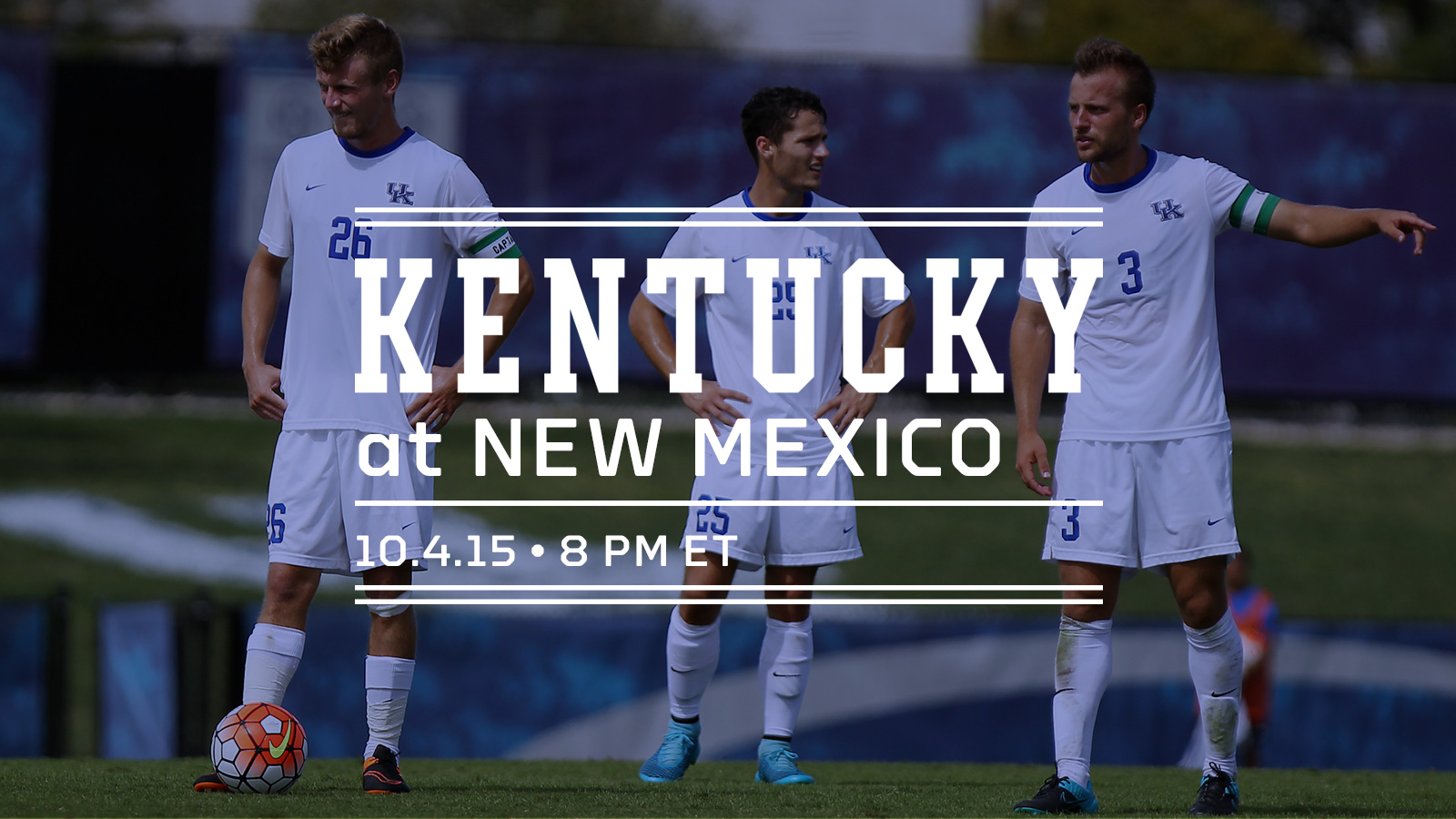 October 3, 2015 - 11:20 AM
Kentucky Set for C-USA Road Test at New Mexico
ALBUQUERQUE, N.M.  – The Kentucky men's soccer team will put its three-match winning streak on the line in a challenging environment at No. 21/20 New Mexico on Sunday night.
The match is set to kick off at 8 p.m. ET and New Mexico will live stream the match on the Mountain West Network
here
.
The setup
Kentucky is on a season-high three-match winning streak that includes two wins in the league (at Marshall and home v Florida Atlantic). 
The Wildcats seem to have found form since the Conference USA portion of the schedule began. Kentucky's 2015 record stands at 5-2-1 (W-L-D), 2-0-0 in conference.
But Sunday's match figures to better clarify just how far along the 2015 Wildcats are.
Kentucky has kept clean sheets in each of its last three wins. Goalkeeper Callum Irving recorded his 21st career shutout in his last start, and is now one clean sheet away from tying the UK all-time record. 
Freshman Xahne Reid has brought a new element to UK's front-four in recent matches as evidenced by the speedster's team-leading point-total (nine) with three goals and three assists, all in the last four matches.  
Stefan Stojkovic scored three goals in two matches last week. With his first three goals and assist of the year, the sophomore bettered his 2014 goals total (2) and tied his assists total (1).
And then Napo Matsoso has added evidence to the argument that he's one of the best attacking midfielders in the nation, in the last few matches. The junior has recently added scoring incredible goals to his repertoire, which prior to recent weeks has been more focused on playing killer balls from midfield.
The opponent
New Mexico enters the match 6-2-1, but winless in the league having lost in overtime at South Carolina last weekend.
Kentucky is 1-1-0 against New Mexico all-time having won 1-0 at The Bell last season after dropping at tight one at New Mexico in 2013. 
The Lobos checked in at No. 15 in the initial NCAA rating percentage index, which was released this week.
The quote
"It's just exciting to go to New Mexico," UK head coach Johan Cedergren said. "It's a good stadium, it's a good field, it's a top team, it's two similar systems.  Two teams that have a few special players you have to be aware of, but in the end we just have to do what we have to do. 
"For us it's about being up for the challenge."