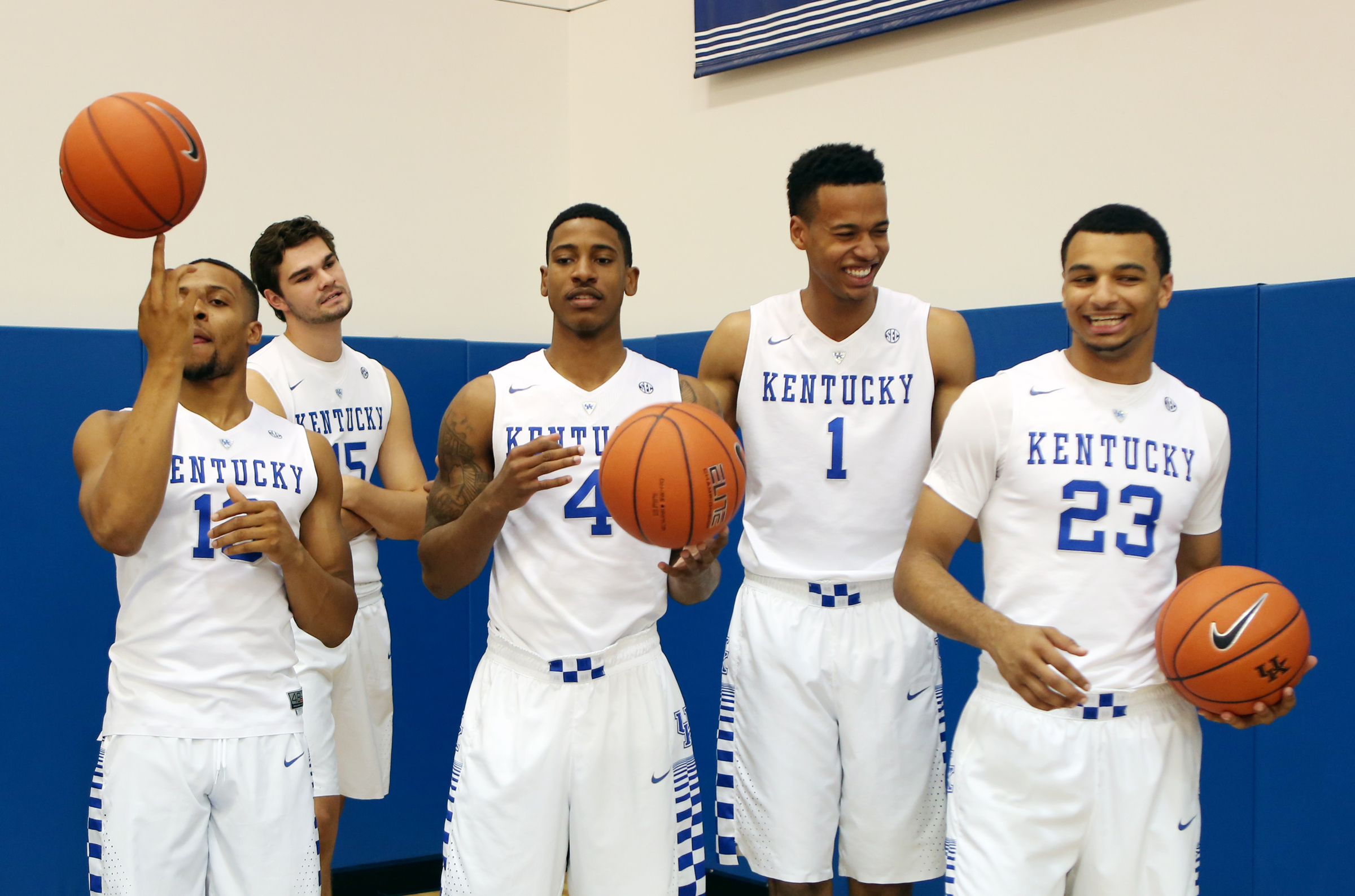 October 2, 2015 - 08:30 AM
Competitiveness the Key to UK's Development
Each of John Calipari's teams, what with their radically different makeup from season to season, take on their own unique personalities.
The 2009-10 team with John Wall, DeMarcus Cousins and Eric Bledsoe had swagger in spades. Anthony Davis' national-title squad was all about hard work. Last year's team nearly pulled off 40-0 on the strength of its unselfishness.
This season, a similar personality figures to develop, but that's still a work in progress.
"We all know that we're going to have to sacrifice for each other, but we don't have a true identity yet," freshman Charles Matthews said. "We haven't practiced together yet, so we've just been playing basketball and just being around each other. We're still trying to form that bond and that chemistry."
While the team's identity is still forming, there is a trait every member of that group has shown to this point.
"I would say just the competitiveness," Matthews said.
There wasn't a player at UK's preseason interviews in August who didn't bring up competitiveness either directly or indirectly.
"We compete every day when we play pickup," Skal Labissiere said. "We get better, push each other because we know that's going to help the team as a whole for the long run. We've been doing that. It helps a lot."
"Everybody is trying to compete," E.J. Floreal said. "That's why you come here. That's why what we do in practice, pickup games, weight room, running, we're always trying to compete."
"You gotta kill somebody or you're going to get exposed," Derek Willis said.
There also wasn't a player who didn't cite that competitiveness as an incontrovertible must-have in order for the Wildcats to reach their goal of a national championship.
"It's very important, because if nobody is competitive, nobody is going to get better," Dominique Hawkins said. "We need everybody going at each other to get better."
No two players are going harder at each other than Tyler Ulis and Isaiah Briscoe.
The two point guards, Ulis a sophomore and Briscoe a freshman, have developed a bond quickly since Briscoe arrived on campus early this summer. It's a relationship defined by the same competitiveness that has emerged as the first defining characteristic of their team.
"Me and Tyler, we're here 1 a.m., 2 a.m. in the morning playing one-on-one, competing against each other," Briscoe said. "Best out of 10."
Ulis and Briscoe, whiling away the time this summer, bypassed the video games, TV shows and social media most of their contemporaries would opt for in a similar situation.
"It comes from boredom," Briscoe said. "We'll be bored and he'll just come in my room or I'll text him. 'Let's play one-on-one, let's go shoot, let's just go do something.' If we don't have anything to do, we might as well be productive."
Ulis, to begin with, had the upper hand in the matchup. But thanks in part to doing battle with a player most project as one of the nation's top floor generals for 2015-16, Briscoe is holding his own.
"When I first came here, he used to win badly," Briscoe said. "Now I'm caught up to lifting 7 a.m., going to class and working out again at 12. Now it's even."
That kind of back-and-forth bodes well for UK, but with it comes a balance.
The Cats have to go at one another in order to improve, but at the same time they have to build relationships and a team. Those might seem like conflicting priorities in theory, but the Cats believe the opposite to be true in practice.
"We're trash-talking and bumping and working hard between the lines, but we walk off the court and we love each other," junior-college transfer Mychal Mulder said. "We're all fighting for a common goal. We're all trying to be the best we can be and no one's going to be that if we're going easy on each other. So I feel like going hard at each other every single day is the best thing for us and I feel like it brings us closer."
Mulder makes up half of a duo similarly competitive to Ulis and Briscoe, by going against Matthews. While similar in stature (Mulder is 6-foot-4, 185 pounds and Matthews 6-6, 189) and playing the same position, the two are different players.
"What (Mulder) does is he can shoot the ball," Calipari said. "He's a catch-and-shoot guy. He's a good athlete, and he's got to find his way, just like Charles Matthews has to find his way. … Charles Matthews is my ability to finish, to rebound, to defend different positions. Then that's what I'll do. I'm not going to do any of this other stuff over here because that's not going to get me on that court."
The competition, for now, is all about improvement. But eventually, it will be the separator as Coach Cal distributes playing time. The days of the platoon system, you see, ended with UK's quest for an unbeaten season.
"It just doesn't happen," Calipari said. "I'd never done it before. But you look at this team, it's not what I want to do but if six guys or even five guys separate then those guys are going to get the majority of the minutes and that's just how it is. But if eight guys all deserve to play and that's the best way for our team to play because those eight are pretty close – or nine, 10 – I would do it."
With Calipari matching the NBA's shift toward "positionless" basketball, there's room for pairs like Briscoe-Ulis and Mulder-Matthews to play together. It'll be up to them to compete and make their case to fit in to what seems likely to be a much shorter rotation.
"There's a distinct six, maybe seven," Calipari said. "But you see that line of, OK, boom, boom, boom, boom, boom. Now, who else fits in this? And when you talk about it, I'm telling you, I don't know this is going to play out, how many guys will end up playing, but some of my best teams have been you're playing less guys. Last year's team was an anomaly."