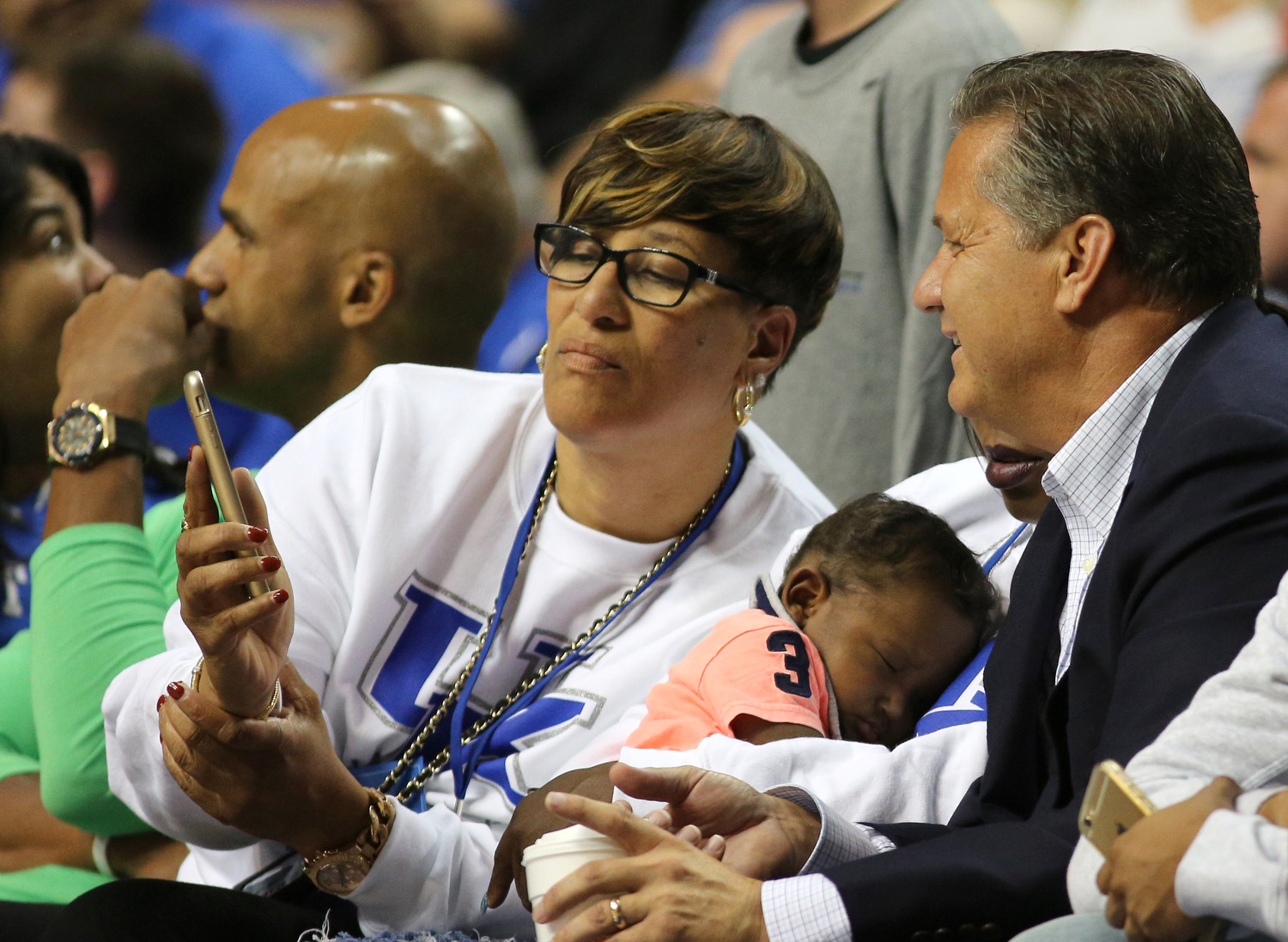 October 2, 2015 - 09:30 AM
Coach Cal Preseason Interview Transcript (Part 2)
John Calipari met with the media for a
preseason roundtable interview in August. On Thursday and Friday, we
will be posting a complete transcript of the interview in two parts.
Today, we give you part two.
On what he expects out of Lee this season …
"Well again, it's – his skills are better, his confidence is better. I think again – you think about this: You walk in the gym and there's Willie Cauley, there's Karl Towns and there's Dakari and you and you're fighting for time. There are days you're confident and there's days you've been crushed. And so now I think he looks out there and he's well beyond Skal physically – conditioning, being able to stay up with the game – knowing, like, he and Tyler in pick-and-rolls, he knows, he's been through this. He's shown a confidence level. Now he's got to go in and be able to make 15 footers because you're not going to play him out on the floor, to make free throws. You know what I mean? Things like that. And then to be a consistent kind of kid, and I think he's up for that. I think that's what he wants to do."
On how much Ulis' game can complement and accentuate Lee's …
"Dunking around the goal, catching lobs, doing that. Tyler will find him and make it easy for him. But Jamal is that way too. Jamal is a playmaking, scoring kind of guard. Put the ball in his hands and something good is going to happen. Isaiah, again, learning to play north-south. East-west stuff ain't happening here. It's not And1 tape. It's not what it is. He's learning to play north and south, and his body is changing and he's playing faster because his instincts are good. Jamal's instincts are good. Tyler's instincts – they're instincts are so good. You're always going to have two of them on the court, maybe three, which means it will make the game easy for everybody."
On if it feels like all three point guards are different …
"Yeah, they're all three different. Jamal's 6-(foot)-5. Long, big hands. I think he has size 17 shoe or something. I'm like, 'What size food do you have?' Isaiah is more of a pitbull at 6-2.5, 6-3, whatever he is. He's physical. Tyler is what he is: 5-9, 155."
On how much better Murray has gotten even from the past year …
"He's a guy that you have to watch, really watch. He's sneaky athletic. In other words, he just went up and dunked that behind his head, what? And the speed is like, where did that come from? But his game is a little different that way. He was on a team where it was hard to – they never really got to where they were playing off of one another. When I saw him in Canada that's when I was like, 'Wow.' I knew he was good, and at this point I don't even know what his upside is. I don't know. When I looked at Karl I knew where I was trying to take him. You look at, 'OK, Devin (Booker), this is what we have to do with your game.' But this kid just started showing me stuff like, what in the world? Where is this going? You don't know.
"But the good news is that we have guards that are positionless. Look, either one of those other two guards could be on the ball with Tyler away from the ball. And he's going to make shots, and still make plays and be fine. He can be on the ball, they can be away from the ball, and they'd be fine.
"Then you Dom. Dom's gotten better, shooting it better. He's one of the great kids. He's another one, you have to create your space because there's no given. When you look at this, I've had guards that I played 38 minutes before now, 39 minutes. I've done that before because they were just so much better. Now it's like, do people separate? Do they separate from the pack? If they do, you know. And as a player within this, you're trying to say, 'Hey man, I'm going to have to catch up to this and make sure…' "
On whether he has had a team as positionless as this one …
"Yeah, I have, but we haven't talked in those terms as much. But I would tell you this one is-because Alex has been trained as a three and playing four. Even Skal, who is not a true five but a five player, he's so big. He's 7 foot. But what you like to have is a bunch of guys that are from 6-6 to 6-9, 7 foot and they all can play every position. Because we're playing basketball. We got into 'Well, the way I coach, this kid has to be like this, this kid has to be like that.' That's not what we do. Let's figure out who we have and I told them, 'I still don't know how we're going to play pick-and-rolls. I don't know exactly what we're going to do in transition, what we're going to flow into. I don't know how much zone, if we'll play zone, how we'll play against zone. Don't know yet.' I mean, will we press? This could be a good pressing team. Will it be a good pressing team just because your guards can just pick up and play or do you press with one of those big guys on the ball, like a Marcus Lee or a Skal who can move their feet. Do you put Alex on the ball or do you say let's just all pick up our guards and we'll look to run and jump and run and trap just off a-that's why a summer trip with this team would have been good. But, you know, you can only do that one every 15 years or whatever you do."
On thinking about all the possible ways to play …
"I just walk-but here's the problem. You can't, like even how we're-who's where and what. It's wasted time. Every year I do and there's anxiety associated with it and then you're walking fast and you're almost running and you're thinking and you're like, 'Why did I just put myself through 25 minutes of thinking stupid stuff that ain't going to happen that I'm not even going to think about? What am I doing?' So you're almost better like, let this thing-I'll come back with a few ideas and we'll try them and if we don't like them we'll move on to something else. And that's why this team, I'm not sure where we'll be in November. I think we'll be OK, but by the end of the year this team, if guys move where I see them going, this could be one-a couple 7 footers and Marcus Lee and Alex and the guards you have and the perimeter players, slashers, shooters."
On whether it's hard not to let his mind wander with possibilities …
"No, I do. Like, what about going back to more dribble-drive and how can we flow into pick-and-rolls. Because this team, I think what you do with a couple of those guards-Tyler and Jamal, I haven't seen Isaiah enough to give him room.  Like, OK, I'm going with your instincts because his instincts might be…well that ain't going to be how we're going to play. But I know the other two instincts, you probably let them go a little bit and give them more room to do what they see. Tyler Ulis, you don't have to-give him space. He's going to be unselfish. He's going to be for his teammates. Jamal, when I watched him in Canada, that's exactly what he is. So you got two guys like that. Now if we can get Isaiah like that, now you're talking playing the dribble-drive stuff that I played in Memphis, where you really let go some of the ropes a coach and let them make decisions. But again, we just walked out of the Boardwalk and I thought about stuff for 20 minutes which I may not be doing."
On Murray being comfortable playing every position …
"He could guard bigs. Like, we could switch pick-and-roll with him and him go guard a five man. And he wants to guard him. Like literally he can play-if it's not a 7-foot five, he'll fight, you know. But I'll be honest with you, last year when we switched Tyler Ulis on fives he did fine, because he'd fight. Like, he'll go down there and fight. Now the question is, can our bigs guard guards? I don't know yet. Last year we had to play a certain way, which was pretty effective. But maybe we trap and rotate. You want to play pick-and-roll, we're trapping every time and we're going to rotate and see how you do. I mean, we could do that. There's all kind of stuff. It's just – until you know and settle into, OK, here are our top six, seven, eight, whatever it is, now what's the best way for them to play and have success? It's not the system and what's the system and you either fit in there or you go to another school or I –"
On whether they will use heart monitoring …
"We might. That's all up to the weight/strength guys."
On it not being his decision …
"Well, it wasn't my idea. I usually take all ideas and say they're mine. They came to me and said this and I said, 'Oh, that's pretty good.' And then, 'Tell me what I can use from this,' and that's what we ended up doing."
On whether the higher the rate means more exertion …
"No—well, I don't know. I can't even open a computer so I don't know. But they know your exertion rate and they know your heart rate. They know your caloric burn. There's a lot of stuff that comes off that that they can tell. And we've used it. We can use it in games; they can't do it in the NBA games and they don't have enough practices. They'll do it early in the preseason, but they don't have enough practices and they can't use them in the game."
On whether it's possible to have a slower heart rate but as much exertion …
"I think that takes it into account. Yeah, it'll take it into account."
On every player saying they want Ulis as a teammate in a two-on-two game …
"Yeah. You know, he's got a toughness about him. He wants to win and he makes everybody better. Like, he's going to get you—you want a general out there that you can follow. And they want to follow him. But now, as you say that, Jamal and Isaac have not been here, so they haven't played with those two so those two would have never been mentioned. They don't even—what's your name? I mean, they just got here. I mean, so—but if you look at what this is right now, that's understandable."
On whether Labissiere has been set back by not playing much the last two seasons …
"Probably. Probably. He played. He was home-schooled and played. I don't know what that means, but they had a home-school team that he played with."
On how that affected his development …
"Probably didn't help him. I'm not sure if it hurt him. We'll find out. But it didn't break him through. But he's a great kid. He's working hard and you don't just have 7 footers that have the kind of skill he has."
On whether he has guard skills …
"He's got hooks. He can shoot it. He can pass it. But again, he needs to be in game competition where guys are trying to—going at the other guy. That's what he needs more."
On what Willis needs to do to break through …
"To break through as a three or a four, he's just gotta have confidence and want to do it. Like, do you really want to do this? And they just go do it. They were playing the other day and I guess he missed some shots and so I saw him after and I said, 'How'd it go?' He said, 'Well, I missed some shots.' I said, 'What were the guys saying to you?' 'Told me, keep shooting.' So there's nothing holding him back. Go for it. I'm going to play the best people. If you're one of the best people, then go do it. Go show it and there's no question that's you. Dom, the same thing."
On how Willis builds his confidence without playing …
"Again, you're looking and you walk in the gym and you got (good players). You're like, 'I'm not playing. I don't care what I do and how I do.' Now you walk in the gym and you say, 'I can play with these guys.' But now you gotta go do it. You gotta go play. We just get carried away here that, 'Well, he didn't play for a couple years.' That's, like, across the nation that's the normal. It's just here it's not the norm. And so what he's going through normal kids go through. They don't play their first couple years, they get their opportunity. Frank Kaminsky. I mean, that's just normal. At some point, there's no excuse. You either want to do this or you don't. That's not only with him. That's all these kids. At some point you break through and do it."
On Willis acknowledging he turned it off last year …
"Do you blame him? Do you blame him? I mean, he's looking around and these dudes are all lottery picks and they're this, they're that and here I am. I'm trying to fight in practice and I'm going against Karl and Willie. Who am I guarding? And then you're like 'oh my god.' And then you just say, 'Look, I'm not playing.' And that's basically what he did. It's hard. But he admitted it and now, like I said, it's his time. Let's go. You want to break through? You got a chance."
On not holding that against him …
"No, I watched it. Derek's not bringing it. No, he is. He's getting killed every day. What would you do? I mean, you know. And there were days he came through and you'd say, 'Hey man, you can do this.' But then he's like—but there's no excuse. At some point you gotta just dig your heels in and you gotta fight. You gotta fight for your spot."
On Mulder …
"He's an athlete. He's a quick jumper. Not great with the ball, making plays and all that. But he's fast. He and Charles are different in that Charles, probably a better finisher. Not as good a shooter. Charles, a little better defender. He may be a little faster than Charles, but like I said, you gotta carve your way. I mean, you know what your strengths are; you know what his strengths are. You gotta say, 'I'm going to make sure you need my strengths on this team.' And what I'm telling you guys, that's the normal team."
On Mulder-Matthews being a good battle …
"They're different. And there are times they may be guarding one of those other guards. But it's—what we all went through last year where I played 10 guys for a while and then I played nine in a rotation and kind of platooned nine guys, that's not normal. It just doesn't happen. I'd never done it before. But you look at this team, it's not what I want to do but if six guys or even five guys separate then those guys are going to get the majority of the minutes and that's just how it is. But if eight guys all deserve to play and that's the best way for our team to play because those eight are pretty close – or nine, 10 – I would do it. But I just don't see it right now. I mean, there's a distinct six, maybe seven. But you see that line of, OK, boom, boom, boom, boom, boom. Now, who else fits in this? And when you talk about it, I'm telling you, I don't know this is going to play out, how many guys will end up playing, but some of my best teams have been you're playing less guys. Last year's team was an anomaly. That should be thrown out and don't ever look at it, don't compare. If you tell me about that team, stop. Just don't even tell me because that may never happen again, where someone has that many good players on a team. And they're all good kids and unselfish and make it work. You got coaches, 'I can't wait to see what he does with this. These kids are all going to be made. It's never going to work.' Oh yeah, it was everywhere. And it worked. What happened? 'I don't know. Something happening there. All those kids must have—"
On whether he has nightmares about the end of last season …
"No. No. I moved on. I wish we would have won all 40. It would have been nice. But we did something that in all likelihood will never be done again. That team did stuff that, you know—the reason it can't be done, the number is, because if you're in a bad league, when you get in the tournament, you're going to get banged somewhere. Or if you're in a bad league and you're playing other really good teams, one of those teams is going to get you. You're just not doing it. And then to do what we did in the league we were in with the schedule we played, to get that close. And every game, every team played out of their minds. Think about Notre Dame, how well they played. Notre Dame should have beat us. No, they play one out of five games like that, but that one was us. Wisconsin, we get somebody down, they go away. They were fighting for their—but it was every game we played. I can remember the Georgia game, I can remember the Texas A&M game. How in the world did they do what they did? You come up a little bit short, but that team, what they accomplished. And then how individual players got better. I mean, you look at each guy, they all benefited. Every one of them benefited by it."
On the SEC …
"It's getting better. You gotta play the games. We can all talk and do that, but you gotta play the game. And I think what's happening for us in NCAA Tournament play is proving that our teams belong. And it should be interesting. There are some teams that are going to be rebuilding a little bit and then see the direction they go. This stuff we do is hard. It's hard to get kids and then it's hard to get them to play together and, you know, we got guys rebuilding in places and a couple good signings last year, a couple good commitments. Somebody told me one of the schools got a commitment from a really good kid, which, like, wow."
On Briscoe being voted best trash talker in his class …
"Where was that voted? By his high school yearbook? He won't play that way here. I'm not worried about. He's going to be fine. This stuff that we do here, you don't have to add any fuel to the fire. You don't have to say anything. You talk with your game because every game you play is someone's Super Bowl. (Reporter says, "You don't want to excite the other team.") No, it doesn't matter. He's at a place now that—he's already starting to change. I'm pretty happy with how he's doing, but he's got a ways to go. He's never been in anything like this. You want him to be confident, but he'll realize. He's not a dumb kid."