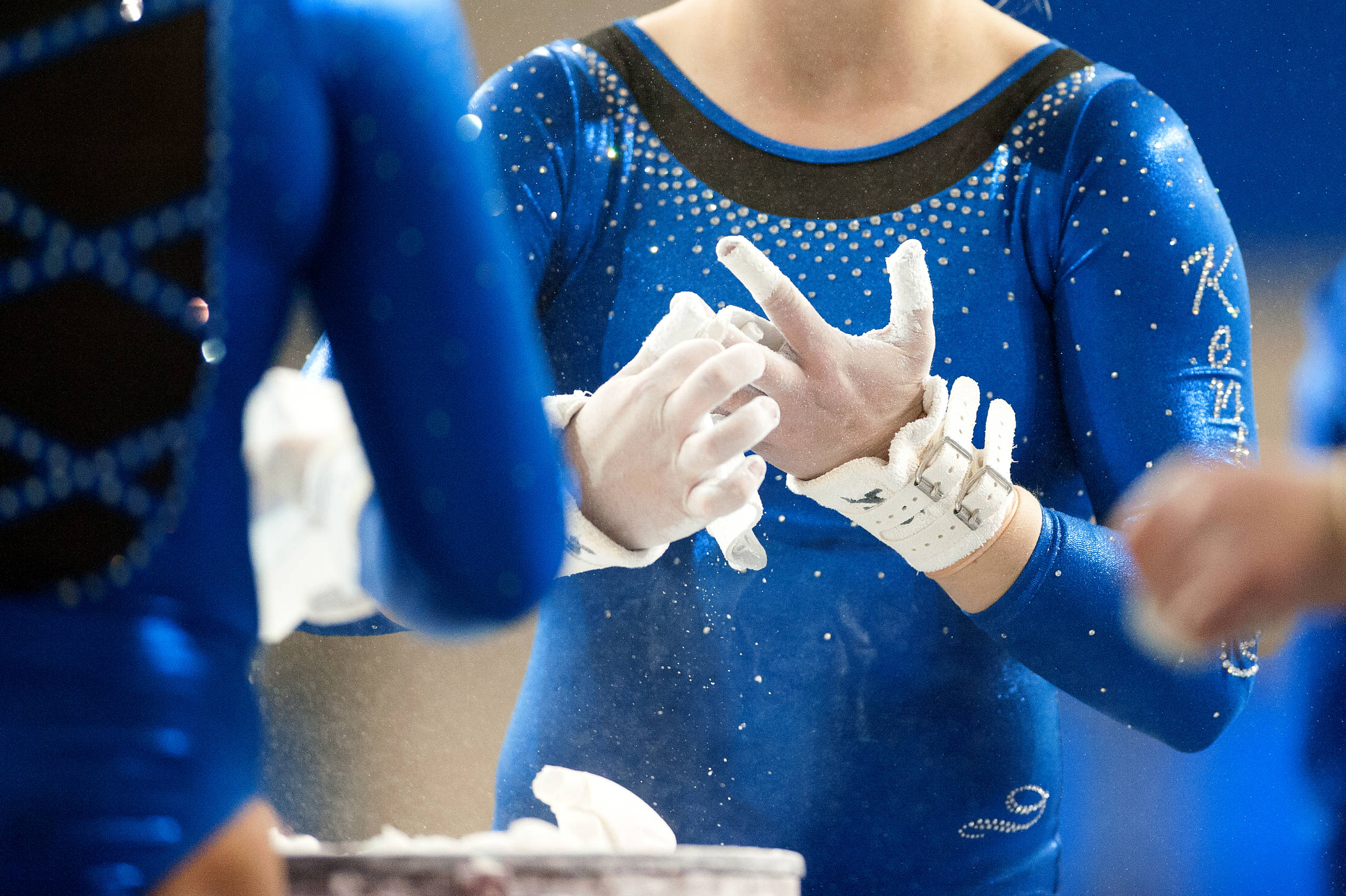 October 1, 2015 - 05:07 PM
Wildcats Gymnastics Releases 2016 Schedule
LEXINGTON, Ky. – The Kentucky gymnastics program announced its 2016 schedule on Thursday, with a 14-meet slate including five home meets. In addition to the regular-season contests, the team will provide a preview to the new season with its annual Blue/White night on Dec. 13, 2015 with a time still to be determined.
"We want to let our competition do the talking for us this year," said fourth-year head coach Tim Garrison. "We've got a great group of five seniors that we'll lean on this season and at the same time we have seven freshmen whose transition to the college game will dictate a lot of our success this year. We have a group that will contribute from top to bottom.
"We've been trying to increase the difficulty of our routines this season which is something you absolutely have to do to be competitive in this sport," Garrison said. "We can be clean and consistent, which is what we've done since I started here, but that only gets you so far. There's certain things that you need to be able to do to be considered on the next level, which is what we plan to do this season."
The gymnastics squad will begin its season with the Blue/White scrimmage on Dec. 13 at a time still to be determined. 
"The energy has been really upbeat so far this season," said senior Marissa Beucler. "We've been pushing through workouts very well so far. Some of our incomers have provided an upgrade at positions which should be exciting to see as the season goes on. Looking at the schedule, we're really excited for Excite Night. It's traditionally been a meet that all our fans come out for and it really gets us excited for the season. We're also really excited for SEC play and to compete with the conference teams."
The team will ring in the New Year with the first of five home meets on Jan. 8, hosting its annual "Excite Night" event on Jan. 8, 2016 at 7 p.m. The Wildcats will follow up with back-to-back Southeastern Conference competitions, beginning at Auburn, Jan. 15 at 8 p.m. before traveling to Baton Rouge, La., for a matchup with the Tigers on Jan. 22
UK returns to the friendly confines of Memorial Coliseum on Jan. 29 for its SEC home opener where the team will face the Georgia Bulldogs at 7 p.m. The team then heads down to Tuscaloosa, Ala., to face the Crimson tide on Feb. 5 before returning home for a Friday evening matchup on Feb. 12 at 7 p.m. against Missouri.
Following its clash with the Tigers, the Wildcats head on the road for three-straight meets, beginning with a road trip with back-to-back out-of-conference matchups. The team faces little turnaround time following Missouri, next competing on Sunday, Feb. 14 at 1 p.m. for a matinee against the Cardinals of Ball State in Muncie, Ind. The team takes a week long break before another afternoon matchup at 2 p.m. on Sunday, Feb. 21 against the West Virginia Mountaineers.
The Cats will wrap up the regular season with a pair of home contests, taking on Florida on Friday, March 4 before hosting Senior Night against Iowa State on Friday, March 11. Both meets will begin at 7 p.m.
The SEC Championship will be hosted on Saturday, March 19 in North Little Rock, Ark. NCAA Regionals are set for April 2 in various sites, before the NCAA National Championships in Fort Worth, Texas on April 15-17. All championship times have yet to be announced.
2016 Kentucky Gymnastics Schedule
Date

Time

Opponent

Sun., Dec. 13

TBD

Blue/White Scrimmage

Fri., Jan. 8

7:00pm ET

Ball State

Excite Night

Fri., Jan.  15

8:00pm ET

@Auburn

Fri., Jan.  22

TBD

@LSU

Fri., Jan.  29

7:00pm ET

Georgia

Fri., Feb. 5

TBD

@Alabama

Fri., Feb. 12

7:00pm ET

Missouri

Sun., Feb. 14

1:00pm ET

@Ball State

Sun., Feb. 21

2:00pm

@WVU

Fri., Feb. 26

TBD

@Arkansas

Fri., Mar. 4

7:00pm ET

Florida

Fri., Mar. 11

7:00pm ET

Iowa State

Sat., Mar. 19

TBD

SEC Championships

North Little Rock, AR

Sat., Apr. 2

TBD

Regionals

Various Sites

Apr. 15-17

TBD

NCAA National Championships

Fort Worth, TX