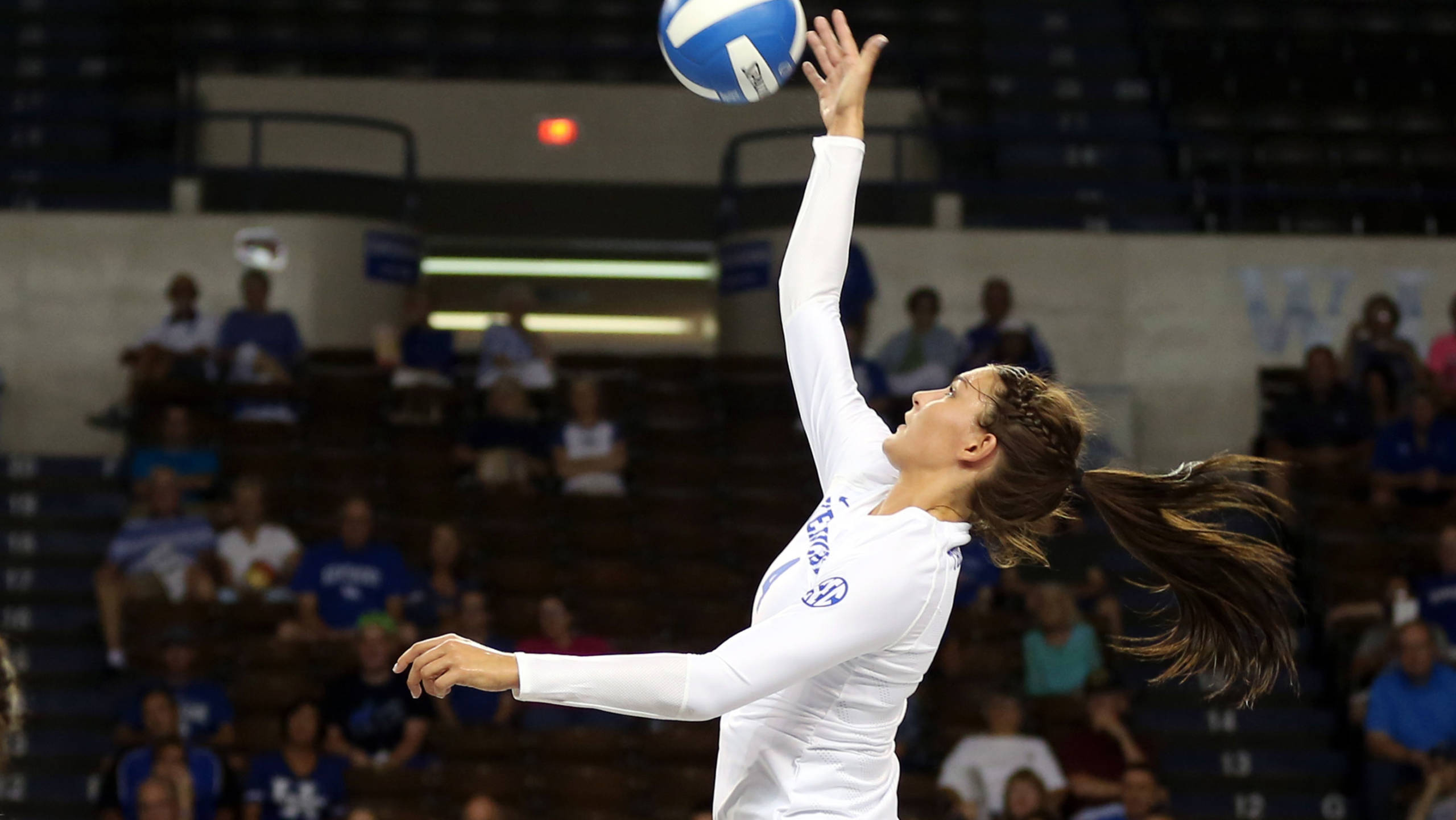 The Kentucky volleyball team had high expectations heading into the 2015 season. Preseason polls had the Wildcats ranked in the top 20, and it appeared head coach Craig Skinner and his team were ready to compete for the Southeastern Conference championship.
Kentucky got off to a 4-1 start this season before things suddenly took a turn for the worse. The Wildcats lost four straight matches, and the reasons for those losses were obvious. First, the schedule was very difficult, with matches against No. 2 Southern California and seventh-ranked Illinois, among others. And second, the team was missing some key players due to injury.
For any team, those two factors would be a lot to overcome. But the impact was especially felt by the Wildcats, who have only two seniors and one junior on the roster.
"It was hard to see us not do very well," said Anni Thomasson, the lone junior on the squad who has missed six matches due to injury. "It was especially tough knowing I could have been helping the team, but I couldn't."
Since seeing their record fall below .500, the Cats have gotten healthy, and have rallied to win their last five matches, including a 3-1 upset at No. 5 Florida on Sunday. The Wildcats are now 9-5 on the season and find themselves ranked 21st in the country in the latest AVCA Coaches Poll.
To Skinner and the rest of the Wildcats, it's no secret why Kentucky has recently found its way. 
"It's been refreshing to at least practice with everybody," Skinner says. "That way, we can physically work on the things that we need to improve."
Thomasson has been key for the Wildcats all season. Kentucky has lost only once all season with her in the lineup, and that was against Ohio University, when she initially suffered the injury and had to leave the match early. Since her return, Thomasson has recorded 31 kills, giving the Wildcats yet another attacking option.
"She's a two-year starter, someone we call a five-tool player who can execute every skill at a high level," Skinner said. "She's an impactful player in scoring points, but she's also impactful in setting up others to score points."
Emily Franklin has also returned from injury to become a significant contributor over the last two weeks. In her last four matches, Franklin has 29 kills with just seven attack errors. She's hitting a ridiculous .415 in those four matches.
The last two matches have also produced the re-emergence of freshman middle blocker Brooke Morgan, who earned SEC Freshman of the Week honors for her efforts in wins over South Carolina and Florida. In those two matches, Morgan had 20 kills and hit a blistering .410, leading the Wildcats to consecutive road victories.
With their fast start in conference play, the Wildcats find themselves tied for the early lead in the SEC standings. Both Kentucky and Arkansas, the only other 2-0 team in the league, opened conference play with back-to-back road wins, giving them each an advantage over the rest of the field.
"We've set a standard for ourselves and now we have to live up to it," Thomasson said. "We're expected to play big in each game."
Skinner knows that the win over Florida was big, but he's not letting the Wildcats rest on their laurels. 
"It's important for us to improve every day and to focus on development," he said. "I know our team will be focused and ready this weekend."
Kentucky returns to Memorial Coliseum this weekend for a pair of SEC matches. The Wildcats face Mississippi State on Friday night at 7 p.m. before battling South Carolina on Sunday at 1:30 p.m.