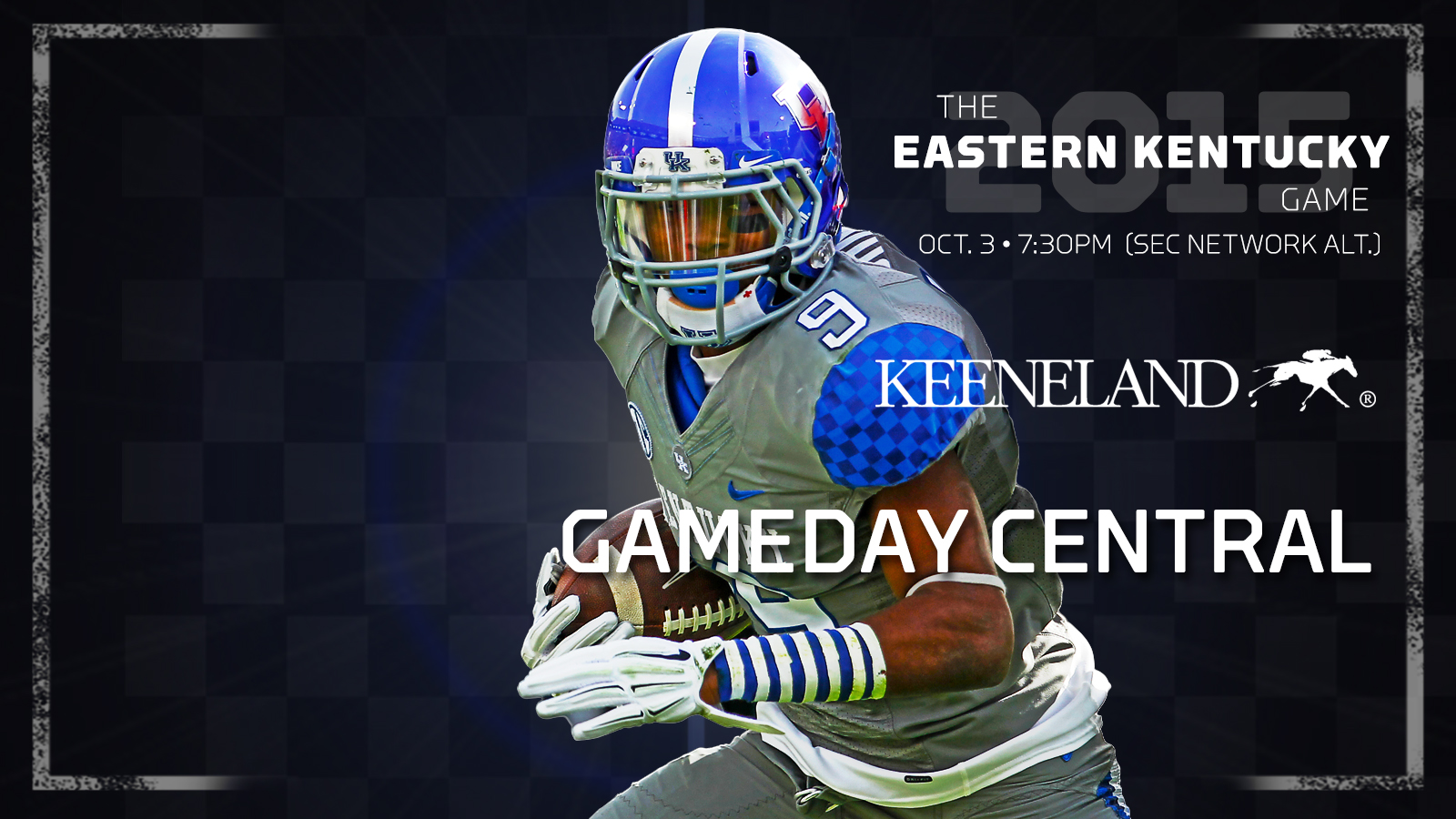 In the midst of the longest homestand since 2001, Kentucky will return to The New CWS with a non-conference matchup with Eastern Kentucky on Saturday, with kickoff slated for 7:30 p.m. ET.
EKU at Kentucky
Sat., Oct. 3 – 7:30 p.m. ET
The New CWS
Lexington, Ky.
Game Notes: UK

| EKU

Digital Gameday Program
Gameday App
More Gameday Info
Coverage

TV: SEC Network Alternate
Radio: UK Sports Network
Live Video via ESPN3

Find SEC Network Alternate

Live Audio

Live Stats

Text Updates
Texas Roadhouse Countdown to Kickoff (5:30 p.m.)

UK
2015 Team Stats
EKU
3-1
Record
2-1
2-1
Conference Record
1-0
24.0
Scoring/game
34.3
361.0
Total offense/game
314.3
155.0
Rushing yards/game
99.0
206.0
Passing yards/game
215.3
25.8
Kickoff returns (avg)
24.0
8.5
Punt returns (avg)
17.4
41.0
Punting (avg)
44.1
28:28
Time of possession/game
28:13
40%
Third down conversion
43%
83%
Fourth down conversion
50%
20.5
Points allowed/game
19.3
369.8
Total yards allowed/game
304.3
168.2
Rush yards allowed/game
129.3
201.5
Pass yards allowed/game
175.0
Coming off a 21-13 win over No. 23/25 Missouri, Kentucky is seeking to improve to 4-1 for the second consecutive season in the matchup with Eastern Kentucky. Kentucky's win against Mizzou marked its second streak-busting victory to open 2015, snapping UK's 18-game losing streak to ranked foes. It marked the first win over a top-25 opponent in the Mark Stoops era. UK's win at South Carolina in the SEC opener lifted the
Wildcats to their first road win in 23 tries.
In the win over Mizzou, the Wildcats used a strong performance from sophomore QB Patrick Towles, who completed 22-of-27 passes for 249 yards and two TDs, also rushing for the game-tying score in the second quarter. Sophomore WR Garrett Johnson had his second career 100-yard game, totaling six catches for 119 yards, with freshman TE C.J. Conrad nabbing his first career touchdown catch, totaling three receptions for
55 yards. Defensively, senior DT Cory Johnson had a career-high 11 tackles.
Cat Scratches: EKU Has Cats' Full Attention, Respect
A month into the season, Kentucky has dived headfirst into the Southeastern Conference.
The Wildcats have played their last three games against league foes, toppling South Carolina and Missouri and dropping a close contest to Florida.
But now, UK steps away from conference play for a week. In-state foe Eastern Kentucky is coming to town.
"We welcome them and look forward to another hard-fought game in bringing them to Commonwealth," Stoops said.
EKU (2-1, 1-0 Ohio Valley Conference) enters Saturday's 7:30 p.m. matchup boasting a No. 17 ranking in the STATS FCS Top 25. The Colonels fell 35-0 in their lone FBS matchup of the season at North Carolina State, but easily dispatched Valparaiso and Austin Peay by a combined score of 103-23.
"I see a good football team," Stoops said. "There are a lot of plays and schemes that we see a lot from different people. Everybody gets creative and tries to do different things for certain games, but I see a good football team that's well-coached." … Read the full story, here.
Series Record vs. EKU
UK has won all three meetings in the series with Eastern Kentucky, which began with a 52-7 win in 1998. All three games have been played in Lexington, with the 2007 meeting – a 51-10 UK win – marking a season opener. UK won the last meeting, 37-12 in 2009.
Last time vs. EKU
In the last meeting in 2009, UK posted a 37-12 win over Eastern Kentucky to improve to 5-4 on Nov. 7, 2009 in Lexington. UK jumped out to a 10-7 lead, before exploding for 27 unanswered points to clinch the win, with Alfonso Smith and Donald Russell running for touchdowns. Russell's TD was a 79-yard scamper in the fourth quarter. UK had 444 total yards of offense, including 234 yards rushing. Russell rushed three times for 92 yards, with Smith and Moncell Allen each running for TDs.Morgan Newton was 20-for-29 in the air for 187 yards and two TDs, including a bomb to Chris Matthews, who had seven catches to lead UK in the air. Defensively, Taiedo Smith had a team-leading six tackles, with Sam Maxwell and Cartier Rice each recording interceptions. EKU QB T.J. Pryor was 9-for-28 with two interceptions and 137 yards. EKU got an 11-tackle effort from Robert Dees.
Scouting EKU
Eastern Kentucky is coming off a 51-13 win over Austin Peay to open Ohio Valley Conference play. The Colonels are averaging 314.3 yards of total offense per game, including 215.3 yards through the air. EKU has six players with double-digit carries, with Ethan Thomas owning three TDs on 14 carries and 65 yards. Former UK running back Dy'Shawn Mobley carried it 13 times for 38 yards, with Ethan Thomas adding 65 yards on 14 carries and Adam Lane leading the team with 22 rushes for 75 yards and two TDs. QB Bennie Coney has made two starts, completing 44-for-74 passes for 493 yards and three TDs. Kyle Romano has made one start at QB, completing 13-of-16 passes for 125 yards, one TD, and no interceptions.WR Joel Brown has 11 catches for 125 yards and a TD, while Jeff Glover has two TDs on nine catches and 155 yards.Defensively, EKU has three interceptions, have forced four fumbles and has seven sacks. D'Vonta Derricott has 18 tackles and a QB hurry to lead the team, with Noah Spence owning 15 tackles – five for a loss – and three sacks, also recording three QB hurries. EKU has four players who were previously enrolled at UK — Dy'Shawn Mobley, Patrick Graffree, Robbie Irgrang and Bryson Williams.
Texas Roadhouse Countdown to Kickoff
Tune in to the UK Sports Network for the "Texas Roadhouse Countdown to Kickoff" two hours before every football game. From Cat Walk to Cat Talk, host Christi Thomas and former UK Quarterback Freddie Maggard will focus on the X's and O's of the game and bring a little fun to pregame in the first 30 minutes of the show. Afterward, Host Neil Price is joined by Oscar Combs, Dick Gabriel, Tom Leach and Jeff Piecoro to continue the official pregame broadcast until kickoff. The show is broadcast in Lexington on 98.1 WBUL & 630 WLAP, UK Radio Network affiliates, online at ukathletics.com, and in the UK Gameday App. For the first time, the two-hour pregame show will be live streamed every home game for fans to watch on ukathletics.com.
Reminder to Fans Tailgating
As a general reminder to all fans tailgating, please do not leave any items unattended or unsecured in the parking lots. Please break down and put away all personal belongings prior to entering the stadium.