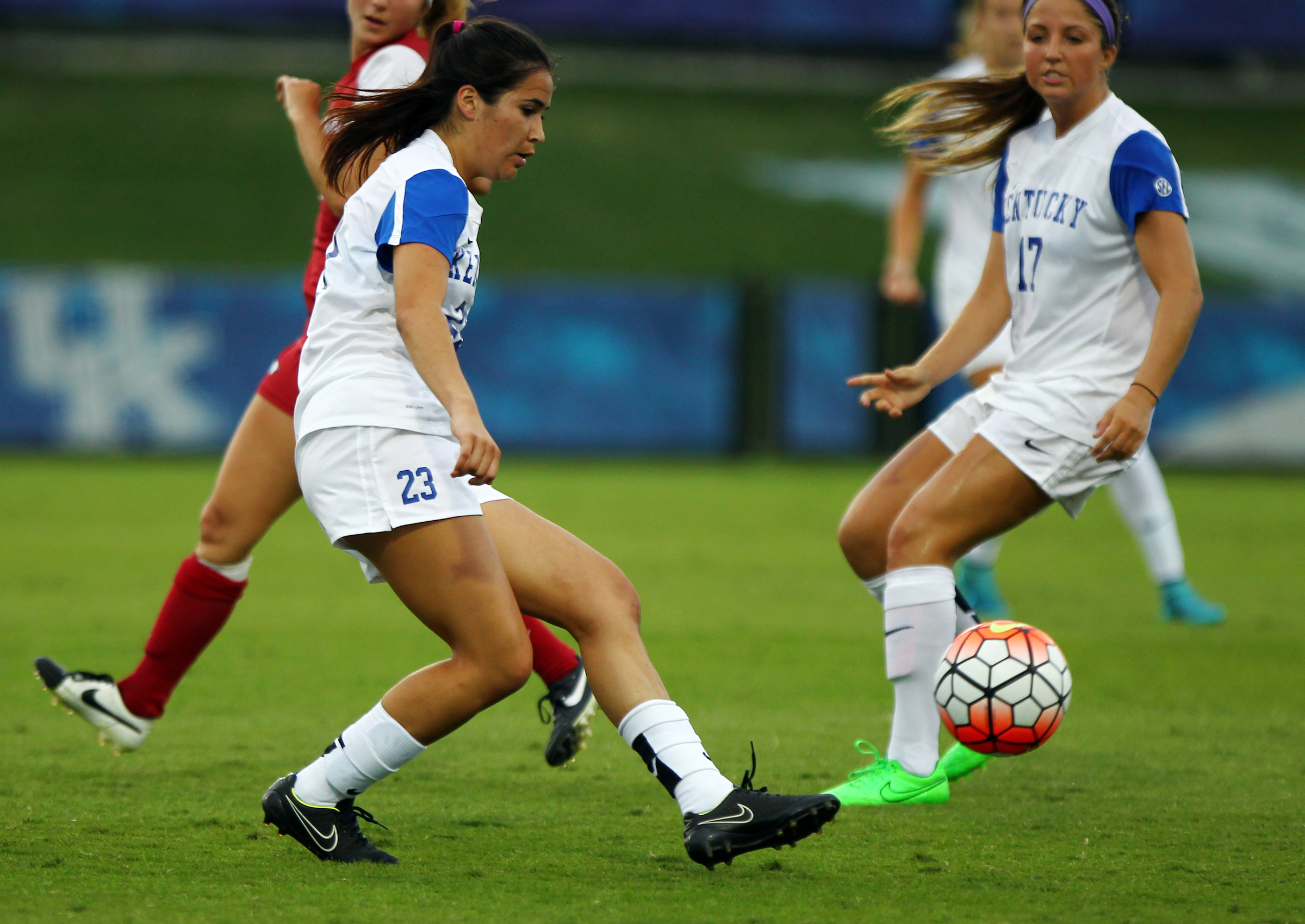 October 1, 2015 - 09:00 AM
Kentucky Travels to Sunshine State to Face No. 12 Florida
LEXINGTON, Ky. – The University of Kentucky women's soccer team will continue play in the Southeastern Conference this weekend as it faces the No. 12 Florida Gators, looking to gain its first ever win in Gainesville, Fla., on Friday night. The match evening will kick-off at 7 p.m. ET and will be shown live on the SEC Network+, WatchESPN and ESPN3 with Bernie Guethner and Matthew Stubbington on the call. 
This marks the first of two stand-alone weekends for the Wildcats, where UK will only play on Friday night. 
Kentucky currently sits 3-1-0 in SEC play, having gone 1-1-0 last weekend, suffering its first league defeat to the Missouri Tigers on Friday, 2-1, before completing a 2-1 win over Arkansas on Sunday night at The Bell.  Junior Kaitlin Miller scored the game-winner against Arkansas on Sunday with her second goal of the season, assisted by Zoe Swift, who currently leads the Wildcats in points. 
UK has had 11 different players score a goal this season, which is the most in the SEC. Seven players (Zoe Swift, Michaela Dooley, Jade Klump, Courtney Raetzman, Cara Ledman, Katy Keen, Kaitlin Miller) have scored multiple goals, and that also leads the league, with one more than Tennessee.
This weekend the Wildcats will try to secure their first win against the Gators in Gainesville, after going 0-8-1 in their previous nine tries. The Wildcats have won two out of the last three games against the Gators, winning 2-0 last season and 2-1 in 2012. The 2-0 win over Florida a year ago in Lexington was the highest-ranked team that Kentucky has ever defeated in 23 years of women's soccer, as UK toppled the then-fourth-ranked Gators. 
Florida enters this weekend with an 8-3-0 record, with big wins against No. 1 Florida State and Central Florida. Florida is currently 2-2-0 in SEC play suffering losses to Texas A&M in the conference opener, and last weekend dropping a 3-2 decision on The Plains to Auburn. Savannah Jordan leads Florida in scoring with 12 goals and 28 points this season. Florida has scored 32 goals while only allowing 16 from their opponents. 
For the latest on the Kentucky women's soccer team, follow @UKWomensSoccer on Twitter, Instagram and Facebook, as well as on the web at UKathletics.com.